Culture Speaks
A recent UNESCO report came as a pleasant surprise to gold jewelry dealer Wu Qishan.
Titled The Globalization of Cultural Trade: A Shift in Consumption – International Flows of Cultural Goods and Services 2004-2013, the UNESCO Institute for Statistics (UIS) report takes an in-depth look at global exports and imports of cultural goods and services. China is now the leading exporter of cultural goods, having clocked up a total value of US $6.01 billion in 2013, more than double the US $2.79 billion of the United States, which occupies the number two slot.
Chinese Jewelry Big in Foreign Countries
Arts and crafts have ascended the ranks of the 10 most traded cultural goods, fueled by the strong demand for gold jewelry, according to the report. Gold jewelry trade earned more than US $100 billion in 2013. China alone, as its leading exporter, chalked up US $32 billion in 2013 compared to the United States' figure of US $10.7 billion for gold jewelry exports.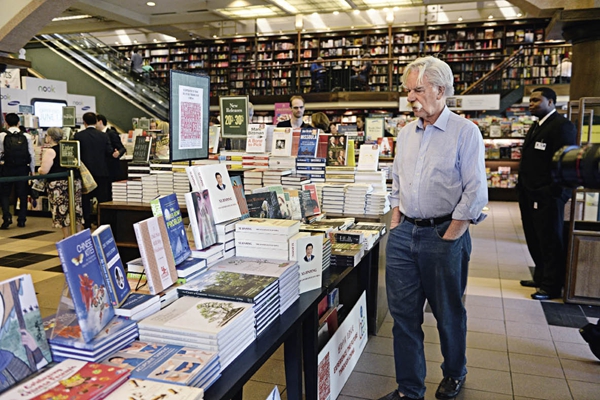 English translations of Chinese books on sale in the Barnes & Noble Bookstore in New York are keenly welcomed by American readers.
China's international cultural trade consists mainly of press and publications (both print & digital products, and copyright exports), radio, video, TV and films, art performances (acrobatics, traditional Chinese opera, dance, and martial arts performances), artworks, new media (game consoles), musical instruments, as well as integrated services.
Among them, integrated services, which include Internet culture, cultural exhibitions, and advertising, is the fastest growing sector of the cultural industry. As the most market-oriented and internationalized category of cultural products in China, it commands strong international competitiveness, and has become a bellwether for the country's cultural exports.
The report also finds that in spite of the global economic recession, a large quantity of consumers of movies and music turn to related web services, the trade volume of cultural products from 2004 to 2013 having doubled. As a part of cultural services, products such as music, movies and periodicals are deeply impacted by digital production, whose market focus is on online subscriptions. Trade in music records dropped 27 percent and in film products 88 percent between 2004 and 2013. The trade in printed materials, including periodicals, also suffered a slump. However, paper books, as a significant cultural product, registered a 20-percent growth in some regions.
Wu has established contacts with the book industry in his capacity as gold jewelry dealer. In February 2016, he attended a Chinese book fair in Madrid, Spain, where Spanish translations of such Chinese literary classics as The Plum in the Golden Vase and Book of Changes, as well as a number of modern works of fiction, were well received by local readers. China's publications exports exceeded US $100 million in 2013, and the proportion of copyrights exported continued to rise, according to the Chinese Academy of Press and Publications 2013 Press and Publication Industry Analysis Report.
A rising number of China's cultural projects are going global, according to Wu, whose business often takes him abroad. As a fan of La Liga, he noticed that Dalian Wanda Group, China's largest property company, has bought a 20-percent stake in Spanish league champion Atletico de Madrid. This is the first time a Chinese firm has invested in a premier European soccer club.
China's outward foreign direct investment in culture, sports, and entertainment industries increased from US $5.1 million in 2007 to US $310.85 million in 2013, a whopping 61-fold growth, according to researcher at the Development Research Center of the State Council Lai Youwei.
"Judging from international experience, the 'go global' strategy of a country's cultural industry can not only improve its foreign trade structure and facilitate the transformation and upgrading of industrial structure, but also promote native culture globally and the nation's international competitiveness," Lai said.
Support from the Country
Cultural trade was formerly a weak link in China's overseas trade. A good deal of international cultural exchange was based on friendly activities rather than commercial endeavors. The parties concerned regarded cultural industry as a public service, their focus on ideological elements and promoting national characteristics, so overlooking its commercial potential.
In 2003, the Ministry of Culture set up a unit specializing in the promotion of cultural products and services as part of the "go global via business" strategy. In 2006, the Ministry of Culture, the Ministry of Commerce and the then General Administration of Press and Publications (now the State Administration of Press, Publications, Radio, Film and Television) jointly formulated policies encouraging and incentivizing exports of cultural products and services. In addition, the central government provided financial support to cultural units that achieved excellent export performances. In 2009, the Ministry of Culture established a department of cultural trade.
Reforms to the cultural administrative system have gradually deepened in recent years. In 2013, a large number of state-owned for-profit cultural units became qualified market players, so strengthening their vitality and market compositeness. Meanwhile, the non-public cultural sector also accelerated its structural reforms. Many cultural export enterprises gained government support in the areas of market exploitation, technological innovation, and customs clearance. The building of foreign cultural trade bases in major cities like Beijing, Shanghai and Shenzhen completed the trading system.
In March 2014, the State Council issued its Opinions on Accelerating the Development of Cultural Trade, so elevating it to a national strategy. On March 17, 2016, the country approved its 13th Five-Year Plan for Economic and Social Development, and included cultural trade in its national strategic planning. The plan proposed intensifying cultural exchanges between China and other countries, and innovating modes of external communications, cultural exchanges, and trade, so adding new momentum to the growth of international cultural trade.
Cultural Dialogue
Although a business, most industry participants see the main goal of foreign cultural trade as dialogues between civilizations and cultures.
"The most significant goal of culture exports is to achieve dialogue," curator of the National Art Museum of China Wu Weishan said. "Only by creating works that reflect contemporary life based on our national culture and presenting them globally can we engage in a cultural dialogue with the world. And we now have the confidence to do so."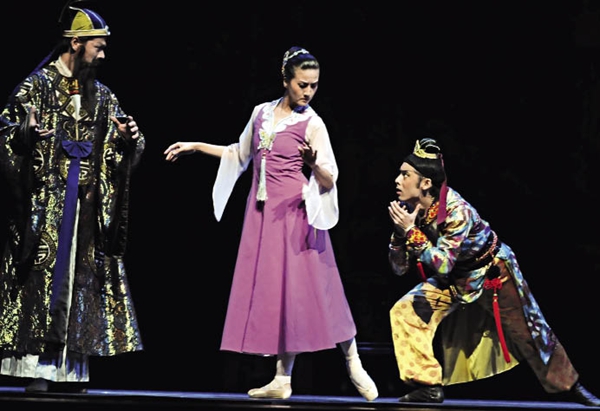 Stage photo from the Chinese ballet The Butterfly Lovers.
Unlike standard export goods, cultural products cannot compete on price. Many Chinese blockbusters were overnight sensations abroad due to the curiosity of foreign audiences, but turned out to be one day wonders on the foreign market.
"The export of cultural products does not entail a transplant, but a process of exchange and dialogue. And a consensus on value is the premise," professor at the School of Journalism and Communication of Nanjing University Ding Hegen said. The process of culture communication calls for a maximal consensus if a cultural exchange platform is to be built and remain standing between the Chinese and Western cultures.
According to Economic Daily reporter Jin Jing, respecting both the choice of market and audience is the inexorable law of cultural exports. "The key to the market rests in the audience's comprehension of and capacity to identify with the contents and plot," Jin said.
The Shanghai Ballet is a case in point. During its U.S. tour of 2013, the company performed two ballets. One, Les Sylphides is a European classic. The other, The Butterfly Lovers, is a Chinese story. The troupe originally expected Les Sylphides to receive a better reception on the local market. But to everyone's surprise, they performed The Butterfly Lovers 28 times in their 32 U.S. performances.
Similar to the Western tragedy Romeo and Juliet, The Butterfly Lovers is a Chinese legend of star-crossed lovers – Liang Shanbo and Zhu Yingtai, the ballet version of which is easily understood and received by a foreign audience. "Such cultural products carry Chinese values, and are also commercially successful. They are what we need to create for the cultural trade and market," President of China Arts and Entertainment Group Zhang Yu said.
"We have been dedicated to introducing excellent foreign culture into China for decades, and will persist in the future," Zhang said. "It is now more important than ever that we disseminate Chinese culture abroad and help people worldwide to accept and love it. This is our mission."
Cultural exports involve the exchange of different values and lifestyles, according to professor at the Central University of Finance and Economics Wei Pengju. It is likely that Chinese cultural enterprises will encounter unaccustomed problems in the international market. "Proceeding from this point, capital exports can explore the way for cultural enterprises and products to go global," Wei said.
Along with the developmental vigor of Chinese movies and TV programs, games and cartoons, as well as tourism, the overseas investment in cultural projects has also accelerated with each passing day. It is estimated that during the next two to three years, Chinese cultural enterprises will usher in an overseas merger and acquisition bonanza.
"The upgrading of China's cultural trade complies with the general trend of global cultural trade. It is therefore of great importance to grasp this opportunity," Director of Cultural Industry Research Center of Shanghai Academy of Social Sciences Hua Jian said. "Concept and content, imbuing human ideas and wisdom, constitute the soul of cultural trade. Along with the change of world patterns, China's export-oriented cultural enterprises and transnational corporations are about to experience their best period. Adaptable enterprises and products with technological and innovative edge can expect better development."  
Services