Discover China's Independent Bookstores
By staff reporter MA HUIYUAN
ACCOMPANIED by soft and soothing music and the distinct aroma of new books, we browse the aisles, hoping for something special to leap out from the shelves. We are often spoilt for choice. So the chance to relax on a sofa and order a cappuccino or tea while we make our decision is inviting. And if there happens to be a literary salon going on, we may even meet some great cultural icons.
The joy of choosing, reading, and purchasing in bookstores cannot be replaced by e-books or Internet shopping. In China, many independent bookstores offer the enjoyment of reading. Faced with sales competition from the Internet and e-books, these stores are seeking their own development mode.
Cultural Landmark of a City
Sanwei Bookstore was the first privately operated bookstore to open in Beijing. Its shop front looks tiny on the long Chang'an Avenue that runs east to west through the center of Beijing. At the entrance, an entire wall is covered with post-its on which readers can leave their messages and wishes. Among these is the autograph of the late Israel Epstein, former honorary editor-in-chief of China Today. On the opposite wall is a list of literary and cultural lectures that have taken place in the bookstore.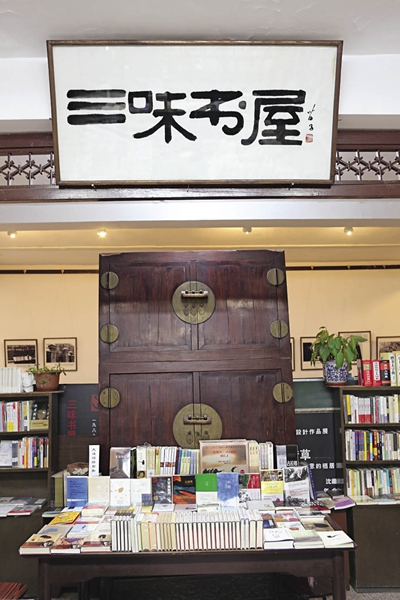 A display of recommended reading at the Sanwei Bookstore.
Sanwei Bookstore does not sell popular literature or bestsellers. Mr. Li, the owner, explains the idea of his bookstore. "Here, the books are handpicked. We only select those that make you think. The quality of a book is a reflection of the personality of the author, so this is our first requirement. We have regulars but also young people who are attracted by the reputation of our institution." In contrast to the turbulent outside world, the bookshop interior is quiet. Even the music is soft lest it disturb readers.
Speaking of the future of this traditional bookstore, Li told us, "Books and paper media will never disappear to be replaced by electronic books or the Internet. Most owners of traditional bookstores just want to sell books. But facing the heavy market pressure and exorbitant rents, it is becoming increasingly difficult for independent stores to survive. We are fortunate to have our own building, therefore we can maintain our business. All books here are sold at full price, no discounts or membership cards."
Since the 1990s, online bookstores like Amazon and Dangdang have boomed and now share the market with traditional bookstores. The ease and attractive prices of these online bookstores are a huge challenge for traditional bookstores. With the popularity of online shopping, e-books and micro-reading, as well as the rising costs of leases, traditional bookstores are declining. In late October 2011, the O2 Sun Bookstore closed its doors for financial reasons. It was the largest independent bookstore in China with a history of 16 years. Bookstores like The Third Pole, Monsoon, and Fengrusong have gone under one after the other. In 2015, books sold online recorded another rapid growth of 33.21 percent year -on-year. JD, Tmall, and Dangdang are the three most successful online book sellers.
Yet the surviving bookstores have gradually become the cultural landmarks of China's cities, such as Beijing's Sanwei Bookstore, Shanghai's Zhongshuge, Nanjing's Librairie Avant-Garde, Guizhou's Sisyphe Bookstore, and Hangzhou's Xiaofeng Bookstore.
In November 2014, during his inspection of the Beijing-Hangzhou Grand Canal, Chinese Premier Li Keqiang visited Xiaofeng Bookstore in Hangzhou. "Traditional bookstores were challenged by the Internet, but paper books are symbols of culture and will always have their place in the market," Li said.
In Harmony with Historical Sites
Zhengyang Bookstore undoubtedly has the most authentic Beijing flavor. It includes almost all the books on the history of Beijing, Beijing culture and folklore, and the arts, and secondhand books such as Annals of Miyun County and The Historical Narrative of Quanjude, and new books such as Disappearing Hutong. Nothing is missing, the entire stock has been carefully selected by Cui Yong, the bookseller who was born in the 1980s. A sculpture of a Beijing rabbit god and Beijing-style teapots can be found on a shelf in the corner. Researchers and Beijing history buffs are among its frequenters. These regulars, who have become good friends with the storekeeper, are permitted to borrow books.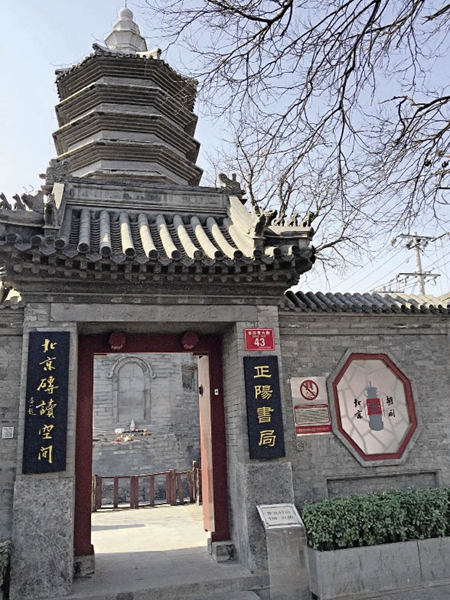 Zhengyang Bookstore showcases the cultural and historical heritage of the old city of Beijing.
In April 2009, Cui Yong opened the bookstore despite opposition from his family. The store used to be located at No.76 Langfang'ertiao, Xicheng District. But at the end of 2013, the Cultural Committee of Xicheng District contacted Cui Yong and offered him a new location in the courtyard surrounding the Pagoda of the Old Man Wansong, a good way to showcase the cultural and historical heritage of Beijing. The bookstore, which focuses on Beijing's history, is in perfect harmony with this historical site. Today, the courtyard is a reading venue operated by Zhengyang Bookstore. "I opened this bookstore out of my own personal interest. Today, all traditional bookstores are struggling. We were lucky that the local government allocated this site to us for free, greatly reducing our costs," Cui Yong said.
Last year, independent bookstores in France and Canada rebounded thanks to the support of the public and the government. In China, as in these countries, the difficulties of bookstores have attracted public attention. The government has launched policies and solutions to support booksellers. Since 2013, the Ministry of Finance and the State Administration of Press, Publishing, Radio, Film, and Television have started pilot projects to support bookshops. In 2014, work began in 12 cities including Beijing, Shanghai, Nanjing, and Hangzhou, with 56 stores receiving a total of RMB 90 million of financial support.
In 2015, the pilot work to support brick-and-mortar bookstores expanded to 16 cities and provinces. On January 7, 2016, the 2015 Book Market Analysis Seminar was held in Beijing. According to the report, China's book retail market in 2015 increased 12.8 percent over the previous year. The market for independent bookstores continued to increase in 2015 after growing 3.26 percent in 2014.
Diversified Thinking
Apart from bookstores that strongly defend tradition or have a niche market, more and more bookshops are choosing to innovate and diversify their mode of development.
The embedded bookshelves in Owspace.
Owspace is an independent bookstore chain, formerly known as One Way Street. Founded in 2006, it took its name from the book One Way Street by German philosopher Walter Benjamin. Xu Zhiyuan, founder of this bookstore, is a known author. His first intention was to create a reading space for himself and his friends. The original address of One Way Street was near the Old Summer Palace in northwestern Beijing. With Peking University and Tsinghua University just next door, its regulars included many students. In 2009, One Way Street moved to the Solana shopping district, pushed out by high rents in the university district. In 2012, the store relocated to Chaoyang Joy City shopping mall, again due to financial reasons, and another branch opened later that year in the Aegean commercial center of Beijing.
After years of moving, One Way Street changed its name to Owspace. At the same time, it diversified its financing methods, expanded its sales channels, and diversified its products. On January 10, 2014, at the Third Summit of Chinese Independent Bookstores, Wu Yanping, the bookshop's COO, attributed the success of Owspace to its innovative and multi-direction thinking.
Owspace Bookstore in Aegean Mall, Beijing.
Owspace is located on the third floor of the Aegean Mall. White walls and burlywood fit well the style of the gallery. Shelves are recessed in the walls. There are armchairs for readers, and series products such as notebooks, writing brushes, postcards, and calendars are available. In the café, people are absorbed in reading enveloped by the aroma of coffee. Cultural salons are also held on weekends.
We met Miss Cheng here, a graduate of the History Department of Peking University, who is in the process of choosing books. She speaks of Owspace as an old friend. "When the shop was near my university, I often went there. There was even a small courtyard where outdoor movies were screened. Honored guests debated with readers there, it was great! And all activities were free. There was no obligation to order a coffee or buy a book. People wrote short letters to thank the bookseller. Apparently, things are going better in this mall. People go there out of curiosity and leave with books. I do not think traditional bookstores will disappear. On the contrary, more and more people are coming back."
At the entrance there is a "corner for contemplation" where one can read, study or rest. Mr. Wang is preparing for an interview to start a PhD in science. "This place is close to my home, the atmosphere is nice and it's free. So I often come here to study and read. Sometimes I buy a book. But most books here are on literature, history and philosophy; science books are rare," he said.
Taking advantage of new media, the shop has also developed two apps that help readers find recommendations of articles, videos or other information. By using the popular app platform, Owspace is offering readers quality content in bite-size portions, which can fit in with the fast pace of modern life.
Today, a growing number of independent bookstores are following the model created by Owspace; they are developing cultural and creative products and merging with the Internet and new media. In this kind of bookstore, we can read while enjoying a moment of rest, meet friends, or attend a cultural salon. Independent bookstores have created a new way of life.
Services