World Animal Protection CEO: Animal welfare key to human development
By WEI BO   
Human beings everywhere should cultivate an awareness of animal welfare as a part of their daily lives and interactions, to make the world a more harmonious place for all who live in it, CEO at World Animal Protection Steve McIvor said in a recent interview with China.org.cn.
World Animal Protection, the world's largest animal welfare organization, operates in 50 or more countries. Its vision is a world where animal welfare matters and animal cruelty has ended, and its mission is to move the world to protect animals. The organization's four key programs include animals in farming, animals in disasters, animals in communities, and animals in the wild.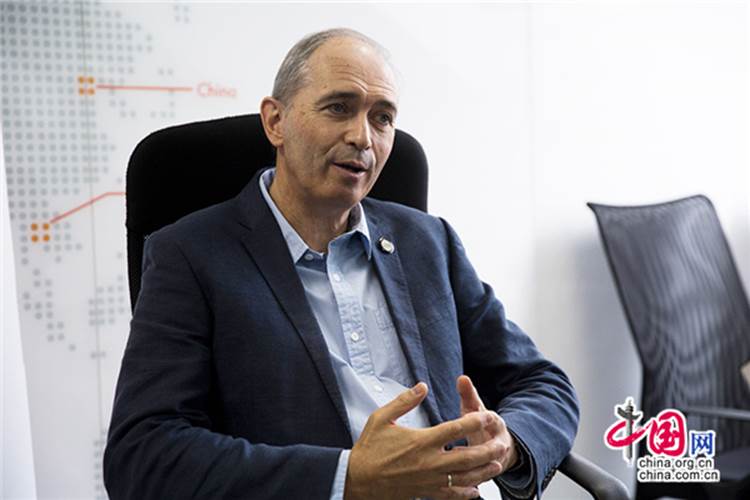 McIvor commented that to people in certain parts of the world, animal welfare, and more specifically animal rights, are unknown concepts.
"Animal welfare is about a positive and constructive relationship with animals," McIvor said. "People can eat animals and also have them as pets, but should always treat them with respect and consideration of their basic needs and instinctive behavior, rather than as machines or units of production."
More than 60 billion farm animals are reared for food every year globally, according to World Animal Protection statistics, a number that grows as the human population increases and economies develop. 
Animal welfare is closely linked to such major challenges as food safety, environmental protection, and poverty alleviation, which makes it integral to human development. This is why World Animal Protection is dedicated to promoting better welfare for farm animals, because it is in the interest of tackling these global systemic issues.
"We're trying to address, for instance, the way animals are used in production systems like battery farming, where hens confined to cages the size of A4 paper lay eggs for the length of their short, miserable lives," McIvor said. 
Animals living in such appalling conditions are likely to get sick, and so are injected with antibiotics, which puts consumers at serious risk, McIvor said. A cage-free system is the solution, because it ensures both adequate space for farm animals and wholesome, quality food for human beings, he added. Incorporating cage-free systems into large-scale industrialized production scenarios reinforces the relationship between food safety, high welfare farming, and sustainable agriculture.
China is the world's largest producer of farm animals like pigs and poultry. Along with economic development and the pursuit of a more civilized lifestyle, the country is also calling for higher food safety standards and a pattern of sustainable agricultural development. The many campaigns to promote animal protection that World Animal Protection has launched have achieved progress in multiple areas.
To improve animal welfare in the community, the organization has teamed up with the China Animal Disease Prevention and Control Center in launching pilot rabies prevention programs in three regions.
Results show that, as long as over 70 percent of the dog population in any one area is vaccinated, an immunity shield can be effectively established that prevents rabies transmission. Successes in pilot areas can be replicated in others and so eventually eradicate rabies from the country as a whole. At the same time, the organization is encouraging dog owners to take full responsibility for their pets by having them vaccinated.
"China, as the world second largest economy, has the world's biggest population, and is an incredibly important country globally that wields considerable influence," McIvor said. "We believe that there is both a will and empathy toward what we call ecological civilization in China."
McIvor said that animal protection is deeply rooted in Chinese history and culture, and he hopes that we could build on that foundation to achieve much greater success in the future.
With ever-increasing human development, the space for animals is shrinking, and the call to protect wild animals gets ever stronger.
It's often the case that a limited understanding of animal welfare results in people's inability to express their love and admiration for wild animals, but instead to take rides on elephants' backs or watch animals perform, McIvor said.
Currently, the number of animals used for entertainment continues to grow globally. About 550,000 worldwide are now forced to perform.
Thanks to the efforts of World Animal Protection, about 170 big travel agencies throughout the world have now stopped offering visits to venues that tout elephant rides and where these majestic animals are forced to perform.
McIvor believes that legal measures are also important for wildlife protection, and commends China's growing efforts to construct a legal system of animal protection.
He remarked how encouraging the organization finds China's focus on environmental and animal welfare practices in tandem with the country's economic development.
McIvor observed that every individual has a role to play in animal protection.
"I think it's important for people to realize that animals have their own fundamental needs," he said. "They can feel both joy and pain, something that any pet owner, either of cat or dog, knows."
McIvor encourages people to talk to their friends and families about the way animals should be treated and protected. "I think that, at the end of the day, it is our job to make ourselves and others aware of, rather than ignore, animal's basic welfare needs."
Despite all the challenges to animal protection that still exist, McIvor remains an optimist: I believe that by working together with people around the world and with governments and corporations, we will continue to make a difference.
(Source:China.org.cn/Chinagate.cn)
Services