Jiangxi Province Continues to Open up for Further Development
HIGH-SPEED trains have made our family members feel closer, as if we live in the same city," said Zhang Huafu, who works in Shangrao City, Jiangxi Province, while his parents and brothers live in Fujian Province. Though the two provinces are adjacent, the mountainous terrain makes the transport quite time- consuming. Zhang's family used to have a reunion only once a year during the Spring Festival.
After the high-speed railroad linking the two provinces opened to the public in 2015, Zhang and his brother could get together from their respective cities and visit their parents as often as they like.
With improved traffic networks and constant enhancement of China's high-speed railway construction, Jiangxi Province is furthering opening up, and embracing even faster development.
Boosting Economy and Improving Life
Lu Hongguo revisited Wuyuan in the northern part of Jiangxi during the National Day vacation last year. Recalling her first trip to the same place 10 years ago, she said that different forms of transportation have transformed the journey.
Ten years ago, there was no railway connecting Wuyuan, let alone a high-speed railroad. It took Lu 10 hours to travel from Shanghai to Shangrao by train, then three hours from Shangrao to Wuyuan by bus. It was an extremely unpleasant memory for her. However, the operation of a high-speed railroad brought her the courage and opportunity to pay a second visit in 2016. This time, she took the high-speed train with a tour group and savored the beautiful scenery at leisure and in comfort that was not possible 10 years ago.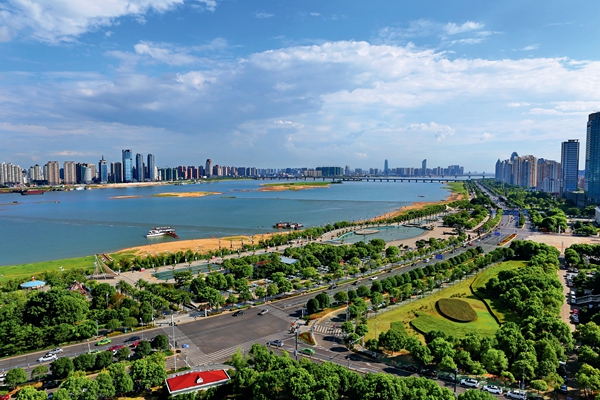 Honggutan New District in Nanchang. Yu Jie
Increasing mileages of high-speed railways, automated ticket systems, and other self-service facilities have slashed transport time as well as the check-in and waiting time, bringing more convenience to passengers. Statistics from Nanchang Railway Administration show that inbound tourists to Jiangxi during the 2016 seven-day National Day vacation amounted to 53.60 million people, 36.15 percent higher than the same period of 2015.
After the operation of Wuhan-Jiu-jiang High-speed Railway on September 21, 2017, the less-developed inland area of Jiangxi joined the national high-speed network. High-quality scenic spots like Tengwang Pavilion, Lushan Mountain, Xisai Mountain, and Yellow Crane Tower that are scattered along the line are now connected to form a large scenic area. The tourism market is expected to boom and expand, especially in the city suburbs and countryside.
"High-speed trains allow more people to know about Jiangxi, and accelerate the development in cities along the line, like Yingtan," said an official from the Development and Reform Commission of Yingtan. He believed the high-speed railway brought opportunities in strategic emerging industries, eco-agriculture, and modern service industries.
Jiujiang, known as the northern gate of Jiangxi, plans to invest RMB 10 billion to build a new urban complex – the High-speed Rail New Zone, which covers an area of 28 square kilometers. In Ruichang City, folk crafts such as paper cutting and bamboo weaving, both listed as national intangible cultural heritages, became better known as the city's new calling cards.
"Freight trains transport our furniture directly to the market, saving us time and money," said Huang Zhen, a business manager from Nankang District, Ganzhou City. The non-stop fast freight trains from Gannan to Chengdu, the capital of southwest province Si-chuan, were initiated by Nanchang Railway Administration in August 2016. Ganzhou Railway International Containers Center is also included in this initiative, bringing a seamless connection between the Ganzhoug Port and railways. Now, enterprises in Ganzhou find it very convenient to do international business.
Furniture is the pillar industry of Nankang District. It would take the old trains 160 hours to cover the 2,350 kilometers to Chengdu. However, after the fast channel was implemented, transportation time was reduced by half, and its cost by nearly 15 percent.
Improved railway networks have provided huge momentum to the coordinated development along the lines. According to Jiangxi's medium- to long-term plan for railway development, Jiangxi will build a railway framework of five east-west lines and five north-south lines, extend high-speed trains to all 11 cities, and form a modern transportation system which connects surrounding areas and the country's important economic regions by 2020.
Forging a New Engine of Growth
Improving infrastructure has provided favorable conditions for Jiangxi's innovative development. GA20, China's first general aviation aircraft whose intellectual property is independently owned by a private enterprise, established its research and production base in Nanchang's High-tech Zone on June 6, 2017. This injected energy to the Nanchang Aviation Industry City which is currently under rapid construction.
Shanghai MJ Intelligent System Co., Ltd. is the first listed company engaged in smart manufacturing that established offices in Jiangxi. After its launch in the Economic Development Zone in Nanchang, orders worth more than RMB 500 million were placed in just the first quarter of 2017.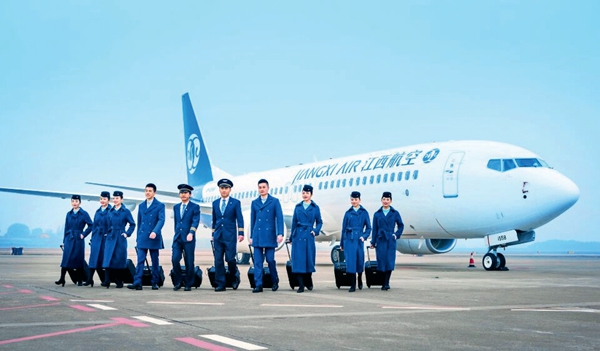 Jiangxi Air is going all out to improve the province's traffic networks. Wan Hailian
Facing the economic "new normal," Ganzhou City regards nurturing new growth engines as an important task. The city focuses on featured and competitive industries, vigorously promoting new manufacturing, and creating new growth areas including a new-energy vehicle town, modern furniture town, China's rare metals valley, Qingfeng pharmaceutical production center, and the IT industry belt.
The planned area for Ganzhou's new energy vehicle town is 35.2 square kilometers, and four vehicle manufacturing lines have been established here. The modern furniture town currently has 36 intelligent manufacturing workshops. A cloud platform, kj.casicloud.com, combining the Internet with furniture manufacturing, has been created and already attracted over 1,200 enterprise users.
Since the beginning of 2017, Yingtan local government has seized the vital opportunities emerging from the R&D, industrialization, and application of the mobile Internet of Things, so as to build a complete industrial chain. On June 12, China Yingtan Industrial Park of Mobile Internet of Things, China's first of its kind, was launched. The Alliance of Mobile Internet of Things, with over 140 key enterprises and research institutions, was also established. The day also witnessed the debut of communication module M5310, in the form of NB-IoT. The three events, regarded as key indicators of the industry, drew broad attention, giving the traditional industrial city of Yingtan a strong advantage in the new era.
Railway Express Boosts Open Development
On July 7, 2017, the first block train pulled out of Ganzhou Port for Uzbekistan (part of the China-Europe block train system), marking the connection between Jiangxi and the Silk Road Economic Belt. Trains take a 12-day journey from Ganzhou to Tashkent, Uzbekistan's capital.
The operation of the China-Europe block trains is a huge breakthrough in Ganzhou Port's efforts to operate direct routes with multi ports and to handle a diversified variety of goods. It will help integrate material resources in surrounding areas, promote cyclic utilization of containers, and ensure that containers are fully loaded both going out and coming back. The model creates a more convenient channel for Jiangxi's goods going abroad and foreign goods coming in, and boosts Ganzhou to become a vital link along the Belt and Road and an international hub for goods distribution.
This block train also helps promote Jiangxi's international production capacity cooperation. With a focus on iron, steel, and new energy industries, Jiangxi will enhance cooperation with Russia, Central Asia, Southeast Asia, and Africa, and further integrate into global chains of industry, value, and logistics. Domestic enterprises will find it easier to invest in countries along the Belt and Road routes through investment, and acquisition and mergers. The province is able to promote overseas project contracting and labor cooperation, conduct technological research and development collaboration, and create international marketing networks and famous brands. 
QIN HONG is a journalist with the Jiangxi Branch Office of Xinhua News Agency.
Services