Poverty Relief: Achievements in Five Years
By staff reporter LU RUCAI
IN 2015 the CPC and the Chinese government put forward the goal of lifting everyone in the countryside above the country's poverty line by 2020.
Since 2013, about 55.64 million people have shaken off poverty, equivalent to more than 80 percent of the total population of France. It will not only benefit the Chinese people, but also represent China's contribution to the evolution of human society if the largest developing country wins the battle against poverty and completes the building of a moderately prosperous society.  
Targeted Poverty Alleviation Works    
On December 29, 2012, President Xi Jinping, who had been in office for 40-odd days, made an inspection tour of Fuping, an impoverished county in Hebei Province. Fu-ping was the capital of the Shanxi-Charhar-Hebei Border Area, the first revolutionary base from which CPC leaders directed battles during the Chinese People's War of Resistance Against Japanese Aggression (1931-1945). Xi chose it as his destination with the aim of understanding the real situation of the people living in the poorest areas in China and probing the weaknesses of current social and economic development, so as to discuss how to build a moderately prosperous society. Xi went to Luotuowan Village and Gujiatai Village, where the annual per capita net income was less than RMB 1,000. "I selected two typical examples to understand the entire situation of the vast poverty-stricken areas in China," said Xi.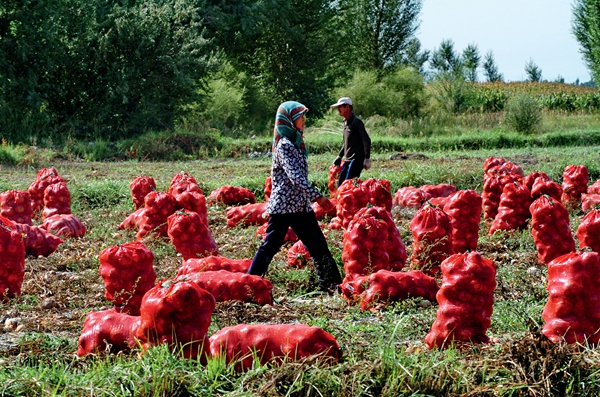 Local farmers in the Gobi Desert area of Jiuquan City, Gansu Province harvest onions. Yu Xiangjun
Over the past five years, Xi has made more than 30 inspection tours across the country and has stressed poverty alleviation almost everywhere he has gone. He has personally visited 14 contiguous poverty-stricken areas and encouraged the CPC cadres to regularly visit impoverished areas and chat with local people.
In November 2013, Xi first put forward the concept of targeted poverty alleviation during his visit to Xiangxi Tujia and Miao Autonomous Prefecture in Hunan Province. "Targeted measures should be made based on practical situations, and empty slogans should be avoided," he said. In June 2015, he pointed out at a symposium with local Party leaders of Guizhou Province that the success of poverty alleviation relies on whether targeted assistance can be provided.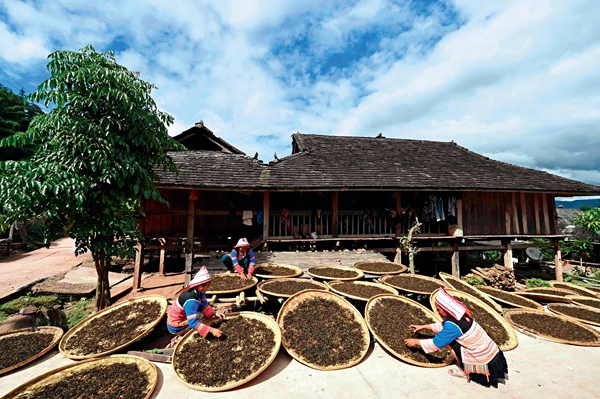 Women of the Jinuo ethnic group dry tea leaves in the sun in a village of Jinghong City, Yunnan Province on September 18, 2015. Planting tea and rubber trees has helped to improve local people's living standards.
In November 2015, the Central Committee of the CPC and the State Council released a statement entitled "Decision to Win the Battle Against Poverty," which explicitly put forward precise policies on poverty relief. It stipulated that the real conditions of impoverished people must be inspected, and targeted measures carried out to address their practical needs. Furthermore that funds must be used effectively, cadres assigned according to their professions and the work requirements, and their productivity and efficiency evaluated. Efforts should be made to reduce poverty through industrial development, labor transfers, resettlements and ecological protection projects. Moreover, a system should be established to provide service and care to left-behind children, women and senior people, as well as the disabled.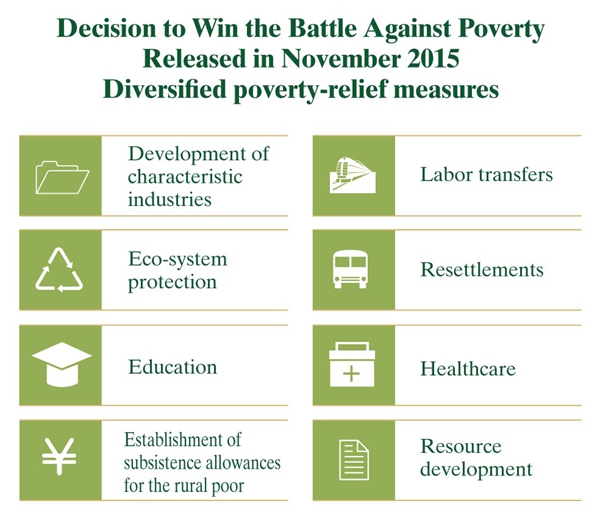 In order to promote these provisions on poverty relief, from April to October of 2014, the government departments working on poverty alleviation organized about 800,000 cadres to launch on-site inspections to identify 128,000 impoverished villages and 89.62 million poor people. They created profiles for the impoverished population and figured out the key factors that cause poverty in those households. Based on this analysis, they implemented targeted measures by improving education, healthcare, financial services, science and technology, as well as inviting private enterprises to support poverty eradication.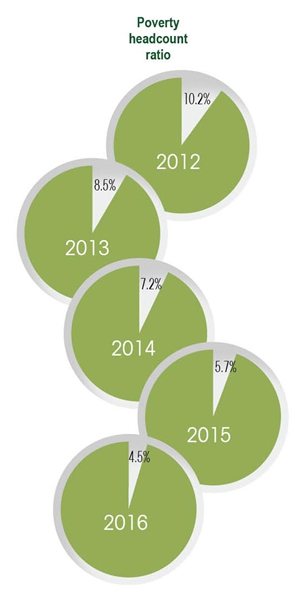 Those efforts have paid off. The past four years have seen the lifting out of poverty of over 10 million rural people every year. Take Hebei Province as an example. In the first half of 2016, the per capita disposable income of rural residents in impoverished counties reached RMB 4,811, a year-on-year increase of 13.3 percent.
Enhance Self-development Capacity
At the end of 2012, when Xi was on an inspection tour in Fuping County, he pointed out that the government should pay more attention to the contiguous poverty-stricken areas by helping impoverished people and the region to seek development by themselves.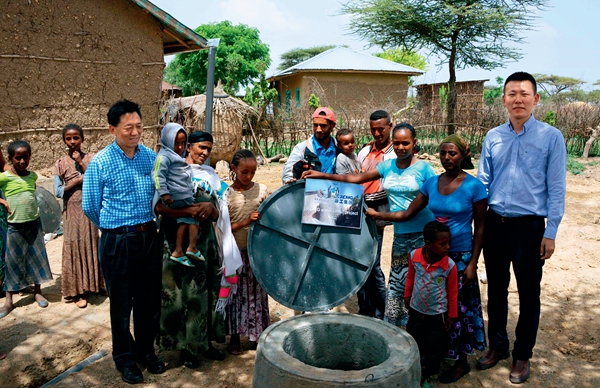 A group picture taken on June 4, 2017 beside a water cellar built to address the water shortage in Amhara, Ethiopia. The project was co-implemented by China Foundation for Poverty Alleviation and Xuzhou Construction Machinery Group.
China has always encouraged government departments, enterprises and individuals to jointly help reduce poverty.
The government has provided sufficient financial support for fighting poverty. Over the past four years, RMB 196.1 billion of the central budget has been allocated to poverty reduction, representing annualized growth of 19.22 percent. The government has also encouraged various parts of society to provide financial aid. The financial institutions have issued a total of RMB 283.3 billion in small loans to help nearly eight million families get rid of poverty.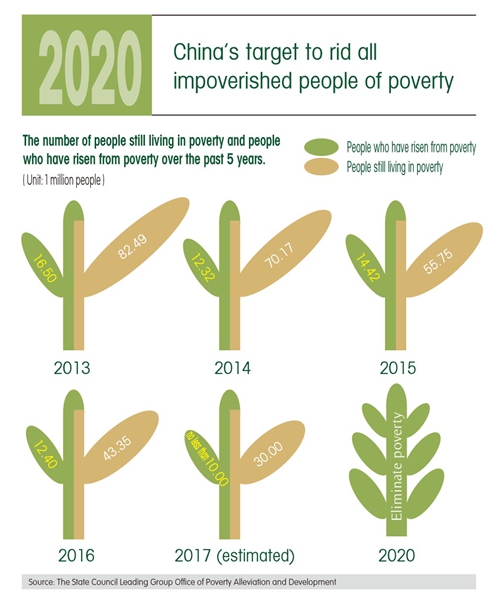 In 2014 China set October 17 as the Day for the Eradication of Poverty, and since then has carried out relevant activities to mobilize private enterprises, social organizations and individuals to participate in poverty alleviation. The program for the eastern region to offer assistance to poverty relief in the western region, initiated in 1996, has been upgraded. Nine developed provinces and cities such as Beijing, Shanghai, Shenzhen, and Zhejiang have provided assistance to their paired 12 provinces in the western region. Moreover, a total of 320 units of the central government and the CPC have taken responsibility for helping to lift their targeted 592 counties out of poverty. The People's Liberation Army and the Chinese People's Armed Police Force have helped more than 2,000 impoverished villages. Around 26,500 private businesses have helped nearly four million impoverished people in 24,600 villages with which they are paired.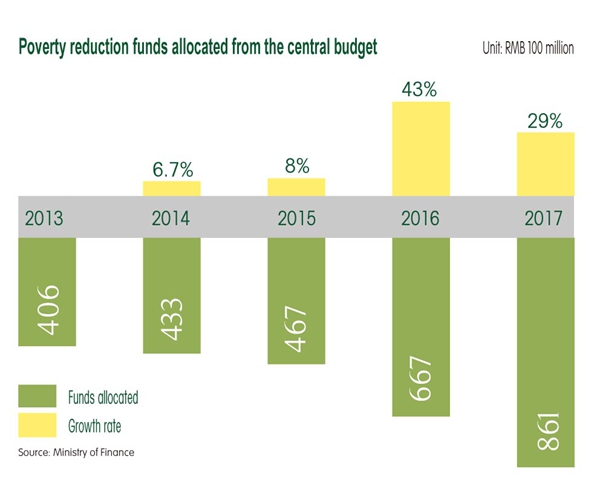 The goal of all these measures is to enable impoverished areas to build self-development capacity. The government creates employment to help those who can work to get out of poverty. In 2016, 30 counties in six provinces, such as Hebei, Anhui and Shanxi, were selected as experimental zones for poverty alleviation through photovoltaic (PV) projects. According to the plan, the PV projects will be carried out in 35,000 impoverished villages in 16 provinces, covering two million impoverished households.
The State Council Leading Group Office of Poverty Alleviation and Development and National Tourism Administration helped 22,600 villages increase income through developing rural tourism. There are 428 poverty-stricken counties enrolled in a rural e-commerce pilot program. In Luotuowan Village in Fuping County where Xi visited, cadres helped local villagers open online stores, through which local agricultural products such as honey, eggs and walnuts could be sold nationwide, thereby generating revenue.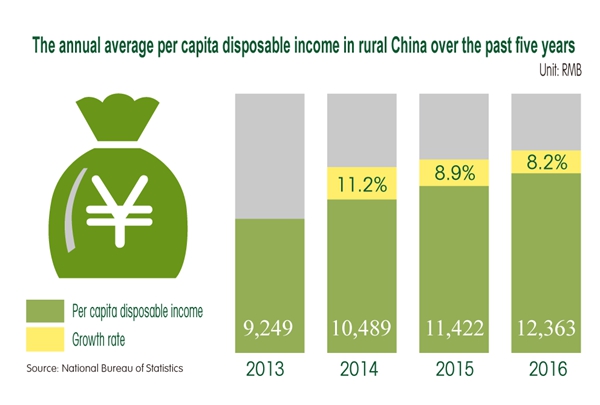 At the central work conference on development-oriented poverty reduction in 2015, the heads of Party committees and governments of 22 provinces and autonomous regions in central and western China signed with the central authorities letters of commitment on poverty elimination, and likewise similar documents were signed by leaders at lower levels.
Share the Chinese Experience
Over the past few years, China has received support from the international society in poverty reduction. Many international organizations such as the World Bank, the UN Development Program, the UN Food and Agriculture Organization (FAO), and the Asia Development Bank have provided help in terms of funds, ideas and technology. The World Bank started to approve loans to China to support poverty reduction in 1996. Its loans have benefited almost every province in western China. From the end of 2016, the World Bank started to offer loans to targeted provinces, such as Guangxi Zhuang Autonomous Region and Shaanxi Province, to support cooperation between farmers' cooperatives and agricultural enterprises and to develop the agricultural value chain.
Currently there are still more than 700 million people living in extreme poverty globally. In China, over 40 million people need to escape poverty by 2020. The Chinese government lays great store on exchanges and cooperation with international institutions and other developing countries in poverty reduction. It also promotes the international cause of poverty alleviation by providing aid to other developing countries with no political strings attached, so as to help developing countries, especially the least developed countries, to eradicate poverty.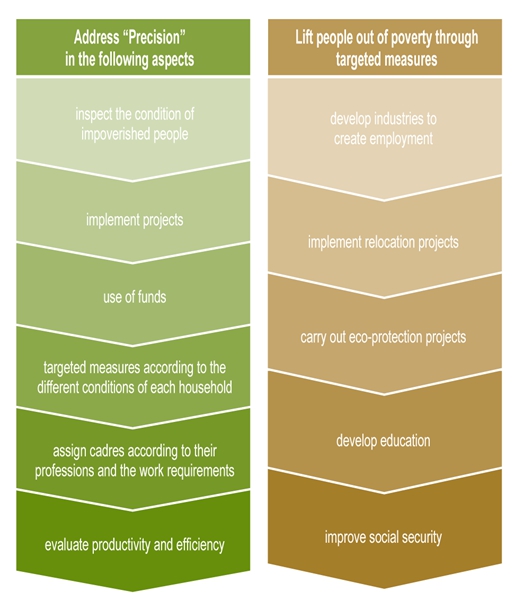 Over the past decades, China has provided 166 countries and international organizations with nearly RMB 400 billion worth of assistance and dispatched over 600,000 aid workers. China has also announced seven times it would unconditionally exempt the matured inter-governmental interest-free loans owned by heavily-indebted poor countries and least developed countries. It has also provided medical aid to 69 countries and helped more than 120 developing countries to meet the Millennium Development Goals (MDGs).
To enhance the sharing of experience in poverty reduction, the Chinese government and some international organizations such as the World Bank, and the UN Development Program jointly established the International Poverty Reduction Center in China in 2004. Since then the center has launched the Global Poverty Reduction and Development Forum, the China-ASEAN Forum on Social Development and Poverty Reduction, and the China-Africa Poverty Reduction and Development Forum, offering training to over 2,600 people from more than 120 developing countries.
On September 26, 2015, Xi Jinping announced, when he co-hosted the High Level Roundtable on South-South Cooperation at the UN headquarters in New York, that China would make available to other developing countries in the next five years 100 poverty reduction programs, 100 agricultural cooperation projects, 100 trade promotion and aid programs, 100 environmental protection and climate change adaptation programs, 100 hospitals and clinics, and 100 schools and vocational training centers. China will continue to share its vision and make its contribution to promoting international poverty reduction and realizing the 2030 Agenda for Sustainable Development.
Link I: Xi Jinping on Poverty Reduction
"A well-off China won't happen if people in rural areas, especially in the poverty-stricken regions, can't live a well-off life."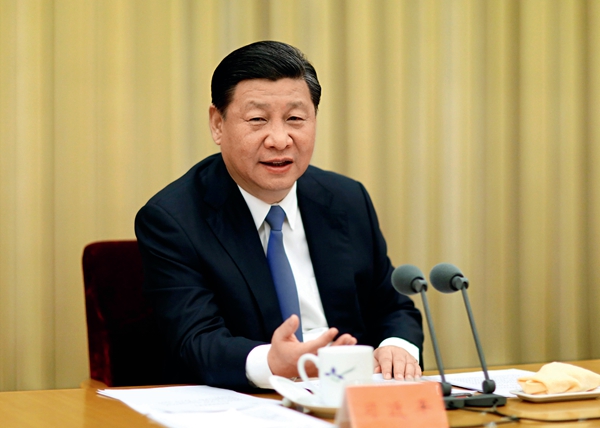 Chinese President Xi Jinping speaks at a high-profile conference on poverty alleviation and development held in Beijing on November 28, 2015.
— During his inspection tour to Fuping County on December 29, 2012.
 "We should insist on precision poverty reduction, take precise measures, lay out a precise timetable, and draw a well calculated plan, ensuring no ethnic group and no region falls behind in this endeavor."
— When meeting deputies from South China's Guangxi Zhuang Autonomous Region during the third session of the 12th National People's Congress in Beijing on March 8, 2015.
"We should take different measures toward different groups of people and different regions whose causes of poverty and situations vary, so that we can address their problems in the manner of drip irrigation and targeted therapy instead of introducing general policies indiscriminately."
— When he chaired the symposium with the heads of Party committees of certain cities and autonomous regions in Guizhou Province on June 18, 2015.
"We must reduce poverty through education. It is an important task to ensure children in impoverished areas receive good education, so that they will not continue to live the poor life as their parents did."
— He wrote in a letter on September 9, 2015 in reply to the teachers from Guizhou Province who attended a training course at Beijing Normal University. 
"Poverty reduction has entered the final sprint. We must try our utmost to achieve the goal of eradicating poverty, with clear plans and precise measures, ensuring no one falls behind."
— During the central work conference on development-oriented poverty reduction held from November 27 to 28, 2015.
Link II: International Response
Ban Ki-moon, the then UN Secretary-General, hailed in his address to the Global Poverty Reduction and Development Forum on October 16, 2015 the MDGs that had brought more than one billion people out of extreme poverty. China had made brilliant achievements in this regard. China alone accounts for around three quarters of the world's total decline in extreme poverty over the past 30 years.   
The UN FAO Director-General Jose Graziano da Silva said at the Seminar on Global Partnership for Poverty Reduction on April 28, 2017 that besides accomplishing its own goals, China allows other countries to benefit from its development through South-South cooperation. It is hence especially praiseworthy.
Bert Hofman, World Bank Country Director for China, Mongolia and Korea, said at the 2017 China Poverty Reduction International Forum held on May 26 that the Chinese government has achieved phenomenal success in reducing poverty, by helping around 800 million people to work their way above the poverty line since 1980, accounting for three-quarters of global poverty reduction during that period. In this regard China has made significant contributions to global poverty reduction.
"Ten million people will be taken out of extreme poverty every year for the next four years. That is 10 years ahead of the schedule for the first of the UN Sustainable Development Goals. It is not only impressive for China but sets an example for other countries in their efforts to eradicate extreme poverty," Wu Hongbo, the UN Under-Secretary-General for Economic and Social Affairs, said in a press conference at the UN headquarters on May 22, 2017.
Ashwani Mutthoo, IFAD's Director of Global Engagement, Knowledge and Strategy Division, said at the Seminar on Global Partnership for Poverty Reduction on April 28, 2017 that it is obvious to all that China's way to reduce poverty is efficient and effective. The theory and practice of China's targeted poverty reduction shows that with policy support and appropriate measures, it is possible to completely eradicate poverty.
Services