The Growth of China's Military Strength and Its Contribution to World Peace
By guest commentator BING CHENG
THE People's Liberation Army (PLA) of China has a splendid history of 90 years. Before the PRC was founded in 1949, the PLA had already grown into a strong army in its struggle against foreign invasions and against reactionary regimes in China.
Since October 1949, the PLA has made big steps to become a modern army. It has evolved from a single-service army into a multi-service one equipped with modern technology, and has become a vital force in safeguarding national sovereignty and maintaining world peace.
National Strength Boosts Military Strength
In the new century, as the overall national strength of China has grown, its military strength has grown as well. All the changes in China's military strength actually boil down to two aspects: 1), the development of military equipment and 2), the budget for national defense expenditure.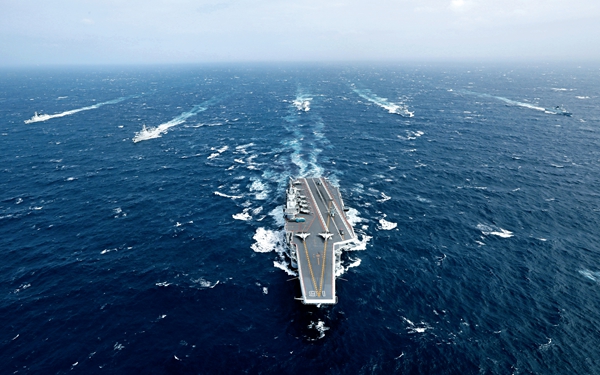 The aircraft carrier formation of the PLA Navy.
Seen from the first aspect, the designing of China's second aircraft carrier has been completed, and outfitting of the carrier is underway.
Relying on its own efforts, China developed the Yun-20 (or Transport-20), a huge, multi-function air freighter with a maximum takeoff weight of about 200 tons, a significant increase in its military capabilities. The new generation of the J-20 stealth fighter jet, which China developed on its own, is also under way; it will enhance the comprehensive military capability of the PLA, safeguarding national sovereignty, security and territory integrity. In addition, China's strategic arms are undergoing routine tests, which will enhance its missile defense capability.
China is developing its weaponry for a clear purpose. In an international system where nation states constitute the majority, a country, which still has not achieved its national unity and is faced with increasingly complicated regional security issues, should surely enhance its military strength for defensive purposes. Another reason for this enhancement is the incessant strategic containment from some Western countries.
Over time, we can see a continuous increase in the development of China's military strength, but on the whole China still lags behind world major military powers due to its control of its overall national defense budget. The per-capita military expenditure of the PLA is only US $60,000, which falls far short of the per-capita expenditure of U.S., Britain, France, or Japan's military expenses, which are around US $200,000-300,000.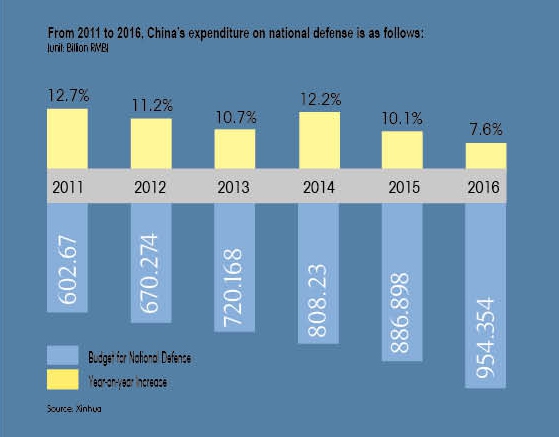 And still, the increase rate from 2011 to 2016 has stepped down progressively, from 12.7 percent in 2011 to only 7.6 percent in 2016. Most of the input has been used to improve the facilities in areas of major safety concerns, to replace and update old equipment, to improve the basic training, working and living conditions of soldiers at grassroots levels, and to promote civil-military integration (CMI).
What's more, the PLA is undergoing its 11th downsizing. The Chinese military will be decreased by 300,000 soldiers, hoping to improve its defenses by bringing up the quality of the army.
Guarding World Peace and Stability
China pursues a national defense policy that is defensive in nature. It opposes hegemonism, and will never seek hegemony itself. As seen throughout history, China works as a key force in maintaining world peace. In this sense, the reinforcement of its own military strength is strengthening of one of the world's peace-keeping forces.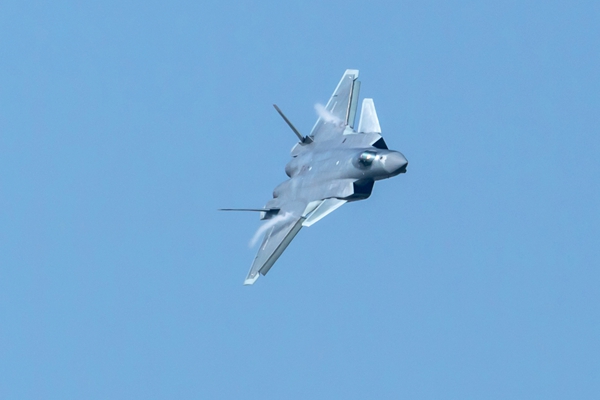 The J-20 stealth fighter jet appears at China International Aviation & Aerospace Exhibition on November 1, 2016.
First, of all the five permanent member states of the UN Security Council, China has sent the largest number of peace-keepers and its spending on peace-keeping ranks among the highest in the world. Over the past 10 years, it has participated in 27 International humanitarian emergency rescue operations, and offered emergency aid totaling RMB 1.23 billion to 24 countries. Currently, it is also building a standby peacekeeping force of 8,000 soldiers for future use.
Second, vessels have been sent by China to the Gulf of Aden and the waters off the Somali coast for escort missions in recent years in line with the relevant resolution from the UN Security Council. Since December 2008, the PLA Navy has escorted over 6,000 ships, half of which are foreign ones. 
Third, China emphasizes on and takes an active part in global arms control, disarmament, and nonproliferation of nuclear or chemical weapons. It advocates to bring the roles of the UN and other international organizations as well as multilateral mechanisms into full play, consolidating the current system for multilateral arms control, disarmament and nonproliferation, and respecting the rightful safety concerns of different nations.
China opposes nuclear terrorism. It has adopted effective measures to maintain a good record regarding its nuclear safety. China has set up agencies at both central and local levels in order to fulfill its obligations from the Convention on the Prohibition of the Development, Production, Stockpiling, and Use of Chemical Weapons and on Their Destruction.
China has always advocated developing outer space exploration in a peaceful way. It believes outer space should be weapon free, and opposes any sort of space-related arms race. China believes the best way to avoid all of these problems is by establishing legal documents through talks with concerned countries.
Deepening International Cooperation and Mutual Trust in the Military Field
Establishing mutual trust between militaries is an effective way to safeguard national security and to maintain regional stability. China insists on taking political mutual trust as the basis and abides by the following principles: holding dialogues on the basis of equality, respecting each other's core benefits and safety concerns, not doing something directed against a third country, and not threatening or harming the security and stability of any other country.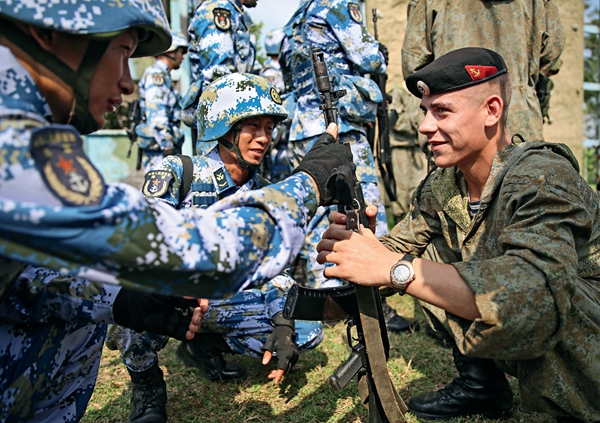 China and Russia held "Joint Sea 2016" drills in the waters off the coast of Zhanjiang City, Guangdong, southeast China from September 12 to 19, 2016. During a break, soldiers from the two militaries discussed the use of firearms.
Besides, it also makes efforts to enrich the contents of military cooperation in order to establish an equal, mutually beneficial, and effective military mutual trust mechanism.
First, China seeks to maintain strategic stability among great powers. For bilateral safety, China and the U.S. have held talks on non-proliferation, counter-terrorism, and military cooperation. By deepening their cooperation in the fields of emergency relief and disaster reduction, peace-keeping, anti-piracy, etc., they aim to create a new military relationship which is mutually trustful, cooperative, non-conflicting, and sustainable. Meanwhile, an agreement has also been reached on the Rules of Behavior for the Safety of Air and Maritime Encounters and the Notification of Major Military Activities Confidence-Building Measures Mechanism. With all these efforts, communication has been strengthened amongst the front-line commanders and pilots of their naval and air forces.
The Sino-Russia partnership of strategic coordination develops in an all-round and deep way. The two armies have held their first joint computer-enabled anti-missile defense exercise. Also, consensus has been reached on international strategic situations in Northeast Asia, Central Asia, South Asia, as well as the military cooperation between themselves.
Exchanges in national defense between China and Japan are being restored step by step. The two countries are going to launch an air and maritime liaison mechanism.
China and India are also active in defense exchanges. Leaders from both countries' armies and defense departments have paid each other visits, aiming to maintain peace along their borders, and to promote their bilateral military relationship to a new phase.
Second, China is committed to multilateral safety talks and cooperation. It attaches value to talks on national defense and safety cooperation with neighboring countries, for which mechanisms have been especially established between itself and Mongolia, Japan, Vietnam, the Philippines, Thailand, Singapore, India, and Pakistan.
The PLA sets out to work together with member states from Shanghai Cooperation Organization (SCO) to deter the "three evil forces" (terrorism, ethnic separatism, and religious extremism) in order to maintain the safety of Central Asia.
Guided by the consensus of building a China-Pakistan community of shared destiny, the Chinese army and Pakistani army keep strengthening and expanding regional anti-terrorism cooperation.
China holds that the ASEAN (Association of Southeast Asian Nations) should play a leading role in the regional cooperation of East Asia. It takes the initiative to hold China-ASEAN Defense Ministers' Informal Meetings, and promotes cooperation in various areas such as anti-terrorism. Meanwhile, China is also working with Pakistan, Afghanistan, and Tajikistan to figure out an anti-terrorist cooperation mechanism.
Third, China is committed to international cooperation in disaster relief. In recent years, the PLA has played a key role in sending relief supplies and professional teams to people and countries in need, especially in disaster-hit areas. Apart from its active participation, China has also strengthened its exchanges and coordination with relevant countries and international organizations, to advance the establishment of a disaster relief mechanism and promote personnel training.
In 2009, China sent a medical and logistics unit for the first time to Gabon in Africa on a joint operation mission. It offered medical training to the locals and provided them with medical assistance. In 2010, a similar medical unit was sent to Peru on a humanitarian mission.
Handling Disputes in a Proper and Peaceful Way
Apart from safeguarding national sovereignty, security, and interests, the PLA also participates in talks at different levels with China's neighboring countries about the security situation in the Asian-Pacific region, the military relationships between China and others, and regional hotspot issues. Through these efforts, the PLA plays a positive role in managing conflict risks, promoting mutual understanding, and maintaining regional peace and stability.    
First, the PLA has safeguarded the safety and stability of China's neighboring areas. China is committed to the denuclearization of the Korean Peninsula. In order to keep the Peninsula peaceful and stable, China advocates solving problems through talks. Along with the international community, China has implemented relevant UN Security Council resolutions fully and faithfully to call for more talks on the Korean Peninsula nuclear issue. Meanwhile, China strongly opposes the deployment of THAAD, a US missile defense system in South Korea, and says it is sure to undermine regional stability there.
In the China-ASEAN Defense Ministers' Informal Meeting held in Laos, China proposed holding a joint training on the Code for Unplanned Encounters at Sea, as well as a joint exercise for maritime search and disaster relief in 2017 in Zhanjiang, China, and the open waters adjacent to it.
China has established a defense commission mechanism with Egypt, a high-level military cooperation dialogue mechanism with Turkey, a defense consultation mechanism with the United Arab Emirates, the last of which is a new step in defense exchanges between China and Middle Eastern countries.
Furthermore, China is active in managing risks of border conflicts. It will continue to pursue the policy of building friendships and partnerships with its neighbors. It also attaches great importance to building mutual trust with its neighboring countries, strengthening friendly military exchanges in the border areas, and preventing precarious military activities in order to maintain regional peace and stability.
The Chinese government has signed agreements on the management of national boundaries with many land neighbors. In those agreements, it is made clear that all parties will keep order in the border areas, protect and utilize cross-border rivers, establish contact mechanisms there, and handle affairs through consultations on an equal footing.
Within the framework of the SCO, joint counter-terrorism military exercises help develop formal mechanisms.
In 2002, China held its first joint counter-terrorism military exercise with Kyrgyzstan. In 2003, it held its first multilateral joint counter-terrorism military exercise with SCO member states, and in the past 10 years, over 10 similar joint Peace Mission-themed military exercises have been held among them. In 2006, it held another similar military exercise with Tajikistan. Regular scheduled joint exercises held at sea have been occurring for some time. In 2003, China had its first joint maritime search and rescue exercise with Pakistan.
China has now held bilateral or multilateral training at sea with India, France, England, Australia, Thailand, America, Russia, Japan, New Zealand, and Vietnam. The content includes search-and-rescue, communication, and formation of ships, diving, and escorting drills.
China has launched a series of joint training on land with different countries. In 2007, the joint army training between China and Thailand was the first between China and a foreign country. It also worked together with Pakistan, India, Singapore, Mongolia, Romania, and Thailand to launch joint training in counter-terrorism, peace-keeping, military operations in mountainous areas, and amphibious warfare operations.
Services