Post-G20: Hangzhou Builds Stronger Ties with Southeast Asia – An Interview with Mayor of Hangzhou Zhang Hongming
By staff reporter CHEN XI
THE G20 Summit was successfully held in Hangzhou in September 2016, so sharing with the world the splendor of this Chinese city with thousands of years of history, and showing people of the world the extent of China's prosperity and development. To make optimum use of the G20 Summit in this respect, the Hangzhou Tourism Commission, the Hangzhou Culture, Radio and Television Group, and China Today magazine decided to carry out a series of interviews, starting last December, covering a six-month period, titled, "Recall Hangzhou, Feel China." They consist of conversations with influential figures in commerce, politics, and tourism from Thailand, Malaysia, Singapore, and Indonesia who tell of the impressions they gained of Hangzhou during the G20 Summit. The interviews will later be compiled into a series of talk shows called "Recall Hangzhou" and broadcast in those countries to convey Hangzhou's charm and promote the city's tourism.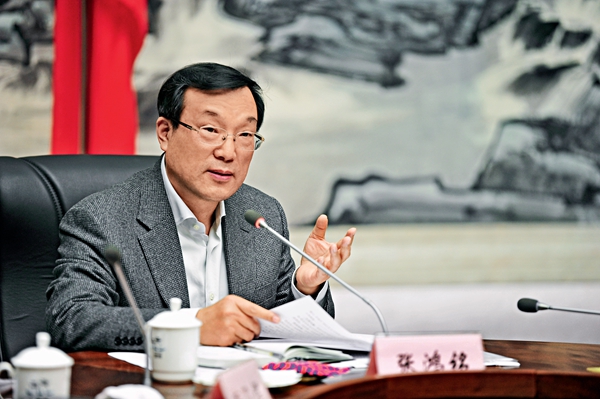 Zhang Hongming, Mayor of Hangzhou
Before the series started, our reporter interviewed Mayor of Hangzhou Zhang Hongming about the impacts on Hangzhou of the G20 Summit, and the opportunities and challenges it has since brought the city.
China Today (CT): What changes did the G20 Summit bring to Hangzhou?
Zhang Hongming: It put Hangzhou at the forefront of the world stage and presented to guests from China and abroad the unique charm of this city. The G20 Summit opened the gate for Hangzhou to the world, and so heightened its popularity and reputation. Major media began to notice Hangzhou due to the summit, and the city's international image changed from that of "a city 176 miles from Shanghai" to "G20 Summit host city."
The impact of the G20 Summit can be divided into three major aspects: First it elevated Hangzhou's international level. Hangzhou implemented 605 programs in six areas to upgrade existing venues, thus better serving the summit. It also quickened construction of such infrastructure as airport, subways, and roads, so greatly improving the city's transportation. Hangzhou also enhanced environmental management, having refurbished the West Lake area, expedited a project called "light the city," and improved air quality. During the summit, political leaders of the G20 countries, Fortune Global 500 companies, and internationally known media gathered in Hangzhou. This improved the international community's understanding of the city, enabling it to better integrate with the world. Over the first three seasons of 2016 Hangzhou attracted 108.84 million tourists – 14.37 percent more than 2015, including 106.16 million domestic tourists and 2.68 million foreign tourists. Tourism has generated revenues of RMB 181.54 billion – an increase of 16.17 percent year-on-year.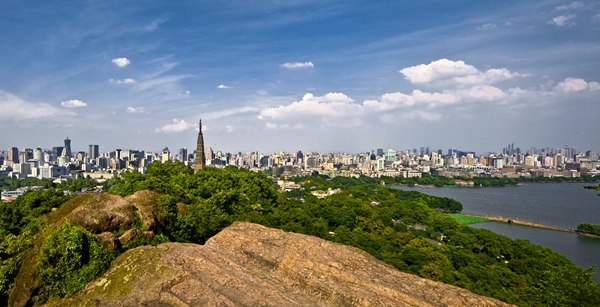 A panorama of Hangzhou and the West Lake. Yu Guangming
Second, the summit greatly improved the quality of Hangzhou's economic development. The successful hosting of the G20 Summit brought new opportunities for the city's economy, significantly promoting Hangzhou's tourism, information service industry, cultural creativity industry, and financial insurance industry, as well as attracting foreign investment. In the first three seasons of 2016, Hangzhou's GDP increased 10 percent year-on-year after topping RMB 1 trillion in 2015, so maintaining a two-digit increase for six consecutive seasons. The percentages of the primary, secondary, and tertiary industries of the economy have been further optimized to 2.7, 36.2, and 61.1 respectively. Services contributed 78.5 percent to growth of the city's GDP, and information economy accounted for 50 percent of local GDP growth. Hangzhou has thus preliminarily formed an industrial structure, with information economy as a pioneer, high-end services as a leader, and advanced manufacturing as a pillar.
Third, the summit strengthened Hangzhou's soft power. In the wake of the G20 Summit, Hangzhou can now make the most of its legacies of infrastructure and international-standard venues. Hangzhou formed a smoothly functioning mechanism and accumulated rich experience from the construction of venues, environmental improvements, conference management services, security services, and the creation of a social ambience. All of these also helped the city to improve its public services and management, and laid a solid foundation for further hostings of large international conferences.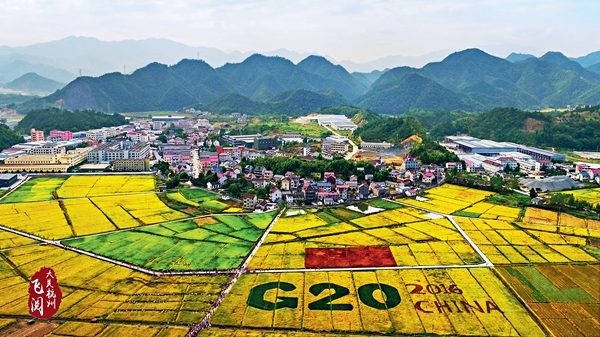 Picturesque scenery in the Hangzhou countryside. Li Maoxiang
While making preparations for the summit, Hangzhou also took the opportunity to promote civility among citizens. Hangzhou issued the citizens' code of conduct as host of the G20 Summit and launched a series of campaigns, including "Polite Hangzhou People," so encouraging citizens to develop with the city. As a result, Hangzhou's "Courtesy on Zebra Crossings" and the image of its citizens as "well behaved, polite, calm, and confident" and hence walking "human scenery" continue to impress.
CT: What opportunities and challenges will Hangzhou meet in the post-G20 era?
Zhang: In the post-G20 era, the impacts of the summit are becoming clearer; they have enabled Hangzhou to attract more information, capital, technology, and talents, and promoted the city's business, tourism, exhibition and investment.
In the meantime we are aware that, compared with Beijing, Shanghai, and Shenzhen, we still have a lot of catching up to do: GDP has only just exceeded RMB 1 trillion, and our comprehensive power is not sufficiently strong. Our innovation capabilities and industrial structure need to improve and we still lack the competitive advantages necessary to participate in international division of labor. Hangzhou also lacks high-end talents, especially leadership types, its transportation does not meet the demands of internationalization, and public services need to improve.
CT: Internationalization is an important strategic task of Hangzhou's 13th Five-Year Plan period. Against this background, we launched a series of interviews titled "Recall Hangzhou, Feel China." We'll focus on well-known personages in four Southeast Asian countries and aim to tell stories of Hangzhou through them, so presenting a panoramic view of the post-G20 Hangzhou. What advice do you have for us in this regard?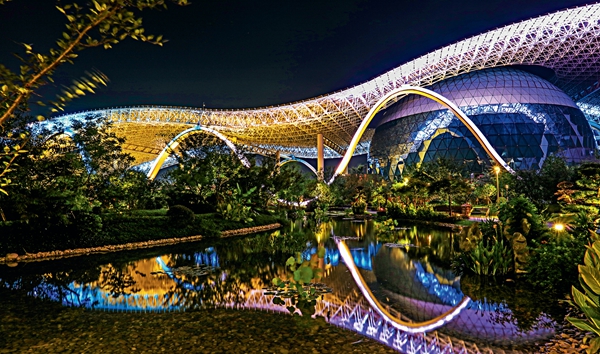 The impressive hanging garden at the Hangzhou International Expo Center.
Zhang: China has maintained uninterrupted ties with Southeast Asia, where traces of Chinese people who in earlier times made their homes in these countries are still apparent today. Places where Chinese people live, especially Chinatowns, are still the most prosperous business centers locally that display abundant Chinese cultural characteristics.
Hangzhou also has close relations with Southeast Asia. There are now 16 scheduled flights from Hangzhou to Southeast Asia, accounting for 40 percent of Hangzhou's international flights, and tourists from Southeast Asia make up 10 percent of all foreign visitors to Hangzhou. Southeast Asian countries like Thailand, Singapore, Malaysia, Indonesia, Cambodia, and Vietnam are the main destinations for Hangzhou people traveling abroad. By the end of 2015, Southeast Asian countries had invested in Hangzhou 520 projects to the tune of US $6.04 billion.
In recent years, many Hangzhou enterprises have speeded up their pace of investment in Southeast Asia, and companies like the Huali Group and Futong Group have established industrial bases in Thailand and Cambodia.
In today's age of globalization, Hangzhou should undertake closer, wider, and deeper exchanges with Southeast Asia, to promote mutual understanding and share development opportunities. We wish to bring the people of Hangzhou and Southeast Asia closer and to promote cultural exchanges through the "Recall Hangzhou, Feel China" interviews. We believe that China and Hangzhou's relations with Southeast Asia will take on a new and better look through the efforts of government, media, and people from all sectors.
CT: As Mayor of Hangzhou, what aspects of the city do you think we should focus on when we introduce the city to Southeast Asia?
Zhang: First is Hangzhou's long history. As one of the seven ancient capitals of China, Hangzhou was among the first batch of National Historical and Cutural Cities to be announced by the State Council. As the cradle of the Kuahuqiao Civilization of 8,000 years ago, of the Liangzhu Civilization of 5,000 years ago, capital of the Wuyue State (907-978), and of the Southern Song Dynasty (1127-1279), Hangzhou harbors two world cultural heritages — the West Lake and Grand Canal. There are 27 historical blocks, like Qinghe Lane, Southern Song Imperial Street, and West Gongchenqiao, all of which are redolent of the cultural aroma of Chinese civilization, and present its unique glamor.
Second is Hangzhou's beautiful scenery. Ecological environment is Hangzhou's most charming and competitive advantage. And its poetic scenery and perfect harmony of mountains and waters give Hangzhou its distinct charm and wonder.
Third is Hangzhou's favorable entrepreneurial environment. As a city of innovative spirit, Hangzhou has incubated many world famous enterprises like Alibaba, Wanxiang, Wahaha, and HIK Vision, and many excellent businessmen like Jack Ma, Lu Guanqiu and Zong Qinghou. Hangzhou welcomes friends from China and abroad, especially from Southeast Asia, to invest and start business in Hangzhou with open arms.
Fourth is Hangzhou's rich tourism products. After the summit, Hangzhou launched a series of products, tourism lines, and scenes with Hangzhou characteristics and rich cultural deposits, so carving out an epoch, for example, the G20 main venue experience trip, G20 performance trip, and Hangzhou light shows. In the meantime, Hangzhou combines the summit with classic Hangzhou factors, promoting tourism products such as Heavenly umbrellas, West Lake Longjing Tea, Hangzhou silk, Wangxing fans, and traditional handicrafts. In addition, by making optimum use of the publicity afforded by the summit, Hangzhou greatly improved its popularity as a host for international conferences.
CT: Now that 2017 has arrived, what expectations do you have for Hangzhou and its people?
Zhang: First, I want to thank all citizens for their support of Hangzhou's economic and social development, especially their support in guaranteeing the Summit. As for 2017, I have three expectations:
First is a better city. With the aim to build an international city of distinct charm and glamor, we will magnify the "post-G20, pre-Asian Games" effect and carry forward the building of a city of culture and history, a city of innovation, a city of commerce, a city of better ecology, and a city of China quality. Taking the improvement of Hangzhou's international level as a breakthrough, we will strive to build a more vibrant city with distinct characteristics.
Second is more coordinated economic development. We will carry forward the strategy of innovation-driven development, implement major reform tasks and important reform pilot projects, and continue to create a favorable system. We will moreover create a new economic development engine, and expedite transformation of the economic development mode that will create a lasting development momentum. In the meantime, we will carry forward adjustments to the industrial structure, and strengthen the development drive. While maintaining high-speed economic development, we will also hasten the pace of upgrading existing industries to a higher level, so broadening economic, social and ecological benefits.
Third is the people's safer, wealthier life. We will adhere to the development concept whereby "waters and mountains are silver and gold," and insist on integrating the beauty of manufacturing, of ecology, and of life. We will "protect, harness, and govern," and consolidate the good environment engendered during the summit by creating a city that exemplifies "beautiful China." We will also build the brand of an ecologically-friendly city, always put the people first, fulfill the duties of government according to law, and bring the market into full play. We will as well mobilize social forces in order to develop and share Hangzhou's development with all citizens.
CT: The series of interviews "Recall Hangzhou, Feel China" has started. We would like to invite you to say a few words to the people of Southeast Asia.
Zhang: Hangzhou makes exquisite products like silk, ceramics, and tea, and was once an important hub along the overland and maritime Silk Roads, so significantly contributing to the development of China and the world. Guided by the Belt and Road Initiative, Hangzhou, as an international e-commerce city, is trying to achieve free, convenient, and standardized cross-border e-commerce. It may thus became cradle of the "Internet Silk Road" through systematic innovation, management innovation, services innovation, and coordinated development. Therefore, we sincerely hope Chinese people abroad and friends from Southeast Asia will continue, as always, to support Hangzhou, and come to Hangzhou to holiday, travel, and invest. We should strengthen exchanges and promote a closer and more effective open cooperation, and create a win-win situation, so together building a better future.
Zhang Hongming believes the G20 Summit has opened the gate for Hangzhou to the world.
Services