Heads in the Stars
By staff reporter LI YUAN
ON April 20, 2017 the Long March-7 Y2 carrier rocket successfully launched Tianzhou-1, China's first cargo spacecraft, from Wenchang Space Launch Center on the southern island province of Hainan. Three days later, it docked with the orbiting Tiangong-2 space lab.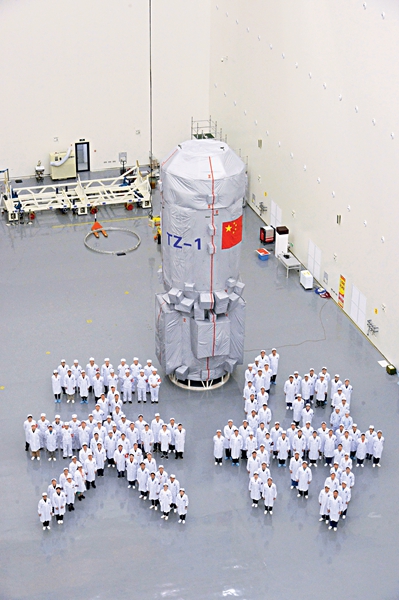 Bai Mingsheng,Yu Lei,Ren Liang:
China's first independently developed cargo spacecraft Tianzhou-1 was masterminded by a team of Chinese scientists of an average age of 35. Numbers of innovative projects have been fulfilled by the team led by chief designer Bai Mingsheng.
China independently developed the Tianzhou-1 spacecraft and its multiple, internationally advanced technologies. The project was masterminded by a team of Chinese scientists of an average age of 35. They include Bai Mingsheng, Yu Lei, and Ren Liang.
Bai Mingsheng, Chief Designer
Bai Mingsheng, chief designer of Tianzhou-1, studied spacecraft design and applied mechanics at Beihang University, and joined China Academy of Space Technology in 1988. He has since been involved in the development and launches of Shenzhou spacecrafts 1, 2, 3, 4, 5 and 7. In 2011 he led the team of young scientists, mostly in their 20s, which developed Tianzhou-1. That year he turned 45.
Bai returned to Beijing on April 28 after the successful launch of Tianzhou-1. Although he had not seen his family for some months he went directly to the Beijing Aerospace Control Center. He knows better than anyone that a successful launch is only the first step of a complex outer space mission. Tianzhou-1 was scheduled to carry out a number of tasks over the ensuing five months, including three dockings with the orbiting Tiangong-2 to pump propellants into the minispace station and various space experiments. Bai cannot rest until he has witnessed their successful completion.
Bai and his team have worked 10 hours or more a day for the past six years. They have painstakingly toiled over every component of the spacecraft and each step of the process leading to the launch. They consequently regard one another as family members, and the spacecraft as an offspring.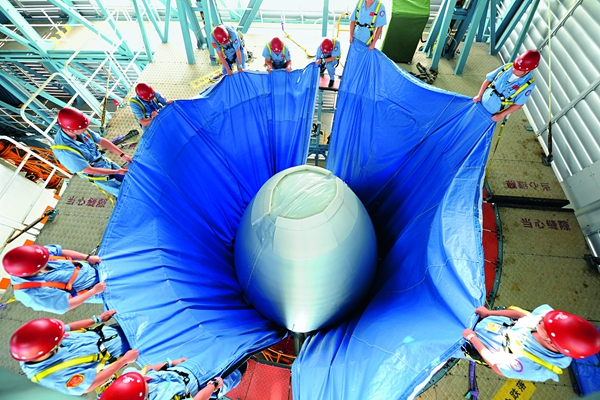 Tianzhou-1 cargo spacecraft is moved to its launch site at the Wenchang Space Launch Center in Hainan Province on April 17, 2017.
They have just cause to be proud of their progeny. Tianzhou-1 has achieved six "firsts" in China's aerospace history. It is China's first cargo spacecraft to undergo a flight test mission; and it has a six-ton carrying capacity with a 0.48 payload ratio. That makes its carrying capacity the largest of any existent cargo spacecraft in commission. The successful in-orbit refueling renders China the third country in the world, after the U.S. and Russia, to have mastered this technology. Tianzhou-1's initial use of Ethernet technology makes possible the 1Gb/s Internet connection between the Earth and outer space. It is also the first of its kind to carry out a fast, fully automated rendezvous, and has reduced the duration of this maneuver from two days to 6.5 hours. The spacecraft is moreover the first to implement various technological applications and tests in a single mission. And the mission marks China's first automatic de-orbit and destructive reentry into the Earth's atmosphere after the airship completing its service. The country has thus contributed towards a clean, safe space environment.
Seeing Tianzhou-1 blast off reminded Bai Ming-sheng of the euphoria he felt decades earlier upon passing the rigorous national college entrance exam. He ascribes this success to the excellent and conscientious work of the entire team.
Bai calls on young scientists to grasp the opportunities and meet the challenges of the era. "China's space sector has been advancing at a rate of knots over recent years, having progressed from launching a single satellite every few years to several dozen in just one. This opens up a broad scope of opportunities for young scientists. However, heavy workloads and tight time schedules necessitate young people's involvement in research projects immediately after graduation. There is a negligible time margin for any transition or preparatory work experience.
While monitoring the Tianzhou-1 mission, Chinese scientists are also preparing for the launch of Tianzhou-2 and 3. That means Bai Mingsheng and his team will carry on working at full throttle. "China is a major player in the aerospace sector, but it has some way to go before it becomes a heavyweight. Our mission is to make the country an aerospace power."
Yu Lei, Chief of the Electric Group
Yu Lei, 34, is head of the electric section of the Tianzhou-1 research team. His involvement in the project began a decade ago, when he drew a draft of the cargo spacecraft in two days and nights. He was recruited as a researcher when China Academy of Space Technology inaugurated the manned space mission headquarters in 2010. He was later promoted to chief designer.
The Tianzhou project electric group which Yu heads handles every segment of the spacecraft involving power. This includes its fuel and information systems, software, and electromagnetic compatibility (EMC). The latter, as Yu explained it, can be compared with the human meridian system in TCM, invisible but omnipresent throughout the physical body.
The design of these electric parts and systems – ranging from the power distribution system to the high-voltage lithium-ion battery – was extremely demanding because they differ from those on existing spacecraft. As the Chinese team had no point of reference, it had to start from scratch.
For instance, having scoured all available power modules they could find none that matched their desired specifications. The team therefore developed its own, which proved successful after repeated experiments. The 100-V thick-film power module they produced acted as the bed rock for high-voltage power transmission in Tianzhou-1. It thus marked a further step in China's independent development of core components for its spacecraft.
Each conduction test checked 10,000 or more nodes and took 2,000 hours. Yu and his team needed to be on the site throughout the whole process. "The aerospace program is systematic. As the late 'father of Chinese aerospace' Qian Xuesen once said, we must approach it from a holistic perspective and aim for the best result as a whole. As I was formerly a designer of separate units, my experience with Tianzhou-1 revealed the entire system to me," Yu said. This insight motivated him to expand his knowledge beyond that required solely for his department. "I work with electricity, but my knowledge needs to extend beyond that."
Yu Lei says he feels lucky to be alive in an age where China is building its own space station, so opening up infinite possibilities for the country's aerospace scientists. As busy as he is, Yu seldom posts any WeChat Moments. But on the day of the Tianzhou-1 launch he sent the message. "This is the moment I've been working towards for years, and today confirms that it was all worthwhile!"
Ren Liang, Composite Test Director
"When young, I'd often look up at the starry sky and wonder if Chang'e really lived on the moon. This might have been my motivation for working in the aerospace sector," said 30-something Ren Liang, in charge of the composite testing section of the Tianzhou-1 program.
Ren was in the Tiangong-1 team before joining the Tianzhou program in 2013. His team of 12 worked on the spacecraft from the early days of sample monitoring through to its launch. "Composite testing could be compared with a physical checkup to assess the general state of a person's health. It periodically administrates the entire spacecraft. Any error in this process would cause irretrievable loss," Ren said.
Being of an innovative bent, the team introduced an automatic testing system that incorporates automatic interpretation software. It significantly improves testing efficacy and accuracy. Team members have also established a number of test paradigms, so paving the way for product serialization.
On April 20 Ren and his colleagues escorted Tianzhou-1 to the launch pad. He recalls feeling thrilled at the prospect of the launch. This was the first time he would witness one, despite having previously participated in several space missions. But he never complained about this as he saw himself as a just small component in the entire edifice of China's space program.
Bai Mingsheng, Yu Lei, and Ren Liang represent the legendary scientists who have made China's manned space mission program possible. They work diligently, day in and day out, towards making China an aerospace power.  
Services