Scientific Research to Improve the Ecological Environment
By staff reporter LU RUCAI
THE 2017 L'Oreal-UNESCO Award for Women in Science ceremony took place on March 23 in Paris. The award is presented every year to five women, one from each region – Africa and the Arab States, Asia-Pacific, Europe, Latin America, and North America – in recognition of their groundbreaking scientific achievements.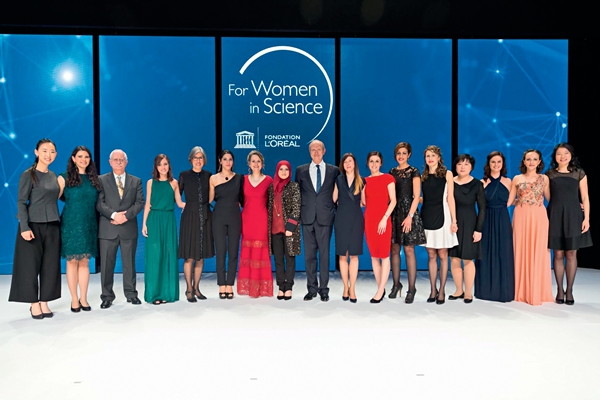 The 15 outstanding young women researchers who received the International Rising Talent Fellowship on March 23 in Paris.
Also standing on the podium were 15 outstanding young women researchers who have received the International Rising Talent Fellowship. Among them was post-doctoral fellow Long Ran from the National Synchrotron Radiation Laboratory (NSRL) in University of Science and Technology of China (USTC), in honor of her achievements in photocatalytic carbon dioxide conversion.
"It is a great honor to have been selected to learn from five distinguished woman scientists and to be acquainted with other female researchers," Long Ran told China Today.
Driven by Innate Interest
Born in Fuyang City of Anhui Province in 1987, Long Ran was curious about everything as a child. Thanks to her parents, she was given free rein to explore her interests.
Post-doctoral fellow from the National Synchrotron Radiation Laboratory at the University of Science and Technology of China specializing in high-performance catalyst and winner of the International Rising Talent Fellowship.
Long Ran went to the Junior High School of Fu-yang No.1 Middle School (now Fuyang Experimental Middle School) and graduated from its Senior High School. In 2005, she entered the USTC, where she obtained her bachelor's, master's, and doctoral degrees. She is now a post-doctoral fellow of the NSRL.
When Long Ran received her prize in Paris, a red banner was set up in front of her alma mater, the Fuyang Experimental Middle School, on which was inscribed, "Congratulations to Our Distinguished Alumna Long Ran, Selected for the L'Oreal-UNESCO International Rising Talent Fellowship." In paying this tribute to Long Ran, the school hoped to encourage its students to learn from her and make similar academic achievements in the future.
Zhang Hongliang was Long Ran's chemistry teacher in middle school. He recalled her passion for chemistry while at junior middle school, and how she chose the subject as her major at university. USTC is famous for its strength in frontier science and high technology. Since its establishment in 1958, the university has offered majors closely related to emerging technologies which the country badly needs. It has invited world-renowned scientists such as Hua Luogeng and Qian Xuesen to join its teaching faculty, and cultivated many distinguished scientific and technological experts.
After moving from Beijing to Hefei in Anhui Province in 1970, USTC became the sole university participating in the national innovation project. The university now has six National Training Centers for Basic Science and Teaching. Its abundant national-level research institutes include NSRL, the State Key Laboratory of Particle Detection and Electronics, and the Key Laboratory of High Performance Computing (Anhui Province). NSRL, where Long Ran now works, is a national laboratory open to both domestic and international scientists.
In 2008, Long Ran's third year at university, she joined the research group of Professor Xie Yi, a laureate of the 17th L'Oreal-UNESCO Award for Women in Science and academician of Chinese Academy of Sciences. Absorbed in scientific research and obtaining her doctoral degree under Professor Xiong Yujie, she then cooperated with Professor Song Li and became a post-doctoral fellow. Since then, chemistry and energy have been the focal points of Long Ran's career.
Devotion to Fossil Energy Research
Long Ran's studies focus on the design and controllable synthesis of inorganic functional materials, and on the establishment of their structure-activity relationship based on synchrotron radiation characterization and its catalytic applications. "My main research interest is catalyst design. Recently, I began research on using solar energy for catalytic conversion." Long Ran confirmed that the carbon content in the ecosphere has increased rapidly over recent decades. Statistics show that the rise of the Earth's temperature coupled with concentrations of carbon dioxide will inevitably lead to many ecological problems.
"Effective use of a catalyst in a highly targeted approach to transforming carbon dioxide into gas or liquid fuel will reduce the carbon emissions caused by humans and slow down the escalation of carbon dioxide concentration in the ecosphere. It will also retard the Earth's temperature rise," Long Ran said. In the process of converting carbon dioxide to fuel she intends to transform it into methane.
Long Ran explained that a high-performance catalyst could lessen the energy consumption and pollution generated by various chemical reactions. Therefore, catalysis science indeed closely relates to energy and natural environment issues.
Long Ran has made periodical achievements in her field of research. They include the publication of 30 or more papers in international authoritative journals, and winning the President's Special Award and the National Excellent Doctoral Dissertation of CAS. Long Ran's short-term target is "to enhance as much as possible the activity and selectivity of carbon dioxide catalytic conversion. I hope that in the future we can establish an artificial carbon cycle driven by solar energy and so alleviate the yearly increase of carbon dioxide in the ecosphere."
A Scientific Research Environment
Long Ran told China Today that exchanges and communications with international colleagues are crucial to her scientific research. "Currently, the research on carbon dioxide conversion in all nations is at a fundamental stage," Long Ran said. "Our final goal is to resolve this problem together with scientists throughout the world."
After a decade of experience in scientific research, Long Ran has discerned growing improvements in the domestic scientific research environment. Advanced equipment and platforms at her university and laboratory are open to all scientific researchers. International exchanges also provide opportunities to communicate with researchers at the world forefront. This holistic improvement makes Long Ran believe that "more and more Chinese scientists will win world-class scientific research awards."
Before winning the L'Oreal-UNESCO International Rising Talent Fellowship, Long Ran was selected in 2016 for the China Association for Science and Technology "future female scientist program." She supports these initiatives for the development of female scientific researchers. "These plans are truly encouraging, especially for those who have just started their career and expect to do research in order to achieve their development goals," Long Ran said.
"I'm an ordinary person doing a regular job. But I hope my work might help to improve the human living environment."
Services