SOE Reforms Enter Crucial Stage
By YU JING
Reforms to China's state-owned enterprise (SOE) have gone through three stages. The first was that leading up to the Third Plenary Session of the 14th CPC Central Committee in 1993, when power was decentralized and interests compromised. The second stage was from the early 1990s to the early 21st century, and featured institutional innovation. The third stage, featuring development of state assets, is marked by the establishment of the State-owned Assets Supervision and Administration Commission of the State Council (SASAC) in 2003, after the 16th CPC Central Committee in 2003. The Third Plenary Session of the 18th CPC Central Committee in November 2013 has brought SOE reforms to a new stage.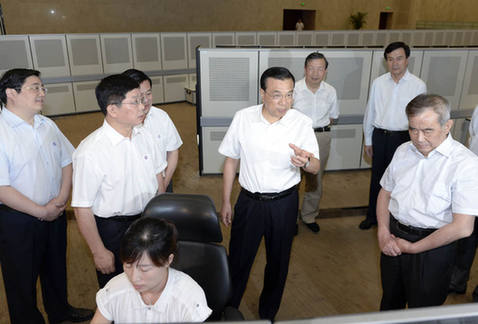 On his inspection tour of the China Railway Corporation on August 22, 2014, Chinese Premier Li Keqiang suggested the company accumulate more experience from reforms to large-scale SOEs. 
New Measures and New Progress
Deepening SOE reforms is an important task in the comprehensive deepening of structural reforms as raised at the Third Plenary Session of the 18th CPC Central Committee. In the past year, SOE reforms have taken place in both centrally administered enter-pries and local enterprises.
There have been three major actions in centrally administered enterprises. First, the Ministry of Commerce has raised the charging ratio on the centrally administered enterprises' state-owned capital gains by five percent, reaching 10 to 25 percent. The ratio of state-owned capital operating budget transferred to public finance budget increased from the 2013 level of 6.5 percent to 13 percent in 2014.
Second, the SASAC has named six SOEs, including the State Development & Investment Corporation and China National Cereals, Oils and Foodstuffs Corporation, to pilot such reforms as reorganizing state-owned asset investment companies to develop mixed-ownership economy on a trial basis, and setting up a more effective system of boards of directors. Centrally administered companies represented by the Sinopec Group have introduced social and private capital in order to develop mixed ownership projects.
Third, the CPC Politiburo has approved the policy of reforming the SOE executive salary structure, and strictly regulating top-level SOE employees' business expenses.
More varied measures have taken place at the local level. Since the Third Plenary Session of the 18th CPC Central Committee, more than 20 provinces and municipalities have enacted reform guidelines focusing on six measures.
The first is setting up and improving a state-owned capital operating budget system, and raising the charging ratio on state-owned capital gains. Some local governments have raised the ratio to around 30 percent; others plan to transfer parts of state-owned assets to enrich social security funds, or to raise the proportion of state-owned capital gains in such funds. It has also been suggested that state-owned capital gains be incorporated into industrial restructuring development, infrastructure construction and social insurance undertakings.
Second is clarifying SOE functions in order to carry out classified supervision.
Services