China Ramps up Anti-Corruption Efforts
By JIN SHANMING
We are in a new era, and China's anti-corruption drive is pressing ahead with new momentum. Since the 18th National Congress of the Communist Party of China (CPC) the central leadership has cracked a series of high-profile corruption cases that involve both high-ranking "tigers" and lowly "flies" as well as those who have fled the country, demonstrating its zero-tolerance for such misfeasance. It has been evident, particularly since the Third Plenary Session of the 18th CPC Central Committee, that top leaders' pledges to "contain power in the cage of systematic checks" and "work in a down-to-earth way and achieve tangible results" are not empty words.
Despite the achievements already made, China's anti-corruption efforts still face a multitude of challenges. The Fourth Plenary Session of the 18th CPC Central Committee, which convened in October, adopted a decision on comprehensively promoting the rule of law in China, which vows to accelerate anti-graft legislation and set up an effective anti-graft mechanism so "government officials dare not, cannot and do not want to be corrupt."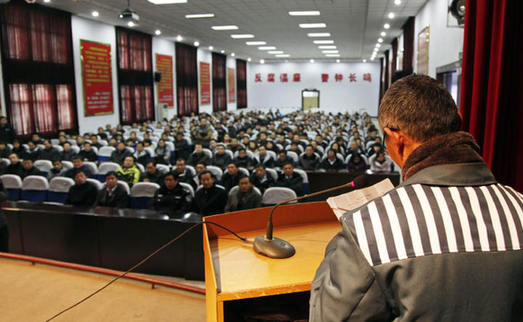 An inmate charged with abusing his official position talks about his misbehavior at Anyang City Prison, Henan Province.
Advancing on Two Fronts
The war on corruption is imperative to China's institutional reform and represents an indispensable positive energy in the transition of Chinese society. It is a priority of the CPC and the Chinese government alike to curb the spread of corrupt practices, and hence provide a solid guarantee for deepening reforms.
Since the 18th CPC National Congress China has rolled out new measures to prevent abuse of power. One of them is the mass-line campaign aimed to cultivate officials who can better serve the people and are down to earth and honest in their work.
The CPC Central Committee put forward the eight-point rules in 2012 to clean up extravagant and bureaucratic practices of public servants. The document urged officials to keep in close contact with the people and understand the real situation facing society through in-depth inspections at the grassroots. Greater attention should be focused on areas where social problems are more acute, and inspection tours must be more stringent. Inspection tours as a mere formality should be strictly prohibited. Leaders should work and listen to the public and officials at the grassroots, and people's practical problems must be tackled. There should be no welcome banner, no red carpet, no floral arrangement or grand receptions for officials' visits.
Meanwhile, the CPC Central Committee gives full play to its discipline inspection mechanism, regularly sending inspection teams to its organizations at local levels and for specific purposes. The inspection results are released to the public, as are plans for the self-correction of the discovered problems.
What's more, a cross-department cooperative system was put into place. Several central authorities including the CPC Central Commission for Discipline Inspection, the Organization Department of the CPC Central Committee and the National Audit Office, for instance, have jointly promulgated a decree on ensuring the accountability of government and CPC leaders as well as executives of state-owned enterprises via auditing measures.
Services