Making the Food Safety City Brand Construction a Focus - The Seventh Weihai International Food Expo opens
By GAO XIN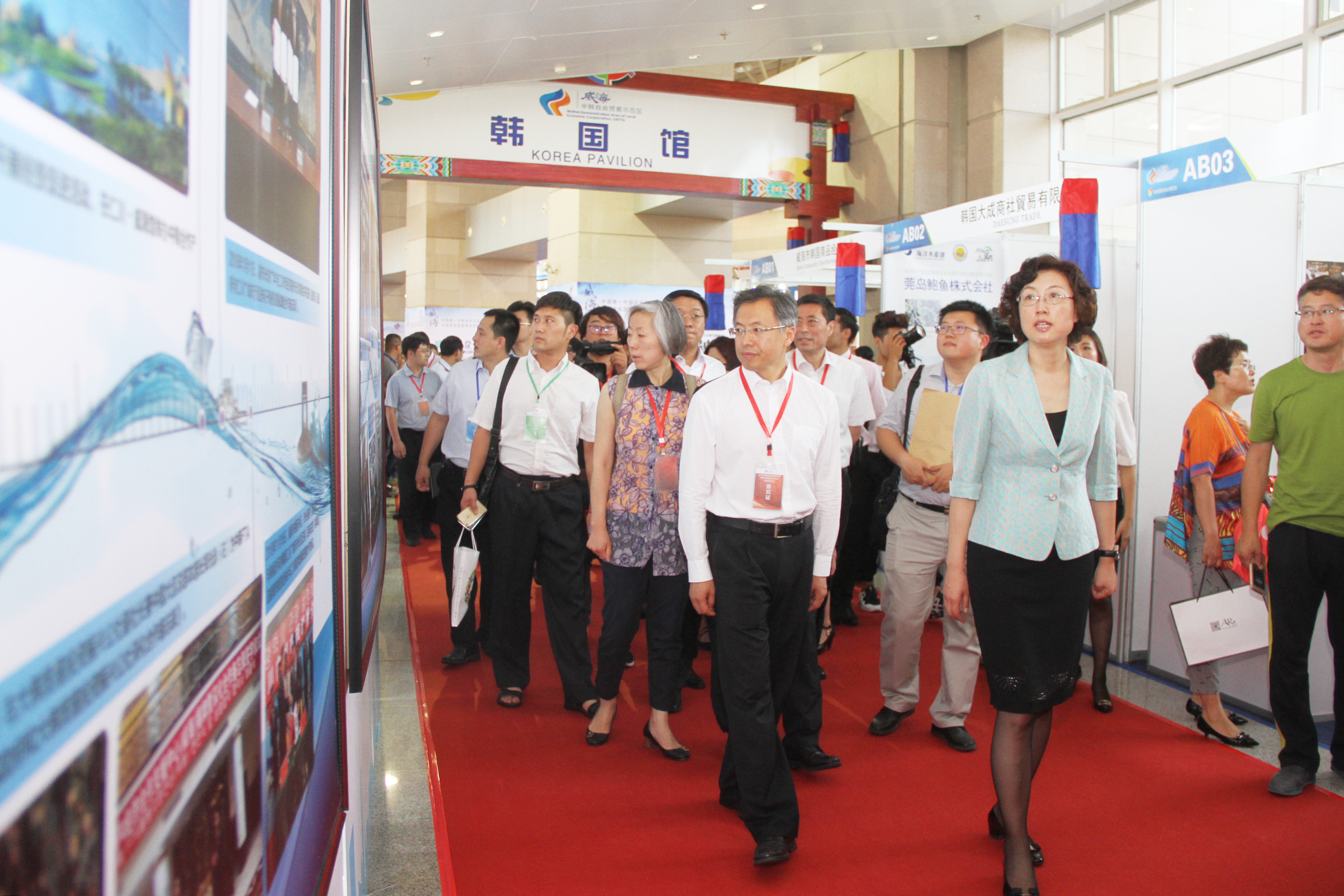 The South Korea Pavilion is set up especially for the Expo.
The Seventh Weihai International Food Expo and China-South Korea (Weihai) Lifestyle Expo, and China-South Korea Commodity Expo was held on June 17, 2016 at Weihai, Shandong Province. Themed on "Sounding the Fame of Food Safety City Brand, Sharing Opportunities under China-South Korea Free Trade Agreement,"the Expo is the highest-level and largest ever event in terms of its scale, scope of exhibits and number of exhibitors and professional visitors.
The event lasted for four days till June 20. The main venue,Weihai International Exhibition Center, set up the food exhibition area, China-South Korea trade-in-service exhibition area, South Korea Pavilion and other overseas exhibition area, providing a total of 670 exhibition berths. A total of 431 enterprises from more than 10 countries and regions including Belgium, Chile, Japan, South Korea, Malaysia, Russia, South Africa, Thailandand 20 provinces and municipalities including Yunnan, Sichuan and Hebei showcased their products and services. Weihai Local Brand Product Exhibition Center, the sub-venue, will exhibit commodities of 200 local enterprises in a long term.
Forging a food safety city brand is a highlight of the event. Weihai is an important food and agricultural product export city of Shandong Province. The outstanding brand awareness has effectively helped Weihai's export of food and agricultural products. A total of 88 enterprises exported more than US $5 million worth of food and agricultural products in 2015, bringing a total export value of US $1.3 billion. Among them, exports to Japan and South Korea accounted for two thirds of the total. Weihai has gradually grown into an important city of food trading with Japan and South Korea in Shandong and China as well. The Experience Center (Weihai) of Food with the Same Production Lines, Same Standards and Same Quality with Japan and South Korea was launched specially for the food safety at the Expo.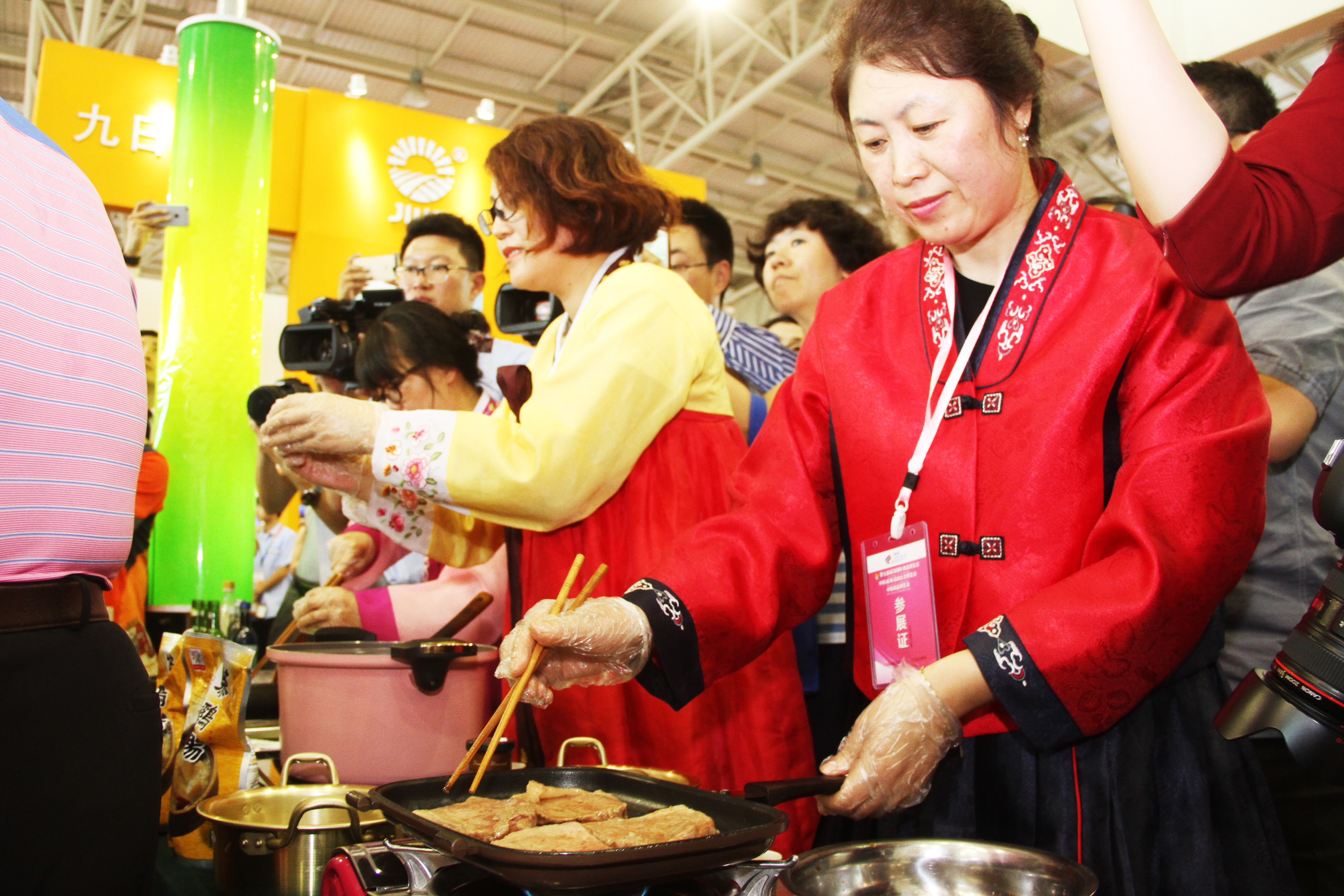 South Korean exhibitors cook delicious food at the Expo

.
The local economic cooperation and trade in service between China and South Korea were also the highlights of the exhibition. The Expo set up South Korea Pavilion for the first time, with 104 South Korean enterprises organized by Incheon and South Korea Trade-Investment Promotion Agency and other organizations. The exhibition area of South Korea is the largest ever in terms of its size. The Expo has also actively integrated elements of the China-South Korea free trade agreement (FTA), trade in service and culture and tourism, set up the service and trade interaction exhibition area, China-South Korea FTA local economic cooperation demonstration zone construction achievement exhibition, and tourist product exhibition area and other special exhibition areas. Achievements on the construction of demonstration zone of local economic cooperation between Weihai and Incheon exhibited from the four aspects of the improvement of the local economic cooperation mechanism, increasingly smooth trade passages between China and South Korea, leading role in the China-South Korea cross-border e-commerce development and intensive integration of the industrial cooperation between China and South Korea.
Services