Expand Trade and Upgrade FTA – An Exclusive Interview with New Zealand's Ambassador to China
By staff reporter LIU JIA
NEW Zealand Prime Minister John Key paid an official visit to China in April 2016, accompanied by a high-level delegation composed of high-ranking members, including ministers, parliamentarians and some 40 top entrepreneurs. Key and his Chinese counterpart Li Keqiang pledged, after friendly discussion, to further expand bilateral trade and promote negotiations on upgrading their free trade agreement (FTA).
Since the signing in 2008 of the China-New Zealand Free Trade Agreement, the first FTA between China and a developed country, China has become one of New Zealand's top trading partners. This economic cooperation has since expanded from agriculture and animal husbandry to investment, tourism, and education.
China and New Zealand have always respected one another's core interests, and maintained close communication and coordination in international and regional affairs. Recent years have witnessed leapfrog growth in the bilateral relationship of unprecedented breadth and depth.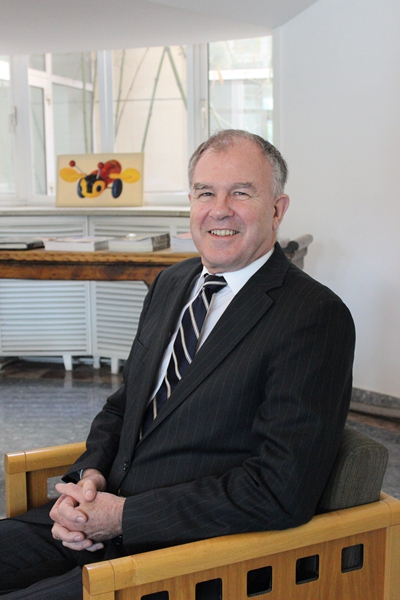 Ambassador John Mckinnon
For a more thorough understanding of the multiple issues involved in the two countries' bilateral relations, China Today interviewed New Zealand Ambassador to China John McKinnon.
China Today: You started your second term as New Zealand Ambassador to China in January 2015. Could you tell us your understanding and impressions of China in light of your work and life experiences here? How do you evaluate the past and future of the relationship between our two countries?
John McKinnon: I first came to work here in 1978, just as China was emerging from the "cultural revolution," at the start of the reform and opening-up process. At that time, New Zealand was also going through a number of changes that meant we had to look to many parts of the world for our people's livelihood and exterior connections. China was opening up to the world, and New Zealand was searching for partners. So it was a very happy coincidence of purpose at the time I was here. But that was the very beginning. I came here again in 2001 to serve as New Zealand Ambassador to China. That year China joined the WTO, then under the leadership of Director-General Mike Moore, former Prime Minister of New Zealand. It was a very significant event for China, and also for New Zealand, which had taken the step of recognizing China as a market economy with a view to embarking on bilateral negotiations. We realized that China needed to be part of the global trading system and were very happy to facilitate that. In 2008, China and New Zealand signed a free trade agreement, the first that China has signed with a developed country. Since then, our trade and economic relationship has rapidly advanced. Then, last April, Prime Minister John Key visited China for the sixth time, with a very large delegation. So through all of those different stages I saw huge changes in China, and also big changes in the way New Zealand and China have connected, because both countries have changed.
I think the relationship between our two countries is guided by the two principles of mutual respect and mutual benefit – both are very important. And as we go forward they continue to guide our aspirations. We know that we are very different countries, but seek to understand what the other stands for, and what is important to one another. But of course we also seek to derive benefits from the interactions between our businesses and our peoples, out of which grows mutual understanding.
China Today: Premier John Key's visit to China last April was his sixth since taking office. What were the main purposes of this state visit? What are the achievements? And what opportunities will it bring to China and New Zealand?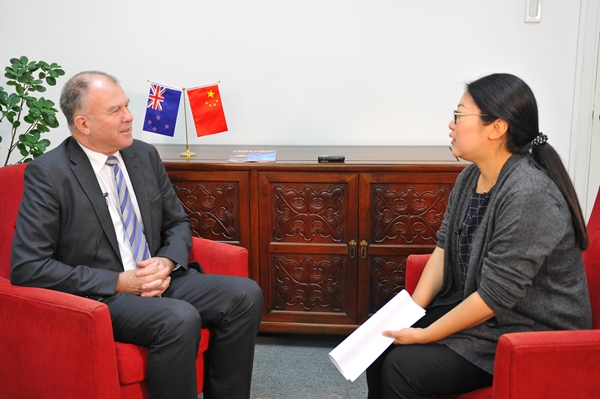 Interview with China Today.
John McKinnon: Well, it was his sixth China visit, which itself demonstrates his strong commitments to the relationship, matched by Chinese leaders' visits to New Zealand. The magnitude of his entourage demonstrates the breadth and depth of New Zealand's connections with China. So we not only sent people representing the traditional linkages through the dairy and meat industries, but also through those involved in film, television, education and science. It was a quite broad range.
During that visit, the government signed quite a number of agreements in respect of agricultural and science cooperation. We also announced some processes to facilitate visa applications. Other entities also signed agreements, such as on the production of films and television programs. So it was a way of encapsulating and demonstrating the dimensions of the relationship. The Prime Minister managed in a short time to touch on China's key parts and components, as well as New Zealand's relations with China.
China Today: Chinese President Xi Jinping introduced the Belt and Road Initiative during his official visit to New Zealand in November 2014. And in June 2015, New Zealand joined the AIIB as a founding member. What opportunities and possibilities between China and New Zealand are you expecting from the two mechanisms? What are their benefits and challenges for New Zealand?
John McKinnon: These are both significant initiatives. The Belt and Road Initiative is of course very wide ranging and broad in its conception. We have been interested in this initiative since President Xi Jinping first announced it. It's something that I think is as likely to affect how New Zealand businesses operate in other countries as it does how they do in China, because the initiative is about how China connects with countries in Central Asia, Southeast Asia, and South Asia, as well as with New Zealand.
We were one of the first prospective founding members of the Asia Infrastructure Investment Bank, and see the AIIB as a welcome initiative in the region. New Zealand companies are interested in the projects the Bank advances, which could be in the areas of geothermal energy, architecture, or infrastructure. As the Bank is new, it's just beginning develop its program, but I think there is already a high level of engagement. New Zealand businesses have in the past been associated with World Bank and the Asian Development Bank projects, which are of similar nature. So I think I would expect to see a high level of attention to those projects as they emerge.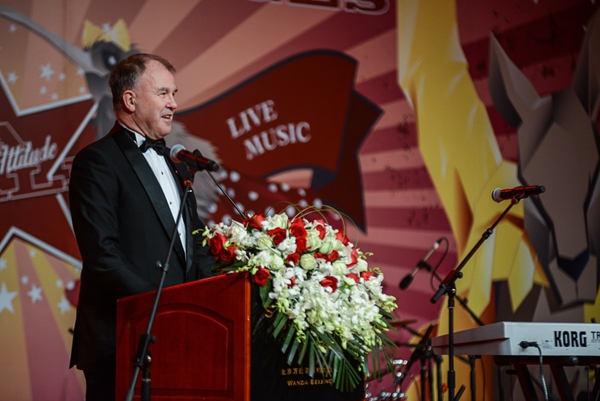 Ambassador Mckinnon attends Australia and NZ Ball 2016.
China Today: Our two countries have announced the drive to raise the bilateral trade volume from NZ$ 20 billion in 2015 to NZ$ 30 billion by the year 2020. From your point of view, in which fields will there be the most development opportunities in the next four years?
John McKinnon: As this is a very ambitious target we must work hard to get there. Currently, about 80 percent of our exports to China are primary products, and to be honest, that's where growth will happen. For instance, when Prime Minister John Key was here there were discussions about allowing exports of chilled meat from New Zealand to China, which could be of substantial value. That's still to be finalized, but it will open up a significant new area of trade, so one aspect we can concentrate on is expanding existing cooperation.
Second, there has been a great deal of growth in the services trade, such as education and tourism, and also film. Some have notched up very large figures, particularly tourism. That's again an area where I would expect to see growth over the next few years. Certainly, that's our expectation.
China Today: New Zealand hopes China might reduce punitive tariffs on New Zealand dairy products, its major export to China. But the Chinese government is worried about the impact on Chinese dairy farmers. How do you see this issue? What measures would you propose that could benefit both sides?
John McKinnon: This is a very important area. Obviously, we signed the free trade agreement in 2008, and since the beginning of this year, all Chinese goods imported into New Zealand have been duty free. But quite a substantial amount of New Zealand trade to China is still subject to tariffs, because of safeguard measures. Obviously, it's important for us to move forward on that, and this is something the two governments have discussed. We certainly recognize that, for China, this is a significant portion of its economy, and so carries some sensitivity.
We also recognize that the bulk of what we send to China consists of ingredients, so as it is the ingredients the government imports to make dairy products, these imports do not compete directly with the produce of Chinese dairy farmers. We think there is a way forward here, and in any case, it's something that has been under active discussion between the two governments. For New Zealand, obviously, dairy is a very important industry, but we also recognize that it's important for China. We want it to develop, but also to help develop that industry here.
China Today: In recent years, our two countries have achieved fruitful results through cultural exchanges. How do you evaluate cultural exchanges and people-to-people communications between us? What activities or events can we look forward to in the near future?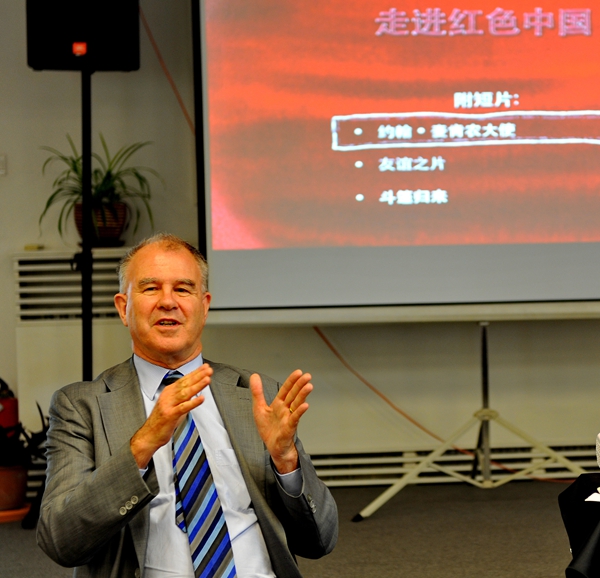 Ambassador Mckinnon attends to screening of Inside Red China.
John McKinnon: There are many activities, some of them sponsored by the government. We have a number of artists in residence here. A music group came to China a few weeks ago. We also held a film festival showing New Zealand films, and a Chinese film festival was launched in New Zealand in late May. So there are quite a variety of activities.
We are building a new embassy here on our original site. Once established, it will become a very significant platform for events of that kind, which are at the moment a bit limited. I guess the main thing is that the large numbers of people going to and fro will help us to get a better understanding of one another's culture
We believe that, with the joint efforts of the governments and peoples of the two countries, New Zealand and China relations will continue their healthy development.
China-New Zealand's "Firsts"
December 1972: China and New Zealand established official diplomatic relationship
August 1997 :New Zealand was the first country to complete its bilateral negotiations with China on China's WTO access
April 2004: New Zealand was the first country to recognize China's full market economy status
November 2004 :New Zealand was the first developed country to initiate the free trade agreement negotiation with China
April 2008: New Zealand was the first developed country to complete negotiations with China on a free trade agreement
June 2015: New Zealand was the first developed country to become a founding member of the Asian Infrastructure Investment Bank (AIIB)
Source: Ministry of Commerce
Services