Tianjin Binhai New Area: Rising Manufacturing Center and Tourism Destination
By WU MEILING & LI ZHUOXI
THE historical mission of Tianjin – the country's marine gateway – was to defend Beijing and its environs. Thanks to a 600-year accumulation of marine transport and trade development, over the past decade Tianjin Binhai New Area has become a flourishing business and tourism destination.
Prehistoric Saline Marsh
Archaeological research shows that 6,000 years ago Binhai New Area was a vast expanse of water. Shortly after, the influence of glaciers caused a gradual recession of these waters that permanently exposed the land, forming an embankment. Two thousand years later, the Yellow River that had flooded the North China Plain for millennia changed its route, so forming a vast territory. This evolutionary process came to an end during the Song Dynasty (960-1276).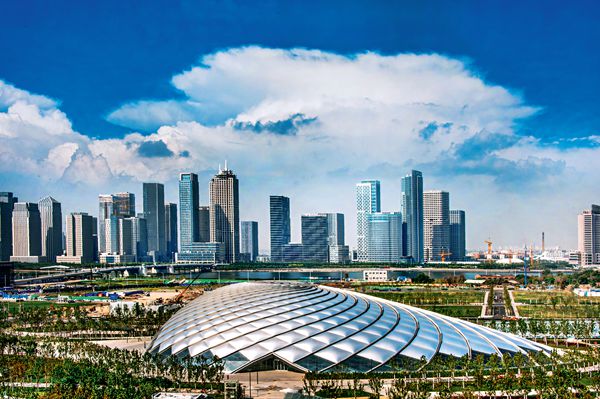 The central business district of Tianjin Binhai New Area.
This area of watered land attracted people from the north, who went there to fish and make salt. They built dwellings from reeds and clay and pioneered there a new homeland area.
These early settlers made salt from evaporating boiled sea water, according to historical records during the Warring States Period (475-221 BC). The area remained a prominent salt production center throughout history.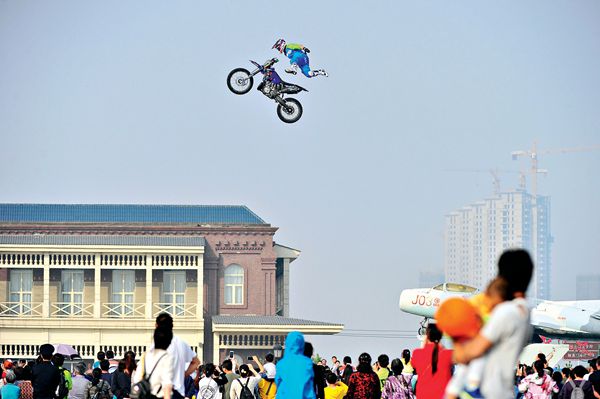 A motorcycle stunt performance on the Kiev aircraft carrier.
As Dagukou Port was on the estuary of Haihe River, Tianjin was also a main artery for the water transportation of grain from the South China to the capital. In a sense, therefore, Binhai New Area is inextricable from Tianjin's ancient culture. After the Ming Dynasty (1368-1644) moved its capital from Nanjing to Beijing, Tianjin and its environs became the maritime port from Beijing to southern China.
China (Tianjin) Pilot Free Trade Zone's booming prosperity now makes it a bridge between there and the rest of the world.
Global Purchases
The Tmall Global Country Pavilion Experience Center in Yujiapu of Tianjin offers a range of themed products from dozens of countries. As well as satisfying shoppers in pursuit of overseas goods, it also offers a choice of purchasing modes through the new combination online-offline shopping mode.
This abundant selection of European luxury brands helps consumers keep pace with worldwide trends. As a self-confessed foodie, I was dazzled by its array of tropical fruits from Southeast Asia, Australia, and South America. I was particularly tempted by the pineapples from Phuket in Thailand, Australian avocadoes, and guavas from Latin America.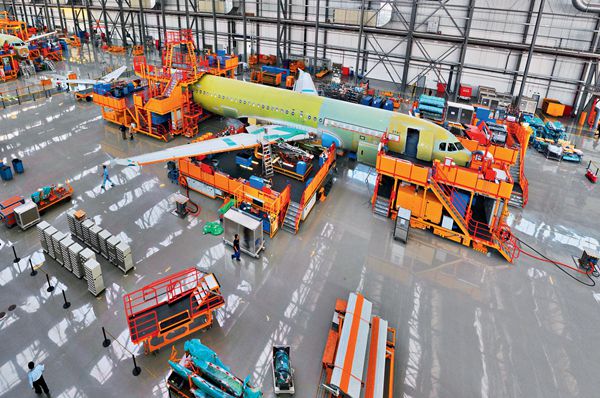 The Airbus 320 final production line in Tianjin.
Most striking was the Bazaar Park, whose design was inspired by the world renowned Grand Bazaar in Istanbul. This 2,500-square-meter indoor market, redolent of Turkish culture and customs, features crafts, gourmet foods, and onsite performances. These include coffee tasseography – Turkish fortune telling from coffee grounds. This fascinating folkway, which is on the UNESCO list of intangible cultural heritage, draws crowds of visitors at the park. I was more drawn to the distinctly rich milk flavor of the delicious dondurma (Turkish ice cream) which took me back to my childhood.
In addition to its space for these smaller items, Yujiapu also includes a parallel import car trade center. On display in its 4,000-square-meter exhibition hall are luxury car brands such as Benz, BMW, and Porsche, at sale prices 10 to 20 percent lower than on the market.
Dagukou Fort Site
Dagukou Port is a must-see for history-hungry visitors to Binhai New Area. Portugal and Spain's opening of new sea routes to the Far East at the end of the 15th century heralded the global oceanic era. Two centuries later, Emperor Jiaqing of the Qing Dynasty (1644-1911), aware of the strategic position of Dagukou Port in guarding the capital city and as a maritime gateway, issued an imperial edict reestablishing a naval base there. Accordingly, in April 1816, batteries were built along both shores of Dagukou Port.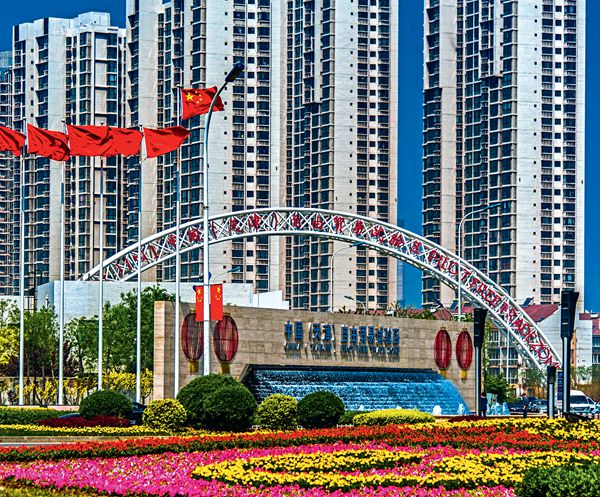 The China (Tianjin) Pilot Free Trade Zone archway.
The First Opium War (1840-1842) eventually shattered the feudal Qing Dynasty closed-door regime, so influencing the historical course of modern China. In the 100 years after 1840, China's territory was trampled underfoot by Western powers. Between 1858 and 1860, Dagukou Port was site of three battles, so underlining its strategic position as a maritime gate. In 1900, the Eight-Power Allied Forces attacked Dagukou Port and gradually occupied Tianjin and Beijing. Later, in 1901, the Qing Dynasty signed the humiliating Boxer Protocol. The Dagukou Port batteries were dismantled the same year.
The site today, however, bears no trace of these painful memories. Human recollections have wisely consigned Dagukou Port to history.
Mazu Culture
As the source of all life, water is naturally the wellspring of Binhai New Area culture. The area's distinctive character derives from rivers and oceans. Bustling water transportation on the Haihe River and Grand Canal nourished local culture, as the vast Bohai Bay brought to it the customs and folkways of foreign lands. It was thus rivers and the sea that brought the collision and fusion of China's north and south cultures, of those of China and the West, and of traditional and modern culture. Binhai New Area thus constitutes a vivid regional cultural feature.
Mazu, the Chinese sea goddess, was originally enshrined on Meizhou Island in southeastern province of Fujian. It was grain transportation during the Yuan Dynasty (1271-1368) that extended her presence from Fujian to Tianjin (known as Zhiguzhai at that time). Sailors from the south introduced Mazu Culture and built a temple for the sea goddess. More than 100 years later the city was renamed Tianjin.
The Mazu Cultural Park in Binhai New Area covers a 39,000-square-meter area of reclaimed land. In the park is a statue of Mazu that stands 42.3-meter tall, highest in the world. It was made from 858 stone blocks.
There are around 5,000 Mazu Temples worldwide that link the beliefs of ethnic Chinese living along the Maritime Silk Road. Tianjin has taken great care to sustain its Mazu culture since the prosperous reigns during Emperor Kangxi and Emperor Qianlong of the Qing Dynasty. Combining tourism, commerce, and entertainment, the park also serves as a platform for economic and cultural exchanges among countries and regions along the Maritime Silk Road.
Russian Splendor on the Aircraft Carrier
For those who relish an exotic ambience, the Kiev aircraft carrier in the Tianjin Binhai Aircraft Carrier Theme Park marina was formerly flagship of the former Soviet Union's Northern Fleet. In May 2000 the Kiev departed from Russia's naval port and arrived on August 29, 2000 in Tianjin's Nanjiang Port. The 16,850-sea-mile voyage took 102 days, a magnificent feat in shipping history.
There are no longer warplanes and naval officers and men on this awesome aircraft carrier. But you can hear from its silent deck the lapping of waves. In the spacious cabin below is a display of navy uniforms, weapons, and medals which give visitors a glimpse of past events and people.
The aircraft carrier Kiev is the star attraction of the theme park. It also includes a weapons exhibition, conference venues, outdoor training, recreation and entertainment, and is a popular location for movie and TV program shoots.
The Russian Cultural Street is resplendent in Russian architecture and authentic local commodities.
There are also performances of Tchaikovsky's The Nutcracker, one of the world's most loved ballets. Visitors also have the chances to interact with the ballet's performers.
Industrial Tourism in the Ascendant
Led by high-end manufacturing industry projects such as rockets, large aircrafts, locomotives, shipbuilding, and oil refining, Binhai New Area is boosting its commercial development and drawing growing numbers of visitors.
The Airbus (Tianjin) Final Assembly Co., Ltd. workshop contains mounting racks whereon five A320 planes await assembly. Since going into operation in 2008, the assembly line has manufactured more than 300 airplanes.
Since its launch in 2011, industrial tourism here has achieved rapid growth. Its three strands of industrial tourism have also given rise to a number of related tourism services such as themed industrial carnivals and double-deck bus sightseeing trips.
Scattered Wetlands
Binhai New Area is rich in wetlands. They include Beidagang, Guanganghu, Linkonggang, Nanwang, etc., all making the area a sanctuary for rare animals and plants, especially birds.
Beidagang Wetland, Tianjin's largest wetland nature reserve, has abundant biodiversity and an entire ecosystem. International experts have given it an almost perfect wetland evaluation. According to international conventions, a wetland is designated as of international importance if it satisfies one of the following conditions: that it is home to more than 10,000 wild geese and ducks, or more than 20,000 other aquatic birds, or if endangered bird species account for more than 1 percent of those on it. Blessed with all three conditions, a wetland of Beidagang's standing as regards nature, primitiveness, distinctiveness, and irreplaceability, is seldom seen on China's east coast or even the Western Pacific Rim.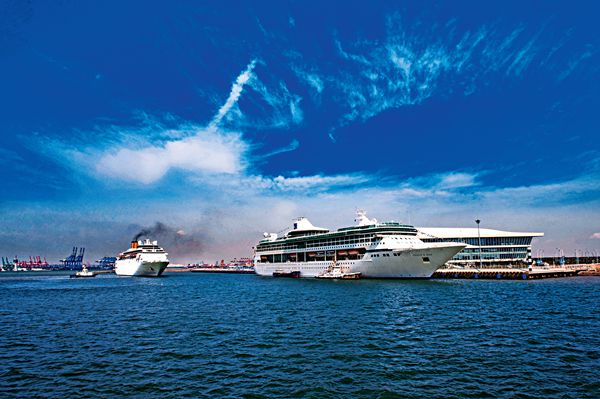 Tianjin International Cruise home-port.
On entering the wetland you are greeted with abundant flowering marsh plants, like calamus, Iris tectorum, day lily, water lily, and Scirpus tabernaemontani, among which swim, waddle, and stalk swans, oriental white storks, egrets, and black-headed gulls. A high vantage point of Beidagang gives a panoramic view of vivid wetland hues, and of diverse plants and animals.
It is hard to believe that such a well-preserved wetland could exist amid an area so dense in high-end and high-tech industries.
Dongjiang Bay Beach
Tianjin's Dongjiang Bay Beach, its sole sandy shore, is ideal for a day on the seaside. There are houses there with an ocean view, a road lined with seafood snack stalls, and a cultural street.
Here you can breathe fresh sea air, and sip a beer while enjoying fresh seafood – either in a high-end restaurant or log cabin on the seafood street, whichever most appeals. After dining you might like to try your hand at the various marine sports available in Dongjiang, such as speed boating, sailing, paragliding, or sand beach motor biking. Dongjiang Bay Beach offers blue skies, toothsome food, and seaside fun in general.  
Services