E-commerce: Sales Expressway for Farm Produce
By staff reporter DANG XIAOFEI
MIN CHAO, a farmer from Shaoyaoshan Village, Fei-xian County, Linyi City, Shandong Province, gained celebrity status in his locality last year. This is hardly surprising, seeing as in 2016 he generated an impressive RMB 20 million in online sales of more than 2,800 tons of farm produce, including dried sweet potato slices, millet, and walnuts. An e-commerce dealer with over ten years' experience in the field, Min was one of the first local farmers to try this new business model. He now manages five online businesses and is founder of one e-commerce platform.
The First Pot of Gold
Min Chao first got the idea of earning a living online from his elder brother, then an undergraduate. This was in 2009, when online shopping in China was still in its infancy. Intent on earning his first cyber pot of gold, Min invested RMB 1,000 in the purchase of a second-hand computer and tried his hand at surfing the web.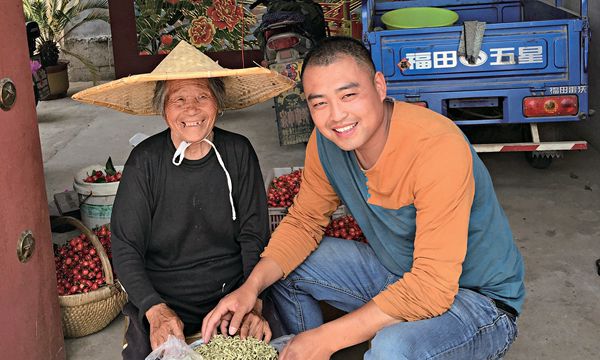 Min Chao gives a helping hand to a poverty-stricken elderly widow by paying RMB 10 more than the market price for her honeysuckle, which he will sell via his online store.
What to sell was his first big decision. After a thorough survey, he decided to open an online store on taobao.com specializing in local Yimeng Mountain produce like peanut oil, dried sweet potato slices, mutton, and pancakes. The area's remote location inhibited awareness beyond its borders of its abundance in walnuts, hawthorn berries, and Chinese chestnuts, so precluding their broader market.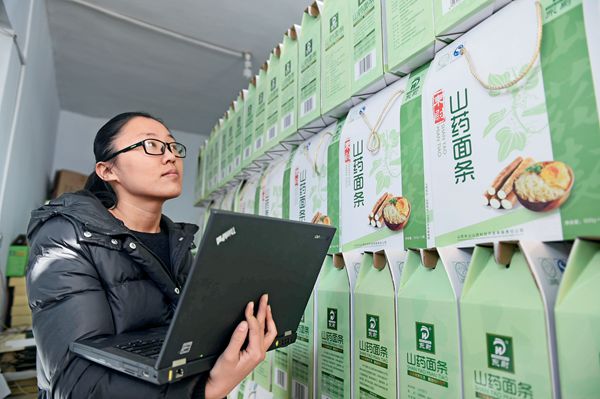 A worker at a Chinese yam business in Changshan Town, Shandong Province checks goods earmarked for online sales.
As one of the first local Feixian farmers to try his hand at e-business, Min Chao initially suffered much mockery and derision. "It's difficult enough selling these goods in a physical store, so why do you think you can succeed online, where people can't personally see and touch them?" – a remark by his uncle-in-law is still fresh in Min's mind. But he refused to be discouraged, and his tenacity was rewarded when he received his first order. "As I had nothing to lose, I decided to persist. Besides, as my first daughter was about to be born, there was no way I could leave and find employment as a migrant worker," Min told China Today. Min's situation was more precarious due to debts of RMB 50,000 he had incurred after the failure of his small business.
"I never expected our local specialties to be so popular online. Monthly sales have soared from the original few hundred yuan to the current hundreds of thousands," Min said.
As Min's online business boomed, by September 2016 the sales volume of China's online farm produce also expanded to RMB 170 billion, with projections of a year-end figure in excess of RMB 220 billion. Ministry of Commerce data show that China's online farm produce stores and firms now top 1 million, of which 23,880 firms make up Taobao.com's agricultural channel.
As the sales volume of Min's online store steadily expanded, the challenge posed by the non-uniformity of farm produce, which constrained China's online farm produce business, materialized. To meet it, in 2013, Min joined hands with 640 local farmers to set up the Greenfield Crop Planting Specialized Cooperatives. This empowered him and his fellow farmers to apply for organic produce authentication for the walnuts, Chinese chestnuts, hawthorn berries, and apples produced by the cooperatives. This significantly increased the added value of their produce. In 2014, Min established the Qishang Food Company, and obtained a license for his "Qishang" brand, so consolidating the standardization of his produce.
Building an E-business Platform
In the past, farmers would either wait for purchasers to approach them in their fields, or sell their produce at local markets. This old business model offered limited sales channels that were prey to price slumps due to a surplus of certain products.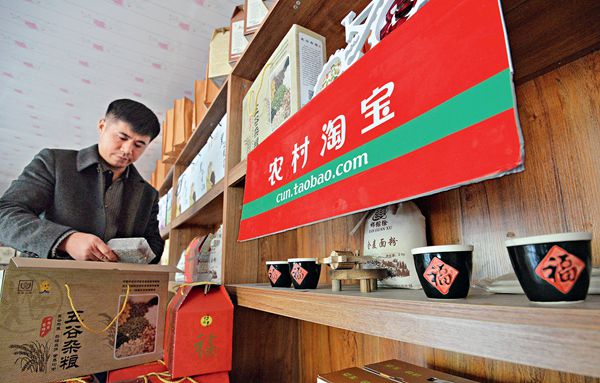 An employee packs merchandise at an e-commerce firm specializing in farm products in Nanxu Village, Hebei Province.
Min made the bold move of signing sales and purchase contracts with 2,000 or more local farmers. In this way he guaranteed sales channels for their produce at purchase prices around 5-10 percent higher than at local markets. Farmers consequently saw a rise of RMB 2,000-3,000 in their yearly incomes. Village Party secretary Zhao Changwu spoke for all concerned when he remarked: "Thanks to Min and the Qishang farm produce e-business platform, after just one year every village household now owns a three-wheel agrimotor and enjoys a higher standard of living."
Min Chao's e-business platform is the best-known in the county. He expects, as his personal wealth increases, to help more farmers shake off poverty. With the cooperation of the local government, Min's Qishang brand has established poverty alleviation stations in 32 poverty-stricken villages. It provides poor farmers with free e-business training and services, and also supplies them and their families with free seedlings and technology. "We have signed assistance agreements with 20 poor households in Shaoyaoshan Village that will help them emerge from poverty in 2017 through e-business," Min said.
Min has also focused his energies on expanding local farmers' sales channels. One example is Zhang Yankui, a 65-year-old farmer from Zuochengya Village in Feixian County. Zhang contracted 13 ha. of mountain forest in 2012 on which to farm goats that grazed on its abundant grass. Two years later, the number of goats had swelled, but their sales stagnated because of a depressed market. "When he heard about this, Min proposed helping us through his e-business platform. This solved our sales problem," Zhang Yankui said.
Through the "e-business+farmers" mode of selling the quality local specialties of 15 villages in eight townships, Min Chao has helped enrich more than 500 poor households since 2009. The green farm produce sold on his platform has also gained customer recognition.
A Big Dream
Apart from his five e-business firms, Min has also invested RMB 10 million in building a farm produce e-business platform called Qishang Younong, which sells 49 varieties of agricultural produce.
Nationwide, the total number of various types of online stores tops 30,000, around 4,000 of which deal directly in farm produce. Min stands out by virtue of his outstanding performance amid fierce competition.
Min has also set up flagship online stores on such top e-commerce platforms as taobao.com and jd.com. Qi-shang has drawn customers in 100 or more cities via such platforms as jd.com, taobao.com, alibaba, paipai.com, and WeChat stores. He also runs six O2O physical stores.
China has established an online farm produce-to-consumer expressway. It has enhanced the country's overall farm produce supply and also brought consumers greater convenience.
Min cherishes a dream of extending his agricultural produce sales to every corner of the country. "In 2017, I plan to develop more farm products, and promote local economic development through local farm specialties," Min said. The Yimeng Mountain area abounds in hawthorns, and Min plans to produce hawthorn berry snacks through deep processing, thereby further increasing farmers' incomes.
Services