Passing Down National Culture
By staff reporter JIAO FENG
THE clean and tidy courtyard of Alifu is typically Uygur. Flowers blossom, trees grow, and some farming tools as well as a used motorcycle lean against the wall. What makes this house different from others is a classroom, not very large, adjacent to the master room. There is a tiny blackboard on the wall, an electronic keyboard on the desk and some pieces of Uygur calligraphy by Alifu on the wall. This is where Alifu's "interest class" takes place.
Happy Home
School ends at 7:30 pm. Then Alifu's courtyard is enlivened. Boys and girls from nearby schools come one after another. They feel as at ease here as in their own home. Some drop their schoolbags and say they are hungry. Nuernisa, Alifu's wife, brings them hot milk tea and naan bread that she has prepared for them. Having enjoyed this refreshment, some children start doing their homework on the desks, while others take down the dutar (a Uygur musical instrument) from the wall. Alifu begins by tuning the instrument, before teaching them fingering and how to play. Nuernisa pours milk tea, smiling. However, when it comes to the really naughty kids, she will also put on a strict face and discipline them.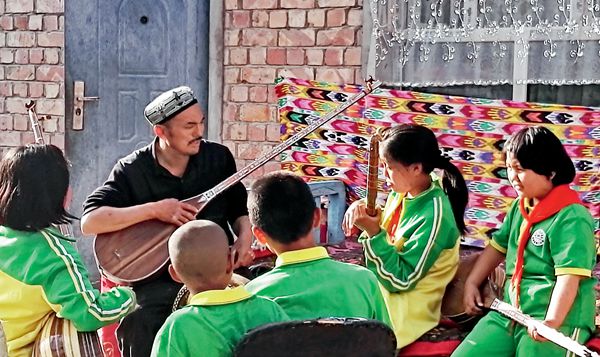 Local children absorbed in Alifu's dutar class.
This happens every day at Alifu's house. Alifu has a roster showing the name, age, school, home address, interests, hobbies, artistic aptitude, and disposition of each child. He also adds his comments to the list. It's all personally recorded and contains information on every child who has been here.
Twelve-year-old Zuli Huma is a fourth-grade student. She is introverted and seldom speaks in front of strangers. Last summer, her father took her to Alifu's class. She immediately fell in love with it and spent a whole month here, doing homework, practicing the dutar, and singing and dancing with other kids. She so became more and more outgoing. She says that she loves her honorary dad Alifu and mom Nuernisa and that it's really fun singing and dancing with her friends here.
"They're All My Kids"
Alifu told this reporter that he started the extracurricular class because children in the village had nothing to do after school. His first thought was to help them practice Uygur calligraphy, the dutar, singing, and dancing, and to offer them a place to play that their parents could trust. To his surprise, more and more children from his own village and nearby villages, towns, and counties came to join in. Even college students came to learn ethnic musical instruments during the holidays. Seeing so many people interested in traditional Uygur culture has inspired and encouraged him.
Alifu is a farmer in Yingnuer Village, Bayingolin Mongolian Autonomous Prefecture of Xinjiang. After being laid off from a printing company in 2003, he and his wife came back to the village to take care of his mother-in-law and the 16-mu (about a hectare) cotton field.
When young, Alifu learned the dutar from his father. He not only plays it skillfully, but also composes and writes his own lyrics. He has created scores of songs and is often invited to perform in nearby communities on holidays and festivals. He also writes beautiful calligraphy and is a renowned artist in the neighborhood. In February 2013, he started this extracurricular class in his own courtyard and taught pupils traditional instruments, dancing, and calligraphy for free. This is warmly appreciated by parents. Every day after class, children come to his house to do homework, practice calligraphy, the dutar, and dancing. During summer and winter vacations, some children, whose homes are far away, just come to stay with them. "They're all my kids," Alifu said.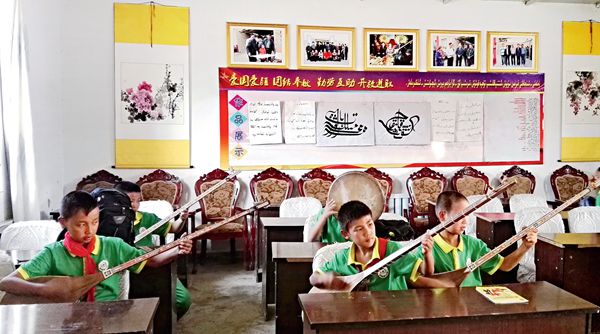 Traditional instruments, dancing, and calligraphy are taught for free in Alifu's extracurricular class.
His wife Nuernisa gives him a lot of support because they share a common love for culture and arts. They came to know each other thanks to a song from a movie. Back then, Alifu went to a friend's office and heard someone singing his favorite movie song next door. He followed the beautiful voice to find the beautiful Nuernisa. Then they came to know each other, fell in love, and married. Alifu likes creating and playing the instrument and Nuernisa sings to his music.
Passing Down Traditional Culture
The couple leads a simple life. Alifu often rides his used motorcycle, carrying his wife and p.a. system to attend performances. Nuernisa has a gorgeous costume, but only wears it for shows. However, they are always generous with the children.
They never charge any child a tuition fee. They refuse to take any money from parents even for students who live and eat at their home. "One item of clothing is enough to keep warm and naan with milk tea is enough to ward off hunger," Alifu said. "So we don't need much money. How much could a child eat? How could we charge them? Also, the government often offers a subsidy or buys us instruments and study supplies. As long as we see their happy faces and hear them say 'dad and mom,' we feel gratified and happy."
Alifu and Nuernisa have three children, but their eldest son passed away in a car accident. The two daughters are 12 and 10. The elder, Paizilaiti, studies hard and always ranks among the top students in her class. The younger one, Rebiguli, is lively and outgoing. She plays both the dutar and electronic keyboard. Kids at the art class all call her "our beautiful sister." At the music and dancing contest in the county last year, Alifu and his younger daughter both competed in the final for first prize. They drew. In the play-off, Rebiguli won with her electronic keyboard performance. Even today, Alifu smiles broadly and looks proud when people mention this.
Over 40 kids have come to study here during the past three years. The local government has bought the class a stove, musical instruments, and loudspeakers, which have greatly improved its conditions. Alifu is proud of the long Uygur history and unique cultural and artistic traditions. Singing and dancing are synonymous with the Uygur people, but Uygur calligraphy is also fascinating. The modern Uygur language is in Arabic script. It has 32 letters and is written from right to left. Like Chinese calligraphy, Uygur calligraphy has its own characteristics and styles and is becoming more and more popular.
Ten-year-old Chai Yushuo is the only Han student in the class. He comes from a nearby county to learn the Uygur language and calligraphy every weekend and on holidays. It is a 30-minute drive from his home to the class. Alifu is very careful and patient, not only teaching Chai how to write, but also correcting his pronunciation. The boy has made rapid progress.
"My wife and I help kids learn folk culture. They have improved very quickly. It makes me happy to do something for them. What makes me even happier is their willingness to learn our traditional customs and folkways. It is my responsibility to pass down the Uygur culture and I will keep doing so," Alifu said.  
Services