Public Services Bolster Youthful Growth
By staff reporter ZHOU LIN
WE don't want to try to move the public to tears with miserable stories. Doing volunteer work in social services can be enjoyable, relaxed and rewarding!" Xie Feixun, founder of the EGE program and student at Huanan Normal University, explained. "Our program acronym stands for Enrich, Global, and Enlighten, which reflects our original idea."
Sharing Happiness
Guangzhou is an international metropolis whose 13 million or so population includes a considerable number of foreign students. Young people who have had volunteering experience in their home countries are eager to participate in China's public services. It gives them the chance to help local people and at the same time learn about Chinese culture and civil life. This is extremely helpful in certain low-income communities where many people live on the minimum living allowance. Families in such communities cannot afford to send their children to foreign language classes, so they have few opportunities to learn about the wider world.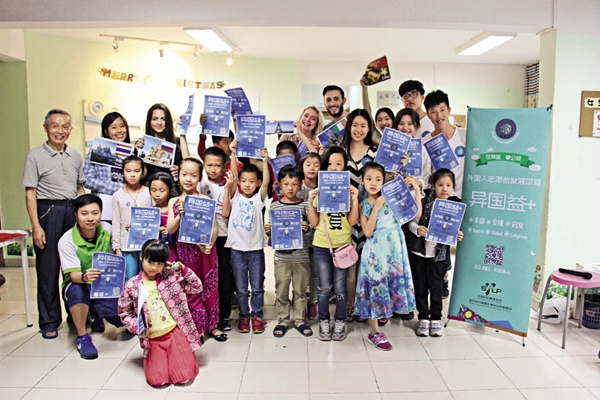 Volunteers with the EGE program pose for a group photo with residents in Jinshazhou community, Guangzhou.
"Our program aims to build a platform for both altruistic foreign students and local residents. EGE Plus means working as volunteer in a foreign country. The plus element is relevant to anyone who feels they can come up with good ideas or propose colorful, interactive events."
Xie Feixun is strategic director of the original five member team. The research its members carried out in five Guangzhou colleges revealed that there are more than 10,000 overseas students living in the southeastern province. The EGE poster drew responses from 450 eager volunteers, 350 of them foreigners and 100 Chinese.
The EGE program provides a two-way service. Chinese volunteers introduce foreign students to Chinese communities, where they learn traditional Chinese arts like calligraphy, traditional Chinese painting, paper-cutting, Cantonese Opera, and traditional handicrafts like rattan weaving. Foreign volunteers, meanwhile, participate in community services, for instance holding English salons for children in households on subsistence allowances. There they learn oral English, and have classes in creative thinking, so providing them with a broader global vision.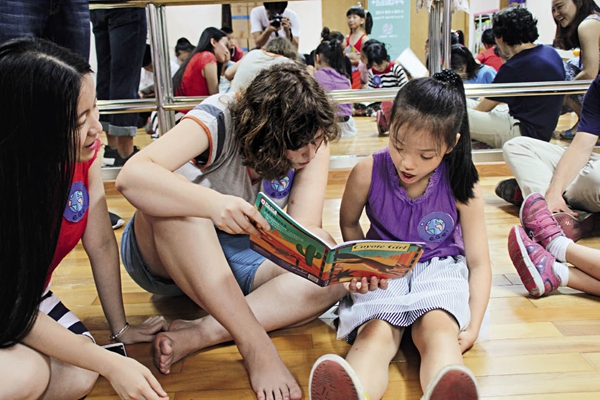 Kids read English-language picture books with foreign volunteers.
Last April volunteers first came to Jinshazhou in Guangzhou, the largest subsistence housing community. There senior residents tutored overseas students in Chinese calligraphy. Local residents were so happy with their creative idea that they composed a couplet incorporating a volunteer's name, Ailan, to express their good wishes to foreign friends. The children organized a talent show in which they performed on traditional Chinese musical instruments such as the Hulusi (gourd pipe) and guzheng (Chinese zither), and also gave folk dancing displays.
"I didn't play with foreigners because I didn't know how to speak English." Although shy at first, local children soon made friends with foreign volunteers, and both boys and girls joined them in singing English songs, playing games, and learning English words and phrases.
Jordan and Elaine, a couple from Ireland, plan to study in China for one semester. They often take the one-hour subway ride to do volunteer work in local communities. "These children are amazingly gifted in both musical and dancing talent. Teaching them games is truly rewarding," Jordan said.  Elaine agreed, "I am delighted to be able to volunteer here in China. These children are blessed with unbelievable talents!" Both Jordan and Elaine work as teachers in their motherland. They would like to take works of calligraphy back to Ireland and so link the hearts of the children of the two nations that are 25,000 kilometers apart.
"I am always touched by the warm exchanges between Chinese volunteers and their foreign partners. Volunteers from different countries with the same goals converge, and no language barrier could possibly dampen our enthusiasm," Xie Feixun said.
To guarantee the sustainability and quality of public services, Xie Feixun and his team have compiled a guide to reading English picture books. After carefully selecting 10 picture stories, they have successfully run five training sessions, all well received. They also devised a course on creative thinking, based on authentic overseas teachings and text books from which they amassed around 50 scientific experiments. One team member regularly updates the original sound recordings of English stories that feature in the program's official WeChat account, two new pieces per day.
Not only foreign students and local communities but also EGE team members benefit from the program. Huang Jiaming told China Today, "My oral English was not at all fluent until the program provided me with the opportunity to practice it. I am now much more confident, and feel there are no barriers to my communication with foreigners."
Their understanding of volunteering in public services is that it is enjoyable, relaxed and rewarding, and at the same time they hope to help others, learn from others, according to Xie Feixun. "This could be the new model and concept for popularizing social welfare in China," Xie Feixun said.
Inclusive Youth Leadership
Xie Feixun explained that the success of the EGE program depends on sponsorship from the "Starbucks China Youth Leadership Development Program" which gave them their RMB 5,000 initial funding and professional training and guidance.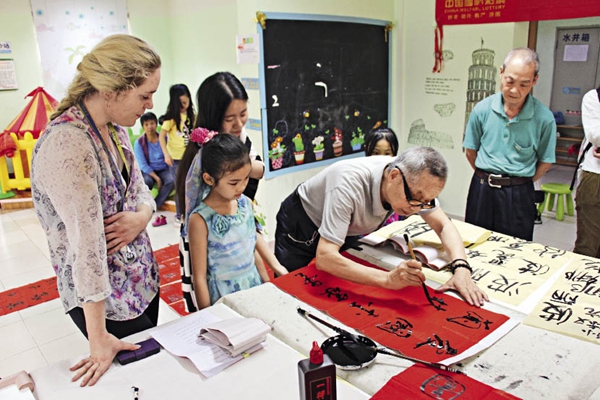 The senior resident composes a pair of couplets with a volunteer's name – Ailan – incorporated.
"This program acquaints us with exactly what youth responsibility is. The initial funding provided us with a solid foundation, while lectures help us understand the core value and future goal of our program, as well as the nature of public services. Roadshows show us the importance of a cooperative team, and exchanges among friends in schools nationwide broaden our horizons," Xie told China Today.
The Youth Leadership Program is jointly sponsored by Starbucks and China's Soong Ching Ling Foundation. It offers Chinese college students a leadership nurturing plan. The Starbucks Foundation aims to invest a total US $1.5 million (RMB 9.3 million) in three consecutive sessions that will benefit 1,500 students nationwide, including those from impoverished areas and poor families. The program provides students with opportunities to learn about business wisdom, social cognition, and communication skills. It thus bolsters their growth and further development.
The program has so far successfully held two sessions. The second year featured 100 teams, each of 500 students, from 10 colleges in five cities, including Beijing, Shanghai, Guangzhou, Chengdu, and Changsha. All participated in investigations, onsite practice, and roadshows. They visited 100-plus communities and schools, so helping more than 10,000 people, and received around 110,000 online comments and 300,000 peer assessments.
The program has generated a good number of pertinent ideas on public services. For instance, the Southwest University for Nationalities team developed a "Youfaner" App which provides a platform for senior citizens and youth to eat together. Young people can order a lunch or dinner on the App and eat in the company of elderly people living alone. It is a win-win idea, since the youth can get a discount for chatting with the aged or helping with their housework, while seniors can earn additional money from the App revenues in their leisure time. It thus warms "both the heart and stomach." Another program focuses on a facet of China's intangible cultural heritage – natural dyes. Volunteers raise money for charity through selling organically dyed products. They then train young adults in minority regions to act as guides for visitors by explaining to them the processes of making traditional handicrafts, thus promoting tourism.
"Our advice regarding youth leadership is simple – just do it! A group of young people utilize their creative thinking and take action to do good for others. The youth leadership program focuses on young people's influence on others and at the same time helps them to realize their innate value," Xi Feixun said.
Letting Love and Trust Flow
In early 2016, the China Foundation for Poverty Alleviation (CFPA) released its 2015 report on an investigation into college students' participation in social welfare. It stated that 90 percent of students participated in public services from making donations of cash, goods and blood, to voluntary services. Volunteering is the top choice of most students among all available social welfare works. Fifty-eight percent of students agreed that China's public welfare undertaking is on the rise, and 35 percent hoped to work in social welfare organizations.
"When we graduate, juniors can follow up. We are also considering market financing to sustain our program." Xie Feixun remarked that the importance of public services lies in perseverance, and hence advocates encouraging students to accept their responsibilities and let their love and trust flow.
When talking about the program's future, Xie Feixun spoke of a plan to connect more social resources. For example, they would like to improve the system of foreign volunteer recruitment and voluntary services to give volunteers feedback. They also wish to cooperate with educational organizations, which are expected to inject more funds, or put their courses online for fixed fees. Both business models are accessible only if they generate social values.
Two 19-year-old German boys left a deep impression on the team. They hope to work as full time volunteers in China during their gap year. "We all admire their courage in suspending their life script to pursue the meaning of life. We are deeply moved by their strong will and persistence, the like of which we have never before encountered."
To realize one's personal value is a piece of cake, but shouldering social responsibility is not that easy. The ultimate goal of the EGE program is to tempt Chinese young people out of their comfort zones to participate in caring for other peoples of the world. They may thus better understand themselves and the world, and eventually grow up alongside great social changes, Xie Feixun said.  
Services