Wan Zhengwen: Champion of the Miao Wooden Drum Dance
By staff reporter JIAO FENG
Wan Zhengwen was born in 1951 in Fanpai Village of Taijiang County in Guizhou Province. Having learned the Wooden Drum Dance from a young age, he set up the Fanpai Village Wooden Drum Dance troupe at the beginning of the 1980s. He has led the ensemble ever since, putting on shows around China and abroad, and winning much praise from audiences. The "dancing king" of the Miao ethnic group has been named a national inheritor of the Wooden Drum Dance, which is now recognized as part of China's intangible cultural heritage.
The Wooden Drum Dance is traditionally a ritualistic dance performed during ceremonies to honor the Miao people's ancestors' endeavors to cultivate new land and build a better life. In the past the dance was only performed once every 13 years during a solemn ancestor worship festival. But today, it has become popularized among the Miao people as a fun way to keep fit.
Fanpai is a rural Miao community about 26 kilometers southeast of Taijiang County town. It enjoys convenient transport links and has a population of over 1,800. Situated in a valley surrounded by mountains and forests, it has a spectacular view of endless peaks and knolls. The mountain to the east of the village is where the ancestor worship ritual is staged.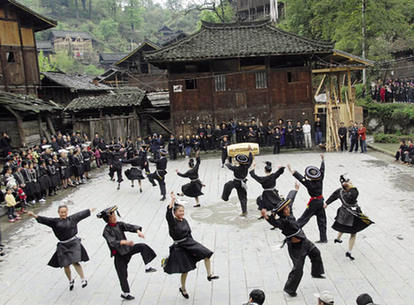 Young performers of the Wooden Drum Dance in Fanpai Village.
"Oriental Disco"
As I entered the village the scene in front of me seemed like a snapshot from history: A crystal clear brook flows through the village. Two old Wind-and-Rain Bridges (covered bridge), their stone seats worn smooth as jade and covered in moss, are havens for people to rest and reflect. Rows of stilted wooden houses are aligned up the slopes. Wan Zhengwen was born and raised in one of those houses.
No trip to Fanpai Village would be complete without seeing the singing and dancing shows there. Performance art is the essence of the Miao culture, and the village enjoys a good reputation in this respect and has been named among the "Chinese Folk Art Towns."
Dances in Fanpai are normally accompanied by the lusheng (a musical instrument with multiple bamboo pipes), mangtong (a single-bamboo free reed wind instrument) and wooden drums. Among various dances, the Wooden Drum Dance is the most popular among both performers and audiences.
Wooden Drum Dance shows are usually held in the village square. The dance opens with an intense, well-arranged and energetic drumbeat to which young men and women, wearing gorgeous Miao costumes, swing and sway. The dance features powerful, wild and primitive movements and an imposing style, reflecting the indomitable will and tenacious life force of the Miao people in this mountainous area. It is hard for people today to comprehend the fact that such a grand art form was created by Miao ancestors who were just ordinary farmers.
According to Wan, the Wooden Drum Dance was once popular in many Miao villages in Taijiang County. However, because of some traditional rules on when the dance could be performed, it failed to be handed down from older generations in most villages. In 1986, the Fanpai Wooden Drum Dance was performed at the third National Traditional Ethnic Minorities Sports Games and won first prize. Since then its reputation has skyrocketed.
In 1989, Wan went to the U.S. to participate in a festival celebrating four cultures – China, the Soviet Union, Japan and Germany – held on the occasion of Washington State's centennial. His performance of the Wooden Drum Dance won thunderous applause from the audience. During the festival, many foreign friends expressed an interest in learning the dance from Wan. They called it an "oriental disco." "I didn't know what a disco was back then, and I didn't know what disco dancing looked like. When I later saw some young people dancing at a disco, I thought, my Wooden Drum Dance is much better!" chuckled Wan.
Services