Bill Loves China
By staff reporter ZHOU LIN
Bill Brown, Fujian's first foreign permanent resident, has been a professor in Xiamen University's School of Management since he helped start the MBA program in 1988. Currently, he hosts the weekly TV program Xingfu Fujian (Happiness in Fujian) for Strait Star, a Fujian-based TV station. Proudly, he tells people that his greatest honor was helping Xiamen win international awards as the most livable city.
An old Chinese proverb says knowledge is not enough; one must also practice. Bill has an even better understanding of China than some Chinese, having traveled around China and using his unique way to present China to the outside world. His efforts to help the world better understand China have won the praise of Chinese, as well as a reputation amongst foreign readers.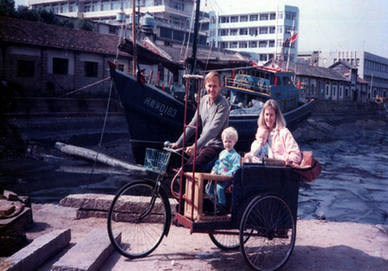 The Brown family's first conveyance vehicle in Xiamen in 1988. 
Destined to Be in China
Bill is full of humor and laughter. When asked about why he chose to come to China, he thanks Uncle Sam, who sent him to serve in the U.S. Air Force in Taiwan, where he grew a crush on Susan Marie, his "Made in Taiwan" wife.
"I knew nothing about China until I was 20. I'd never met a Chinese, never eaten Chinese food, never held chopsticks, and had zero interest in China. I had heard that one fourth of the world's population was Chinese but I was highly skeptical because our family had four people and none of us were Chinese," Bill quipped.
In 1978, the U.S. Air Force sent him to Formosa. He dug out the atlas and was delighted to learn that Formosa meant "Beautiful Island" and was the Portuguese name for Taiwan. But then he also discovered the "Beautiful Island," as part of China, was but 100 miles from the Chinese mainland. "I gave my sister my car and wrote my will." Bill doubled up with laughter as he recalled his worries.
He rapidly fell in love with Taiwan and her people, and for two years hiked and biked the length and breadth of the island. "Fortunately, the two sides of the Straits were launching not weapons but words." When a batch of colorful leaflets from a mainland balloon descended like colored snow upon U. S. Air Force headquarters, frantic Taiwanese soldiers scurried about like ants on the scent of sugar, stuffing the leaflets in sacks. Bill hastily stuffed his pockets with contraband propaganda and hurried home to read them. These leaflets piqued his curiosity about folks on the other side of the Straits.
Bill never imagined, however, that a decade later he would move to Xiamen with two infant sons and his "Made in Taiwan" wife Susan Marie, a blonde, blue-eyed beauty born and raised in Taiwan.
On Easter Day in 1981, he was invited to the home of an American couple who had lived in Taiwan and knew both Sue and Bill. It was love at first sight for Bill. They shared the same hobbies and interests, and talked for hours in their first meeting. When Susan casually mentioned her plan to reunite with family in Taiwan for the Christmas holiday, Bill quickly said he'd planned to visit Taiwan at the same time. They not only visited Taiwan together but got married there.
In 1988, Bill learned about Xiamen University, and applied to study Chinese. "It was China's only university that allowed a foreign student to bring their family. So it was just coincidence I chose Xiamen – but it felt just like home because it was right across the Strait from Taichung, where Sue and I both lived. It was like fate!" Bill said.
Services