Bill Loves China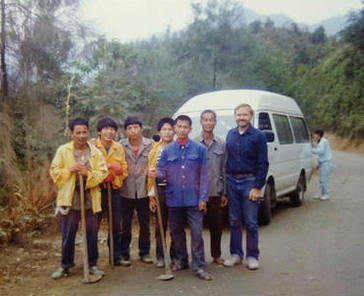 Bill with villagers in China's hinterlands.
Spokesperson for Chinese Cities
When Xiamen won the gold award at the 2002 Livcom (International Award for Livable Communities, or "The Green Oscar") competition in Stuttgart, Germany, the six international judges unanimously recommended Xiamen, and one remarked, "I had no idea China had cities like this."
Two years later, Xiamen was the only city to receive the UN Habitat Scroll of Honor Award. Bill contributed greatly to Xiamen's international honors. "I have a fairly deep understanding of Xiamen and believed from the bottom of my heart that it deserved the gold – and that's why my presentation was successful," Bill said.
In preparing to introduce Xiamen to over 400 foreigners at a government luncheon in Guangzhou, Bill read many old historical books and peppered his talk with surprising anecdotes. For example, he shocked the Americans by saying, "If it were not for Xiamen, there would not be a United States today!" That's because the tea at the 1773 Boston Tea Party was Fujian's Anxi tea, shipped to Boston on three ships from Xiamen. So without Anxi tea and Xiamen ships, there would have been no Boston Tea Party, so no Revolutionary War with England, and today the U.S.A. would still be a British colony. Bill added: "So we'd still be speaking funny British English instead of the normal American English, we'd be eating French fries with malt vinegar instead of ketchup, and American judges would be wearing silly white wigs like the judges in the U.K. and Hong Kong."
From Bill's perspective, open-mindedness is the most cherished spirit in Xiamen's culture. "I have introduced Xiamen's history and development in my book Old Amoy. In 1920, a Westerner named Normal Goodall called Gulangyu, an island of Xiamen, the wealthiest square-mile in the world. I was wondering how this tiny island became so rich. Over 26 years in Xiamen, I've come to appreciate that Xiamen's centuries of wealth were due to the Xiamen merchants who welcomed overseas trade and nurtured an open mind. For centuries, Southern Fujianese were truly global people, cooperating with both foreigners and Chinese in business all over the known world. Today, Xiamen once again prospers, exuding that vitality and spirit that so impressed foreigners a century ago. Today, as over the past five centuries, Xiamen is hospitable to Chinese and foreigners alike."
While researching Xiamen's history, Bill located and interviewed a couple of foreigners who are now in their 90s, some even over 100, who lived in Xiamen from the 1920s to 1951, and without exception they still felt much respect and love for the Southern Fujian people – and still spoke the Xiamen dialect quite fluently. Bill was moved to see how, in Xiamen, both Chinese and foreigners prospered because they worked with each other, not against each other. He said, "I hope that more foreigners and Chinese will learn this lesson, and prosper as Xiamen has. Westerners, in particular, always seem to view competition as win-lose, but Xiamen, for centuries, proved that East and West cooperation can be mutually beneficial."
With both a doctorate in business and experience as the former senior vice president of a financial services and securities firm in the U.S., Bill has learned firsthand the value of collaboration, and how to apply business theory to practice. "My business experience also helped me represent Chinese cities in international competitions," Bill said. "I don't know much about competitions and have no experience with judges, but I do know business! So I view these events not as competitions but as marketing a product – understanding of China. And I see the judges not as judges but customers – and I do know how to market to customers!"
Although he saw himself as "marketing" these cities, he refused to represent them unless he was personally familiar with the city, and convinced that they did indeed deserve to win the gold. "Whenever a city asks for my help, I first pay a visit and look around by myself, to see firsthand the truth, rather than relying upon materials and introductions that invariably cast the city in the best light but are not always that objective. If I feel the city does not deserve to win, I politely decline and do not even try. But if I believe in them, I do my best to make sure the judges and audiences believe in them as well – and that's good not just for the city but for China."
Since 2002, Bill has served as either spokesperson or consultant for Livcom Awards medalists in 13 cities, including Fujian's Quanzhou, Shanghai's Songjiang District, Beijing's Dongcheng District and Jiangsu's Nanjing.
Services