Lu Xun at Home
By staff reporter LINDSAY SHEN
Lu Xun (1881-1936) is widely considered as China's greatest modern writer. Although he was a prolific essayist and translator, it is for his intense and often disturbing short stories that he is best known. In criticizing repressive social norms, he aimed for nothing less than the eradication of the nation's spiritual ills. In the decades since his death editions of his works, translations and critical studies have surged, making Lu Xun an accessible writer in most major languages. But he can also be remembered through the homes in which he lived and worked.
 Lu Xun (1881-1936)
House museums are a type familiar throughout most of the world. They fulfill our need to pay homage to the memories of those we admire, to draw closer to them through the remnants of their worlds. The objects left behind convince us that we can have a more intimate understanding of their past owners, that we can better understand the inspirations that shaped their lives: We can marvel at how diminutive Jane Austen's walnut table is, the better that she could work unobserved. We can wonder at the prescription of Virginia Woolf's glasses, resting there on her desk. We can imagine Mark Twain writing in his handsome, angel-carved bed.
House museums have proliferated in China, too. Many former residences of writers, artists and thinkers have been opened to the public, some officially designated as sites of patriotic education. It is a mark of Lu Xun's eminence as the founder of modern Chinese literature that three of his homes have been transformed into museums. And all have adjoining or nearby exhibition halls where visitors may learn about his life and his development into an unflinching advocate of literary and social transformation.
Childhood in Shaoxing
Lu Xun was born in 1881 into the once wealthy and influential Zhou family in Shaoxing, a prosperous canal town in east China's Zhejiang Province. Lu Xun Native Place is a collection of restored buildings, including the Zhou family compound, Lu Xun's courtyard home, the school he attended and a new museum.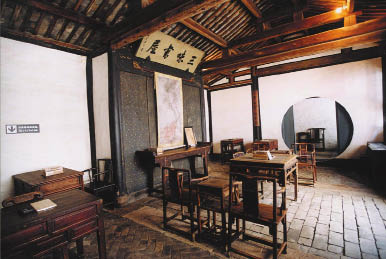 The school Lu Xun attended in his childhood.
Services