Ji Dachun: Imagine It, Paint It
Dachun's work first came to public attention in the late 1990s with the introduction of a series of minimalist paintings that, like traditional Chinese brush works, allowed for ample white space around his often figurative subjects. The subjects, like those in Chinese People Are Really Great, 2002, are typically dressed in Qing Dynasty clothing and rendered in monochromatic shades with just a touch of color; again, drawing comparisons to ancient Chinese works.
But that is where the comparisons end. In addition to Qing Dynasty clothing, some subjects wear nothing at all and quite a few of Dachun's characters are recognizable historical figures like Picasso or Hitler. Others have human bodies with animal heads. All are illustrated in exquisite detail and while many of the canvases have the appearance of drawings, they are predominantly oil paintings. Dachun has also used acrylic washes and teas to stain the surface, giving it an aged feeling and occasionally he will add pencil or even crayon lines.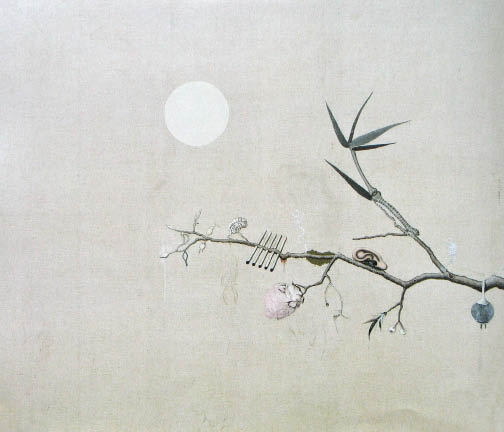 Magnify, 2005 
He appreciates the physical qualities of his art almost as much as the content. He speaks of "the relationship between the canvas and the artist" and says that subject matter is just a means for implementing the act of putting line and form to canvas. When I mention that I've noticed an inclination to deal with "organic" subjects like Magnify, 2005, Dachun tells me that everything he paints is organic in some way and besides, he likes the detail.
Considering that his paintings are relatively large they have the effect of drawing viewers into a confrontation with the subjects. They then have to deal with ironies, humor, and sometimes a darker intent. I believe contrast is what sets Dachun apart from so many Chinese artists of his generation. He has no political agenda, no need to reflect his times; in fact he is quite comfortable interpreting what he can imagine, which is really what artists do best.
JON BURRIS is a recognized photographer and writer, and has authored seven books on contemporary art and photography. His photographs are a part of private and institutional collections internationally.
Services