New Opportunities on the Silk Road
By staff reporter JIAO FENG
The Silk Road Economic Belt International Seminar opened in Urumqi, capital of Xinjiang Uygur Autonomous Region, on June 26.
Chinese President Xi Jinping first proposed the Silk Road Economic Belt together with Central Asian countries during his four-nation tour of Central Asia in September 2013. This strategic concept reprises the ancient traditions of the Silk Road: solidarity, equality, trust, mutual benefit, inclusiveness and learning from each other. More importantly, it also conforms to the global trend of seeking peace, cooperation and win-win development.
The seminar opened four days after the World Heritage Committee decided to include part of the Silk Road on the World Heritage List. The application was jointly submitted by China, Kazakhstan and Kyrgyzstan. The committee stated that the Silk Road has served as a corridor for trade and cultural exchanges between Asia and Europe and made significant contributions to world development for over 2,000 years. The application lists 33 historical sites along the millennium-old trade route, including 22 in China, which dominated the Silk Road traffic and exchange system.
During the seminar, more than 100 experts and scholars from over 20 countries elaborated on two topics in depth: Silk Road: Past, Present and Future, and The Silk Road Economic Belt: An Opportunity to Work, Share, Prosper and Succeed Together.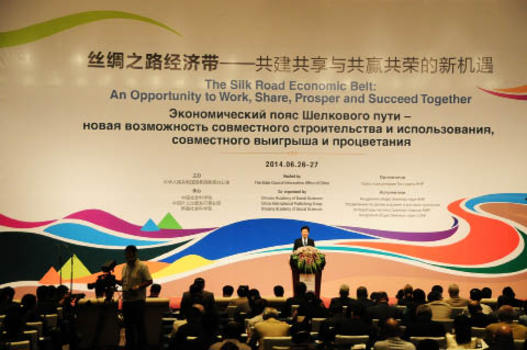 The Silk Road Economic Belt International Seminar opened in Urumqi on June 26. 
Historical Witness to Friendly Exchanges
More than 2,100 years ago, Zhang Qian, a Western Han Dynasty (206 B.C. – A.D. 24) explorer and diplomat, served as an imperial envoy to the Western Regions and opened friendly exchanges and trade with countries west of China. Chinese and people from countries along the route subsequently worked together to open a great trade route stretching from Asia to Africa and Europe. The Silk Road was an exchange network linking traders, merchants, pilgrims, monks, soldiers, nomads, and urban dwellers from China to the Mediterranean Sea. It derives its name from the lucrative trade in Chinese silk carried out along its trading routes.
Many countries along the Silk Road jointly pushed civilization forward and promoted exchanges and cooperation between different ethnic groups and cultures. The Silk Road has become a symbol of friendship integrating Eastern and Western civilizations.
For thousands of years, the Silk Road has passed on the spirit of peace and cooperation, openness and inclusiveness, mutual learning and mutual benefit. According to Bassam Abu Abdallah, director of the Center for Strategic Studies at Damascus University, in addition to economic trade, the Silk Road served as a means of exchanging ideas and cultures. Technology, religion, and philosophy all traveled along the silk routes. Trade on the Silk Road was a significant factor in developing the civilizations along it, opening long-distance political and economic interactions between China, India, Persia and Arabia.
"We believe that people of the Silk Road countries showed enduring friendship throughout history. Mutual benefit and trust on the basis of common advantages, equality, tolerance and sharing are characteristics of Silk Road cultures," said Akkan Suver, president of Marmara Group Foundation, a Turkish NGO.
Services