Wuhan Goes Low-carbon
By staff reporter DANG XIAOFEI
Making soap from kitchen waste grease, collecting rainfall to water plants, upgrading a highly polluting cement factory into an environment-friendly operation, slashing waste discharge and reducing energy use at iron and steel manufacturers... Such trends are gaining momentum in central China's Wuhan, where the government, businesses and individual citizens are combining efforts to create a low-carbon environment in the city.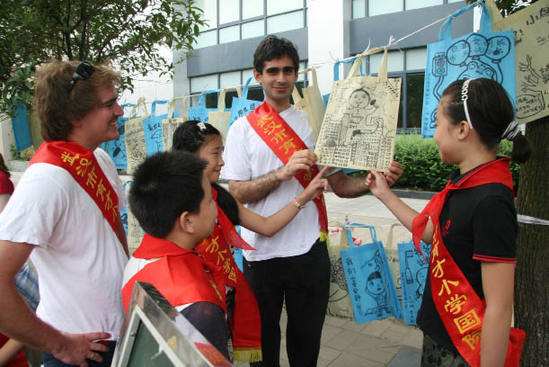 Foreign volunteers teach children how to make environment-friendly shopping bags.
Green Communities
At home, Yang Guangjie, head of the Baibuting Community Neighborhood Committee, demonstrated to the reporter how to make soap from oil collected in a stove range hood. After placing the concoction into a mold, he said: "It solidifies in three days and then has to be sundried for another 15 days." Soap made this way has a higher alkali content and consequently greater cleaning power. "People in the community all like it," Yang said.
Yang first began to produce soap in 2009, inspired by complaints from neighbors that the lumps of brown grease removed when cleaning their range hoods often clogged the drains and harmed the environment. One day he read a posting on the Internet about making soap from cooking oil, and wondered if waste oil would also work. After more than 20 experiments, he succeeded.
"From 2010, my community has been able to collect 400 to 500 kg of used cooking oil every year. Each kilo can produce 1.5 kilos of soap, which means an annual output of 600 kilos or more." Yang is proud that it is now a norm for residents in his neighborhood to collect the waste oil from their kitchens, and later trade it in for bars of soap from the neighborhood committee. "Wuhan has a population of over 10 million – more than one million households. It is estimated that about 5 kilos of waste oil is produced by each household. If it is fully collected and recycled, it could be a huge boost to our environment," Yang said.
In the same community, 60-year-old Li Yuanyan is committed to making the maximum use of rainwater, of which Wuhan has plenty. He invented a rainwater collection system seven years ago that could cut tap water consumption by 200 tons a year.
Li is the secretary general of the local flora association. His home is on the top floor of an apartment building, under a 100-sq.m terrace, where he grows nearly 1,000 potted plants. "After installing the rainwater collection system, my water bill has fallen to less than RMB 10 per month. At first the utility company thought I was cheating on the meter," Li quipped.
After some modifications, his invention was promoted across the community. To date, 320 households in the region have installed the device, recycling 60,000 tons of rainwater every year.
Services