Confucius: Education Should Be Accessible to Everyone – Confucius Institute Düsseldorf Builds a Bridge to Chinese Language and Culture
By staff reporter GAO ZHUAN
"Making existing prejudices towards China disappear will take time," Dr. Cord Eberspächer emphasized during his speech last March at the meeting between Chinese President Xi Jinping and a group of German sinologists in Berlin. "To change stereotype images of China, we should be talking about a time frame not of two or three years but rather of two or three decades," Dr. Eberspächer said. China Today talked with the German China researcher and historian about his work as director of the Confucius Institute in Düsseldorf.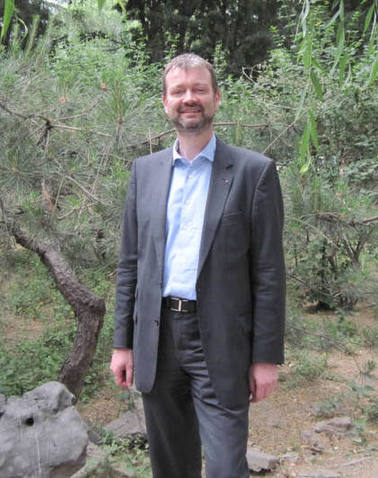 Cord Eberspächer on campus of Beijing Foreign Studies University.
"Education should be accessible to everyone," ancient Chinese scholar and thinker Confucius said more than 2,000 years ago. This quote also summarizes the credo of the Confucius Institute (CI) in the German city of Düsseldorf, capital of North Rhine-Westphalia (NRW) State. The institution was founded in 2006 as the first of its kind in NRW. Its aim is to promote Chinese language and culture in the region.
To make Mandarin more popular in NRW, the CI Düsseldorf offers a wide range of Chinese language courses, from trials to intensive business courses to special syllabuses in preparation for the HSK Chinese language certificate.
"Our classes, with the emphasis on spoken Chinese, are very popular with German students," CI director Eberspächer said. "Apart from students, those taking part include young adults, employees, and even senior citizens. One elderly gentleman, for example, having spent five years in our language program, is now preparing to take the HSK level 3 exam." Apart from a general curiosity about China and Chinese language, people generally join the CI program for professional reasons, Dr. Eberspächer explained.
For many, acquiring Mandarin skills at the institute is crucial to finding work. "Nowadays this is the main motivation of many of our students. It is notable that a fundamental change in perceptions of Chinese language has occurred over the past two decades," Eberspächer said. "When I started to learn Mandarin 20 years ago, the reaction of friends and acquaintances was to ask, 'Why learn Chinese? It's exotic and so far away. Does it have any practical applications? You should learn something useful instead!' But today people say: 'Smart choice, people should learn Chinese. It's important!'"
Services