Dang Zhongxin: Breathing New Life into an Antique Opera
An Inheritor's Concern
China places great value on the protection and development of intangible cultural heritage. Relevant authorities have visited Xingjiazhuang several times in order to collect information and recordings of Hop Opera. The village also from time to time receives international tourists who come to the seemingly ordinary place especially to appreciate this fossil of Chinese Opera. At the Shanghai Expo in 2009, a video of Hop Opera was shown to reach an even wider audience. However, with the abundance of forms of entertainment today, less and less people in the region are interested in studying the relatively simple art of Hop Opera.
"Hop actors do not have steady incomes. And the performance doesn't appeal to young people, who prefer karaoke. These days, only the older generations retain a fondness for it," said Dang. In 2008, Hop Opera was named China's Intangible Cultural Heritage, and the following year, Dang was designated its inheritor. In fact, he was one of three candidates for the title, and the youngest, at 61 years old. "The other two were in their 70s or 80s. My age was maybe the reason why I was selected. With more years ahead of me, I am expected to have more time to pass this art on to more people," Dang explained. The other two candidates have since passed away.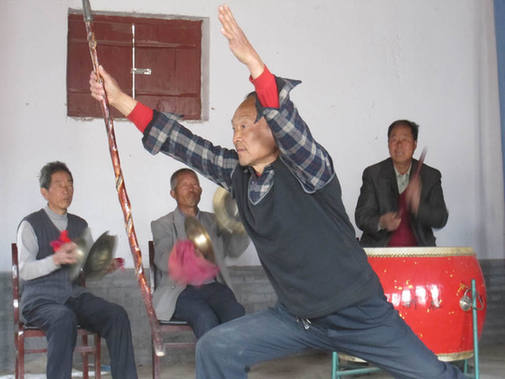 Nowadays, only elderly villagers perform Hop Opera.
Dang's son left their village as a young adult to work in Heyang County. Despite his father's attempts to teach him the skills of Hop Opera, he had little interest in learning about it. "I remember when I was young the whole village would be involved in the opera, whether they were actors on stage, or audience off it. These days, even though there are performances every year, the actors are always the elders," Dang's son said. Many elders from the village, including Dang, regret this development.
In a recent initiative, the Chinese government plans to offer extra support for "intangible cultural heritage villages." On discovering this news, Dang was eager for Xingjiazhuang to be included on the list and consulted relevant government offices about this possibility. If the village receives state protection, it would be allocated a special fund for the promotion of Hop Opera, and with this fund, it could subsidize the expense of rehearsals and performances and put this native art firmly on the cultural map of China.
"I hope it will encourage more visitors to the village, and attract young people into this craft, so China's ancient opera can be passed on to the next generation," said Dang.
Services