Confucius: Education Should Be Accessible to Everyone – Confucius Institute Düsseldorf Builds a Bridge to Chinese Language and Culture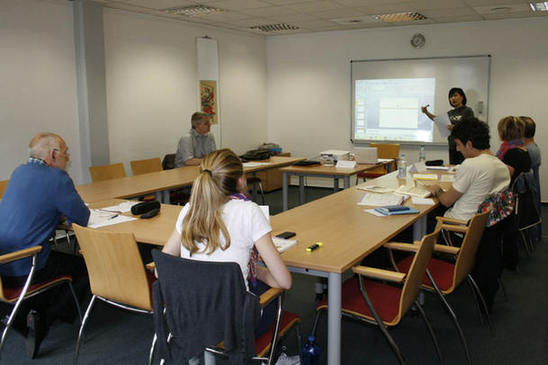 The Düsseldorf CI and the Art Gate Art Agency organized in April 2013 a symposium in the Stiftung Museum Kunstpalast lecture hall on the contemporary Chinese art market. 
The Düsseldorf CI and the Art Gate Art Agency organized in April 2013 a symposium in the Stiftung Museum Kunstpalast lecture hall on contemporary Chinese art market. Discussions with a panel of Chinese art experts, organized in cooperation with the art exhibition Art Cologne, were concurrently held. The eight experts spoke to a capacity audience about the structure, collectors and future perspectives of the Chinese art scene.
"The symposium gave the German audience a better understanding of China's art market and the way it functions. One reason why the event was such a great success was that we showed the audience that classical culture is still alive in modern China, and how the people maintain it."
For its future development, CI Düsseldorf plans to focus on two main aims: First, stronger engagement in the intercultural business communication sector; second, strengthening the CI's presence within the German public.
"In future, we will intensify our work in the economic field," Eberspächer announced. "However, our duty won't be to guide companies towards earning greater profits, but towards improving their intercultural skills. Intercultural knowledge and understanding is becoming more and more important. When Chinese and German employees work together, mutual understanding is crucial."
Today, although Chinese companies recruit more and more German employees, they have little idea of how to deal with them, the CI director said. "This creates a new field of problems. Chinese managers, for example, who in turn are sent to Germany for work, might have a deep understanding of their own company, but not of Germany."
"Corresponding to this need, we formulate special training programs for German companies cooperating with Chinese firms. The services we offer span short workshops lasting just a few hours to programs that run for several days. We also plan to offer comparable services for Chinese companies in cooperation with the Goethe-Institut Düsseldorf."
As a second future goal, the CI wants to be an important consulting partner for all matters that concern China. This is achievable by strengthening the institute's presence within the German public. Compared to the Goethe-Institut, which celebrated its 60th anniversary three years ago, the Confucius Institute is relatively young. "The future success of our work depends on our public image. My vision is of our institute becoming the central drop-in center for all questions concerning China," Eberspächer said.
"If you want to achieve something big, you also have to think big," he added. The Confucius Institute Düsseldorf clearly has great ambitions for the future.
Services