Decipher the Overseas Success of "Decoded"
Delayed Flight Produces Superb Translator
In 2010, Olivia Milburn, a teacher of Chinese language at Seoul National University of Korea, went to the Shanghai World Expo. Her flight was delayed for three hours, so she went to the airport bookstore and bought Jie Mi and An Suan. Both had been on prominent display for the previous five years due to the former's TV adaptation. But this was entirely lost on Milburn, an Oxford graduate in ancient Chinese language who had no knowledge of contemporary Chinese literature.
It was the cryptological aspect that drew Milburn to Jie Mi. Her grandfather worked for British intelligence during World War II, and came into contact with (posthumously) celebrated cryptanalyst Alan Turing, who broke the Enigma code. Milburn translated a few chapters to send to her grandfather for his enjoyment.
Olivia Milburn and Christopher Payne's translation is precise and concise but at the same time imbued with classicism and verve. Readers can imbibe the innately mysterious and poetic tension of Mai Jia's original text through its translators' apt and skilled reflection of it. "This strange, twisting tale is told in fizzy, vivid and often beautiful prose," reads The Economist review in March titled "The Chinese Novel Everyone Should Read", with the subheading "FINALLY, a great Chinese novel."
As The Economist review mentions, the past 35 years have seen an abundance of excellent fiction in China. Owing to the paucity of translators working from Chinese to English, however, foreign publishers, not to mention readers, seldom see them. "Translation is the second round of creation," Mai Jia said in a recent interview. "Translators can upgrade a mediocre novel to one that is first-class, and also can ruin a classic work."
Xie Wenge, better known by his pen name Da Xie, does not share Mai Jia's luck. Vice director of the Writers' Association of Hebei Province, in 2012 Da Xie tried to find a translator into English of his 200,000-character poem Bei Ge (The Lament), but failed to find anyone willing to take on this massive task. Eventually one translator agreed, but for a fee of RMB 800 per 1,000 Chinese characters – about four times the standard rate for Chinese to English translation and way beyond what Da Xie could afford.
Chinese Writers' Association is clearly aware of this problem. In September 2013, the organization and China International Publishing Group jointly held the first-ever Chinese International Translation Contest. As of the end of March, 1,006 translations of the 20 selected short novellas had come in from more than 30 countries and regions. They hope to discover among participants another Milburn and Payne.
Literary Agent – A Vital Component
Mai Jia's other piece of good fortune is his copyright agent. He has admitted that he knew nothing about copyright agents until Tan Guanglei contacted him. Also that even if he could have afforded to bear the costs of translation, he wouldn't have known where to start.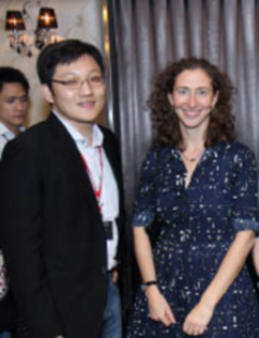 Tan (left) is one of a handful of agents promoting Chinese novels on the foreign market.
Services