Internet Finance Fest
By special correspondent QU CHENG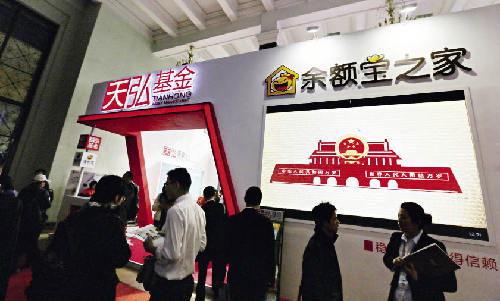 Yu'ebao is a partnership between online shopping giant Alibaba and fund house Tianhong Asset Management.
RAPID development of the Internet and mobile Internet-based financing in recent years has created a spate of new-type financial institutions and services. They include mobile payment, online auction companies and online wealth management services.
Internet-based financing – a blend of information network technology and modern finance – is impelling conventional finance towards unprecedented changes that will pose considerable challenges to contemporary financial supervision.
Runaway Growth
June 13, 2013 saw the launch of online fund Yu'ebao (The Balance of Treasure), the brainchild of Alipay – China's largest third-party payment platform and a subsidiary of Alibaba, which runs China's biggest online shopping mall. In less than two weeks Yu'ebao users surpassed 2.5 million – an achievement that conventional forms of fund industry have no hope of equalling even within two years. Yu'ebao's success thus signifies the magic appeal of the Internet finance market.
Growth of scale in mobile financial services, such as mobile shopping, online banking and mobile payments, exceeds 80 percent, according to the China Internet Network Information Center (CNNIC). Mobile shopping, for instance, doubled from 6.6 percent in 2011 to 13.2 percent in 2012, and users increased from 23.47 million to 55.49 million. The rate of mobile payments, meanwhile, climbed from 8.6 percent to 13.2 percent, and that of mobile online banking from 8.2 percent to 12.9 percent.
Gong Minghua, deputy director-general of the Policy Research Department under the China Banking Regulatory Commission (CBRC), recently stated that at the end of June 2013, China's Internet users numbered 590 million, 464 million of whom access the Internet via their mobile phones. In the first three quarters of 2013, China's e-commerce market trading volume reached RMB 7.5 trillion, 35 percent higher than the same period in 2012. Greater numbers of web users and expanded mobile communications constitute a solid base for incorporating modern information technology into financial services. There are hence promising prospects for Internet-based financing in China.
China's expanded Internet finance enlarged still further on August 9, 2013, with the joint establishment by 33 leading e-commerce enterprises, including JD.com, dangdang.com, Lakala Billing Service Co., Ltd. and Yonyou Software Co., Ltd., of the Z-Park Association for Internet Finance – China's first Internet finance trade organization.
At around the same time the Payment & Clearing Association of China (PCAC) and 75 organizations in the fields of banking, securities, third-party payments and P2P (Peer to Peer) set up the Internet Finance Expert Committee in Beijing. The PCAC is a self-regulatory body within China's payment and clearing service industry, founded in 2011 with the approval of the State Council. It operates under the guidance of the People's Bank of China.
Internet finance is by definition an emerging model that combines conventional finance services with modern information technologies, including the Internet (mainly Web 2.0 at present) and cloud computing. On one hand, conventional financial services are becoming networked; on the other, Internet enterprises are venturing into the finance industry and providing new-type financial services. Both share the common goal of satisfying the diversified and intricate needs of financial services, which will without doubt trigger a breakthrough in payment patterns.
Xie Ping, executive vice president of China Investment Corporation, recently stated in an article: "Modern information technology represented by Internet, especially mobile payments, cloud computing, social networking and search engines, will exert a substantial impact on financial models."
Services