Collectibles Clean up
By staff reporter CHEN JING
CHINA'S rapid economic development has ignited a collection craze. Chinaware, jade articles, bronzeware, paintings and calligraphy, furniture, stamps, coins – all abound in the collectibles market these days. Prices of quality items at auctions constantly amaze.
The Fifth Craze
Collectibles are today one of the major popular investments, apart from stocks and real estate. China is the world's second biggest artworks market. Statistics from the Beijing Association of Auctioneers reveal that 2,347 auctions were held in Beijing in 2013 with transaction volumes reaching RMB 34.16 billion, an increase of 15 percent and 8.8 percent, respectively, over the previous year.
Ma Weidu, celebrated collector and curator of Beijing Guanfu Museum, points out that historically China had witnessed four collection crazes: in the late Northern Song Dynasty (960-1127), the late Ming Dynasty (1368-1644), the Qing Dynasty (1644-1911), and the Republic of China (1912-1949). Today, the peak of the fifth craze boasts the largest scale in history, characterized by its pervasiveness and the enthusiasm it generates among everyday people.
In the Northern Song Dynasty and in the mid-Qing Dynasty, collections prevailed mainly among imperial families and the upper classes. The concept of collecting valuable items took shape among the common people during the other two crazes: of the late Ming Dynasty and in the transition period from the late Qing Dynasty to the early Republic of China. Yet today, ordinary people play a significant role in this fifth craze, whereas the national and cultural elite are the minority in collectors' circles. Nevertheless, the collectibles owned by the nation and its elites are quality antiques, while most of those owned by common people are mediocre artworks.
This era's craze has several characteristics. First, it is widespread. Antique markets can be found all over the country, and collectibles are a topic on everyone's lips.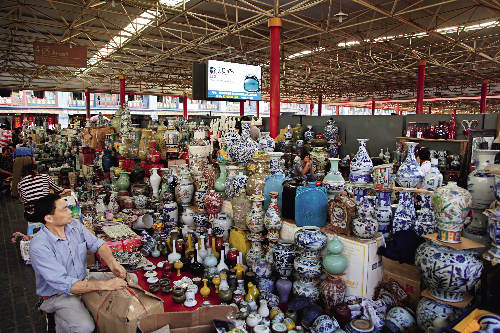 Panjiayuan Antiques Market is a Beijing hotspot.  
Second, it boasts a tremendous number of avid collectors, totaling nearly 100 million nationwide. Moreover, the number of private museums in China has risen to over 300.
Third, the range of collectibles is diverse. In the past, collectors were fond of jewelry, gemstones, paintings and calligraphy, as well as different types of wares. But today, seals, trademarks, cigarette cases, tickets and certificates also appeal to collectors.
Fourth, organizations and institutions associated with collectibles keep emerging. The nation now has over 500 organizations and institutions, along with about 130 magazines, associated with collectibles.
Fifth, collectibles have become a hot topic. Chinese media extensively cover it in various ways. TV programs like Treasure Evaluation are especially popular.
Sixth, Chinese collectors and collectibles are going global. The previous four crazes emerged only in certain areas and circles inside China, and each of them had their own restrictions. But the reform and opening-up policy over the past three decades has removed almost all limitations and has consequently promoted Chinese antique collections to expand globally. Chinese collectibles have become influential in, as well as being influenced by, the world.
Last but not least, financial capital is venturing into the field. Certainly, money and collectibles are inseparable. However, the cash aspect of the current collectibles mania differs from previous crazes. Large amounts of capital from banks, enterprises, funds and the insurance industry are invested in this field, but with profit rather than accumulation in mind.
Industry Chain
Services