Key Chinese Concepts
王
wáng
King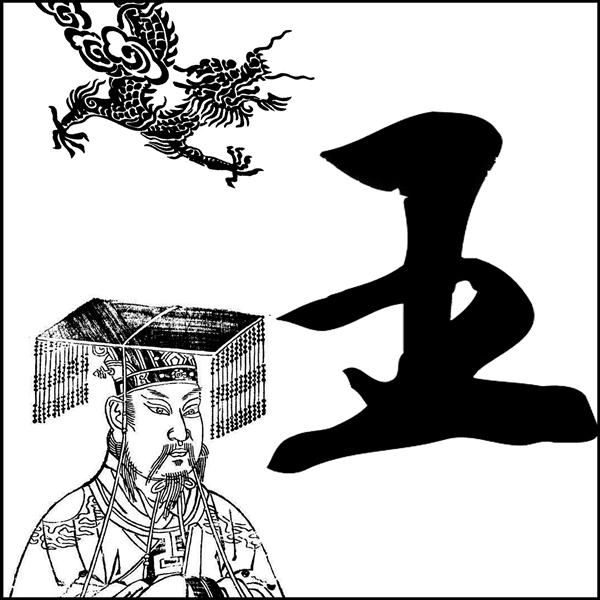 本为夏、商、周三代天子的称号,春秋以后周天子一统天下的局面遭到破坏,至战国时期列国君主皆可称王。秦汉以后,"王"一般是皇帝对自己直系男性亲属的最高封爵。在儒家特别是孔孟的政治哲学论述中,"王"一方面代表上天的旨意,具有至高无上的权力;另一方面又被赋予了极强的道德特质和政治理想。儒家认为,用仁义治理或统一天下、以道德手段使天下人都来归顺叫做"王",依靠仁义道德形成天下一统的政治局面叫做"王道"。
King was originally the title for the "Son of Heaven," namely, the country's supreme ruler in the Xia, Shang and Zhou dynasties. From the Spring and Autumn Period onward, the power of the Zhou court gradually weakened and the kingdom disintegrated. By the time of the Warring States Period, any ruler of a vassal state could call himself a king. Up to the Qin and Han dynasties, prince became the highest title granted by the emperor to a male member of the imperial family. In the political philosophical discourse of Confucianism, especially in the works of Confucius and Mencius, a king represents heaven's will and therefore ought to have supreme, unchallengeable power; at the same time, he is imbued with a high moral attribute and political ideals. According to Confucianism, to be a king is to unify or govern the country with benevolence and righteousness, or to win over people by morally justified means. Likewise, the pursuit of the kingly way means using benevolent and righteous means to unify and govern the country.
◎天下归之之谓王,天下去之之谓亡。(《荀子·正论》)
(天下人归顺他,就可以称王;天下人抛弃他,就只会灭亡。)
He to whom the people swear allegiance can rule as a king; he perishes when the people desert him. (Xunzi)
王道
wángdào
Kingly Way (Benevolent Governance)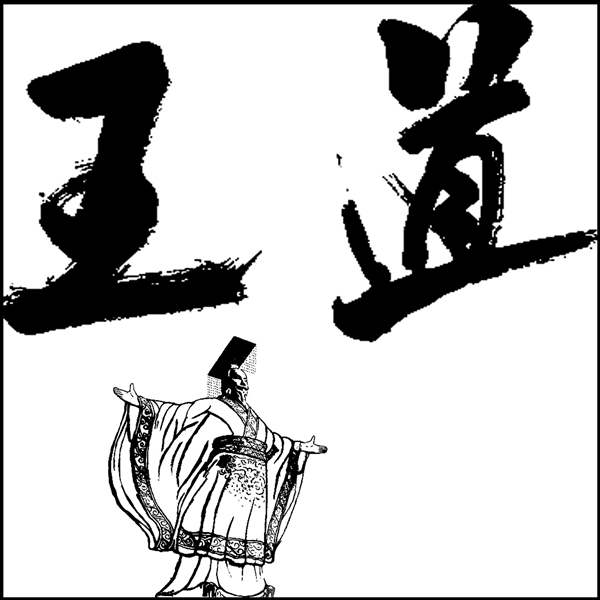 儒家提倡的以仁义治理天下、以德服人的政治主张(与"霸道"相对)。上古贤明帝王多以仁德治国,至战国时代孟子将其提升为政治理念,提出国君应当以仁义治国,在处理国与国之间的关系时要以德服人,这样才能得到民众拥护,统一天下。它是中华民族崇尚文明、反对武力和暴政的具体体现。
Confucianism advocates the political principle of governing the country through benevolence and winning people's support through virtue as opposed to badao – the despotic way. Sagacious kings and emperors of ancient times governed the country primarily through benevolence and virtue. In the Warring States Period, Mencius advocated this idea as a political concept: Only by governing the state with benevolence and righteousness, and by handling state-to-state relations on the basis of virtue, can a ruler win popular support and subsequently unify the country. The kingly way or benevolent governance epitomizes the Chinese people's respect for etiquette and their opposition to the use of force and tyranny.
◎无偏无党,王道荡荡。(《尚书·洪范》)
(公正而不偏向任何一方,圣王之道宽广无边。)
By upholding justice without any partiality or bias, the kingly way is inclusive and boundless. (The Book of Documents)
◎以力假仁者霸,霸必有大国;以德行仁者王,王不待大……以力服人者,非心服也,力不赡也;以德服人者,中心悦而诚服也,如七十子之服孔子也。(《孟子·公孙丑上》)
(凭借武力而假托仁义的人可以称霸,称霸一定以大国作基础;依靠道德施行仁义的人可以称王,称王却不一定非大国不可……用武力使人服从,不是真心服从,只是力量不足以反抗而已;用仁德使人服从,才是由衷喜悦而真心服从,就像七十二个弟子敬服孔子那样。)
One who governs by force through feigning virtue may gain only hegemonic dominance, and hegemony must have a large state as its basis; one who governs through virtue and benevolence is a king who does not necessarily need a large state… Allegiance commanded through force from the people does not mean the conquest of their heart; it is only because they are not strong enough to revolt. Allegiance gained through benevolence and virtue is really from the heart of the people, who will follow whole-heartedly, just like the 72 disciples of Confucius. (Mencius)
Selected from Key Concepts in Chinese Thought and Culture published by Foreign Language Teaching and Research Press.
Services