Ningxia Winemakers' Challenge: Flushed with Success
A two-year contest with 48 winemakers from 17 nations has solidified Ningxia as China's most promising wine region. This unprecedented contest was held in the Helan Mountain's East Foothill wine region in Ningxia Hui Autonomous Region, in August.
A selection of Ningxia wines tasted at the NWC 2017 in Beijing.
A panel of experts led by Ma Huiqin, a China Agricultural University professor and marketing expert, and Andrew Caillard, an associate producer of China documentary Red Obsession who helped choose the candidates from 140-plus applicants, judged the wines. They have awarded five gold medals (RMB 100,000 or US $15,000 each) and 10 silver medals (RMB 20,000 or US $3,000 each). Most of the winemakers gathered in Beijing for this finale before embarking on a China wine road show to promote Ningxia's unique terroirs.
Unprecedented Challenge
Within less than a decade, what used to be a barren stretch of land in a remote corner of China's northwest region is now the talk of the town in the Chinese wine industry and one of the best-kept secrets amongst foreign wine experts.
"The Chinese central government began to earmark winemaking as a 'key industry' in 2010. The message was clear – authorities at all levels should spare no efforts to boost this sector, the ultimate goal being the creation of an industry heavyweight," said Feng Jianjun, deputy director of Ningxia's Helan Mountain Grape Industry Development Bureau.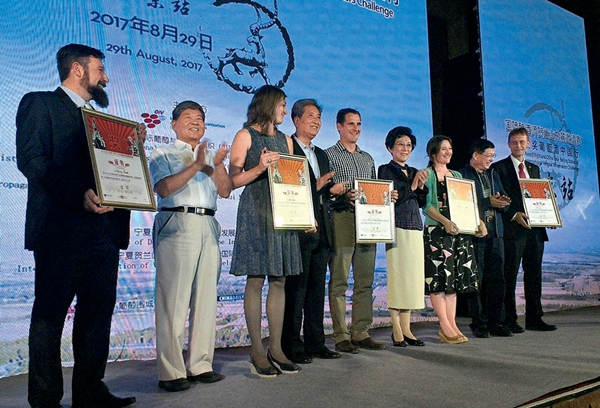 The five gold medal winners at the NWC 2017 in Beijing on August 29, 2017.
Thanks to a battery of incentives and a favorable policy of land reclamation, private investors, industry moguls, and entrepreneurs alike threw themselves into winemaking. It was a turning point for Helan Mountain's East Foothill and the landscape changed completely. This defining moment is best epitomized by the flurry of mock-Renaissance castles (the most iconic examples being Chateau Changyu Moser XV, Helan Ting Winery, Chateau Saint Louis Ding, and Chateau Mihope), sharp-angled modernist edifices (modern architecture buffs would squeal with delight at the sight of Chateau Yunmo Great Wall or Chateau Shapotou), and dozens of more run-of-the-mill, traditional wineries strewn across the region.
This strategy paid off. In 2011, the Helan Qingxue Vineyard, a quaint 23-hectare estate founded in 2005, with a stunning view of the Helan Mountain, snatched the first Chinese gold medal awarded by Decanter, the world's leading wine magazine.
There are now 187 wineries on Helan Mountain's East Foothill's 124-mile long, 51,000-mu (35,333 hectares) stretch of vineyards. The region needs a narrative for its wines, one that includes prestige, tradition, quality... and good value for the consumer's money. Even though Bordeaux is seen as the archetypal example, Napa Valley in California or Barossa Valley in South Australia has provided templates for the ideal combination of wine and tourism, or "enotourism" as it is called.
The Ningxia Winemakers Challenge (NWC) was designed to provide a much-needed positive narrative for the region. On July 13, 2012, the first edition was launched. A total of seven winemakers from all over the world began to try their hands at making wines. Two years later, on September 25, 2014, a contest was held in Beijing and prominent media organizations such as the BBC, The Wall Street Journal, and CCTV reported the news. David Tyney, a young winemaker from Australia paired with Chateau Yuhuang, was the absolute winner.
The panel during the second round of tasting. Photos by Jim Boyce
"The Ningxia Winemakers Challenge is not a wine challenge, it's a communication challenge," remarked Jim Boyce, founder of grapewallofchina.com, who helped the International Federation of Vine and Wine of Helan Mountain's East Foothill and Ningxia's Bureau of Grape Industry Development organize the challenge.
The success of the second edition is a testament to the region's reputation on a grander scale. This time, 48 candidates were paired with a winery, received a three-hectare parcel of grapes in a collective 18-year-old vineyard, and made a Cabernet. Most of the winemakers, hailing from 17 countries – Australia, Argentina, Italy, India, South Africa, Sweden, etc. – returned at least once to check their creations. Candidates found themselves in wildly different situations as partner wineries ranged in expertise from wily veterans to total newbies, in size from small and family-owned to huge and state-owned entities, in equipment from having top-of-the-range technology to needing to improvise, and in location from the outskirts of Ningxia's capital Yinchuan to more than 100 kilometers away. Grape quality also significantly differed, with the 2015 fruit far superior to that of 2012, thus raising the potential for impressive wines.
From Wine to an Industrial Chain
NWC is one of many Ningxia wine initiatives over the past half-dozen years that has attracted considerable attention. The region – which has also hosted wine trade shows, festivals, and conferences – joined the International Organization of Vine and Wine (OIV) as an observer, invested in enotourism infrastructure, organized tastings in China, and launched projects to raise standards in viticulture, providing quality vines and promoting equipment sharing through small operations.
In the bigger picture, wine is also a product that has value, with the potential to raise the region's standard of living, particularly if plans to boost tourism come to fruition. Moreover, many new vineyards are planted on reclaimed land and help deter desertification.
These efforts come at a time of change in the wine sector. A government crackdown on entertainment spending by officials four years ago cut deeply into the market. While sales have rebounded, imports have grabbed the market share from local brands as increasingly savvy consumers shift their focus to taste and value, as opposed to status. With its growing wine reputation at home and abroad, Ningxia aims at positioning itself as a quality local producer in this maturing market. The region has already won over 150 medals, received praise from top critics, and been featured in many fine restaurants.
When 10 NWC judges gathered at the Sofitel Beijing on August 29 and spent the afternoon tasting a selection of reds, it was time to celebrate Ningxia and its achievements.
Ma Huiqin, a professor at China Agricultural University and wine marketing expert, chaired the event assisted by Andrew Caillard, Master of Wine and associate producer of China wine documentary Red Obsession.
"For the remaining 15 wines, it's a bit of a knockout contest," said Caillard pointing at the remaining bottles in numbered covers. Half an hour later, only five wines stayed in the game for the ultimate prize. "There's a clear winner for the top gold," he then announced.
At the award ceremony later that evening, the panel awarded gold medals to Australian Tony Kalleske (Kalleske Wines) who paired with Ningxia winery Legacy Peak, American Brent Trela (Alert Aesthetics) who paired with Miqin, and to winemaking consultants Slavina Stefanova from Sweden and Sarah Williams from the U.K., who paired with Yunmo and Hezun respectively.
Justin Corrans, CEO at Mountain Ridge, who also worked at Separator and wine producer The Bergkelder, was paired with Lanxuan and emerged as the judges' overall pick.
"Ningxia is not Bordeaux, Ningxia is not Napa Valley, Ningxia is Ningxia," said Boyce to the audience to conclude this event, sending out loud and clear a message that Ningxia wine is now in a class by itself.
JACQUES FOURRIER is a journalist and commentator based in Beijing.
Services