An Innovator of Management Science
By special correspondent DUAN HAIWANG
ELSEVIER, the world's largest scientific literature publisher, released a list of China's most cited scholars in 2016, containing more than 1,700 Chinese scholars of international influence. Among them, Professor Wang Yingming, director of the Department of Management Science and Engineering of the School of Economics and Management of Fuzhou University, ranked seventh in the field of computer science for the third year.
Solid Academic Background
Born in Hai'an County, Jiangsu Province in 1964, Wang graduated from Jiangsu University in 1984, gained his master's degree from Huazhong University of Science and Technology in 1987 and doctorate from Southeast University in 1991, conducted post-doctoral research at Tsinghua University from 1991 to 1993, and taught at Xiamen University until 2001. In the following years he worked as a senior researcher at Manchester University in the United Kingdom and City University of Hong Kong before he returned to Fuzhou University to teach in 2009.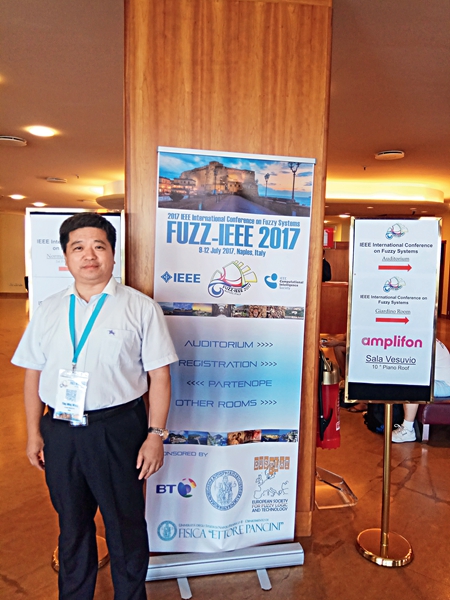 Wang Yingming at the 2017 IEEE International Conference on Fuzzy Systems in Naples, Italy.
Wang Yingming devoted himself to doing research in the U.K., and many scientific achievements were accomplished during this period. When asked whether he wanted to stay in the U.K., however, he replied: "There are a lot of things in Britain that I like, but it is not my country. Even though I work hard, there is no sense of belonging. While in Hong Kong I did not feel the same."
In addition, there is an old saying in China that while one's parents are alive, one should not travel to distant places. Being the only son in the family, along with the fact that his aged parents are not accustomed to living abroad for a long time, he decided to return to the mainland.
In March 2009 Wang started his teaching at Fuzhou University and began to set up his research teams.
Devoted to Management Science
Wang Yingming's research covers such fields as decision theory and methodology, data envelopment analysis, rule base reasoning as well as quality function deployment. In 2007, he took the lead in putting forward two methods, namely "analytic algorithm of the evidential reasoning approach for multiple criteria decision making" and "the global optimization approach for combining and normalizing interval evidence." These methods are lauded by his foreign peers as not only simplifying the calculation of the evidential reasoning approach for multi-criteria decision-making, but also opening new paths of related development and application, and have since been widely cited in academia.
As a leader in management science and engineering, Wang has published a number of papers in recent years. He values theoretical innovation, and encourages his students to publish papers in international academic journals. In his opinion, management science is a highly applicable discipline, and its most prominent feature is "learning by practice." However, he also regretfully pointed out that paying insufficient attention to "learning by practice" is a prominent problem in China's management science community.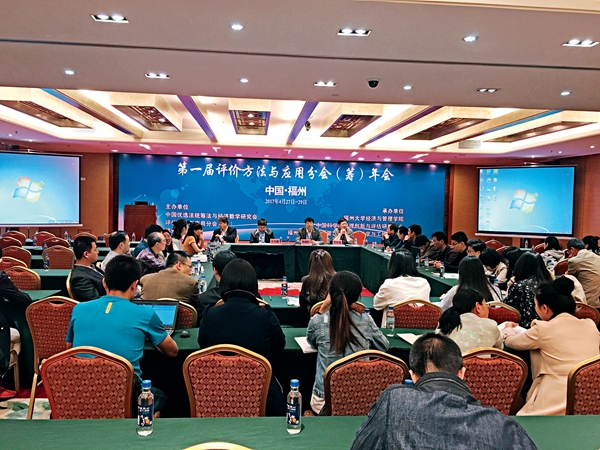 The First Evaluation Methodology and Application Conference was held in Fuzhou, Fujian Province, in April 2017.
Wang in his research applies the theories and methods of management science to the design of merger and acquisition plans, the optimization evaluation of flexible manufacturing systems, the evaluation of business competitiveness, and the exploration of sustainable development models, and has achieved ample results. In 2009, he published a research paper on evidence-based consumer preference prediction models, which drew the attention of Unilever. Graham Cleaver, head of the company's research and development department, commented that the article represents a novel method, and sent Wang a mail seeking cooperation. Wang's team is also in cooperation negotiation with other entities such as Mengchao Hepatobiliary Hospital of Fujian Medical University and New Kaibin Property Services Co., Ltd.
According to Wang, after years of hard work, China has made tangible progress in the theoretical research of management science, and is standing neck and neck with developed countries in some aspects. The biggest gap between China and the West in this realm is found in the combination of theoretical innovation and industrial application. To solve this problem, China's management scholars are expected to focus on issues at the frontier of management science and major theoretical issues for research and innovation. To achieve world leading theoretical research is what has been advocated by the National Natural Science Foundation of China (NSFC). Meanwhile, the theories and methods of management science must be put into practice to solve the management problems in China. Building on the need for designing solutions for practical and real problems, management theories can be tested, implemented and refined to provide optimal results in a Chinese setting, keeping in mind the local culture, characteristics and traits. This is also something that has been advocated by the NSFC and China can definitely improve upon. Furthermore, it can be seen that enterprises do not seem to be paying the attention that they need to, as relevant academic conferences internationally are attended and followed by corporate professionals, but in China they are mostly attended by students and academics. It is from participation and interaction on these platforms that the latest theories and methods are shared. Thus, to achieve synergy between theories and their implementation, it is vital to have active corporate and academic cooperation.
Cultivate Innovative Talent
At Fuzhou University, Wang changed the atmosphere to aid disciplinary development. Under his leadership, Fuzhou University set up a research base for decision-making science and education management as well as technology innovation management teams for universities and colleges in Fujian Province, and established the Institute of Decision Sciences. They also fostered collaborative relationships with the University of Manchester in the U.K., City University of Hong Kong, and University of Jaen in Spain.
Over the past few years, Wang has been thinking about how to make the Fuzhou University decision-making science and technology innovation management team into a core, innovative asset of the Ministry of Education, and strives to build the Department of Management Science and Engineering into a world-class one in China. For the cultivation of graduate students, he pays more attention to innovative thinking and ability.
According to him, China stands at a historic new starting point, and is moving towards being an innovative country. The construction of an innovative country needs the service of innovative talents. Here are two questions, one is how to cultivate innovative talents, and the other is how to enable innovative talents to better serve the country to help the country become a scientific and technological power. From a national perspective, we must implement a more proactive, open and effective policy to attract qualified personnel. We should make greater efforts to implement the introduction of overseas high-level talents, and seamlessly bring together global human resources. From the aspect of colleges and universities, as employers, they should put innovative talents in the most suitable positions, and promote the rational flow of talents in colleges and universities. The development of the country and the university depends on innovative talents. Talent cultivation is the first element of innovation and development. Tangible progress calls for the harnessing of innovative talents.
Engaged in academia and teaching for a long time, Wang believes that personnel training in colleges and universities must first have a "talent awareness." It is of vital importance to seek out, nurture, cherish, groom and develop creative talents and ensure that they are provided a healthy working and living environment conducive to allowing them to perform at their finest. Meanwhile, they must realize their important role in the nation building process, and know that to work for national rejuvenation and prosperity of the country is their duty. Only by working together can they better serve the country and benefit the people.
To this end, Fuzhou University alone is not enough in gathering high-level talents. Wang said that on the one hand, the college is thinking of various ways to recruit top-level talents, and on the other hand, it pays more attention to the internal training of talents, and is also striving to retain those excellent talents.
Turn Interest into Motivation
Possessing a deep love of knowledge since childhood, Wang's academic performance was always good, though he never realized he would end up in academia and research. Upon graduating from Huazhong University of Science and Technology with a master's degree, an official of Nantong City Planning Commission of Jiangsu Province personally went to the school to invite him to work there. However, at the time, his tutor strongly discouraged this, so he chose to study for a doctorate. During his doctorate study at Southeast University, Wang, at his mentor's suggestion, began to focus a great deal on writing and submitting academic articles. The consequent sense of accomplishment made him develop a deep love for scientific research. After that, as a postdoctoral fellow at Tsinghua University and later a senior researcher at Manchester University in the U.K. and City University of Hong Kong, he devoted himself to academic research. To some it seems he leads an ascetic life, but he does not think so, and manages to find pleasure and satisfaction in his work.
In addition to teaching, Wang also holds some social positions, such as the expert of the Disciplinary Planning Review Group of the National Social Science Foundation of China (NSSFC). Being busy has become his daily basic state. "I get up every morning at about 7 am and usually do not have a rest before 12:30 pm. Many people think that university teachers have winter and summer vacations in addition to weekends, and thus should not be that busy. In fact, for university professors, one may do research at any time," said Wang. He does not find this life boring. Every time a new idea emerges, a new model is established, or a new method is created, his happiness is unparalleled.
According to Wang, academia is an arena. It is both a race against oneself and a competition with others. In order to win on the academic battlefield, one needs not only academic interests but also freedom of thought for science and innovation. His life is an untiring drive for a simple, productive life and the search for happiness and satisfaction in scientific work.  
Wang Yingming, a scholar who constantly explores innovation in the field of management science, has gone through an extraordinary path in his career.
Services