The League of Chinese "Unicorns"
By LIU XIN
AT the end of September 2017, CB Insights, the U.S. venture capital research institute, published the global "unicorn" company list. China ranked second with 56 of the total 214 such companies, closely following the U.S.
"Unicorn" is regarded as an important symbol of the new economic age, highlighting the application of science and technology in the market. Therefore this list attracts worldwide attention in investment circles.
China's Growing "Unicorns"
In 2013, U.S. venture capitalist Aileen Lee coined the term "unicorn" to describe unlisted start-ups valued at over US $1 billion. They were similar to the mythical animal in rarity and uniqueness. This criterion for "unicorn" companies was hereafter accepted and applied widely.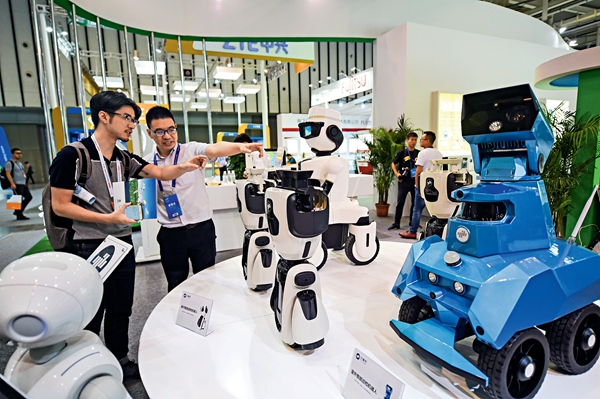 Artificial intelligence highlighted China (Nanjing) International Software Product and Information Service Trade Fair in September 2017.
As seen from the global "unicorn" list in past years, such companies were mainly located in the States or European countries prior to 2013. Only one "unicorn" company popped up in China each year from 2010 to 2013. After 2013, with the development of China's economy and innovative start-ups, the number of Chinese "unicorns" increased rapidly and reached 55 in 2017.
On the 2017 list, of the top 10 "unicorns" six are based in the U.S., whereas China is home to four, namely Didi Chuxing, Xiaomi, Lufax (Shanghai Lujiazui International Financial Assets Exchange Co., Ltd.) and Meituan-Dianping. In terms of valuation, U.S.-based Uber tops the list with a tag of US $68 billion, followed by China's ride-hailing platform Didi Chuxing with US $50 billion and Chinese smart phone maker Xiaomi with US $46 billion. Lufax, valued at US $18.5 billion, takes the eighth place, while Meituan-Dianping is the ninth largest "unicorn" with a value of US $18 billion.
China and the U.S. are the two biggest sources of "unicorns" with over 80 percent of the total. Sixteen new unicorns popped up in China in 2017, accounting for one third of the world's newly added "unicorns." In terms of financing, they rank first with 44 percent of market share, followed by their U.S. peers with 40 percent of the money raised.
Didi Chuxing, Xiaomi, Lufax and Meituan-Dianping are among the top 10 "unicorn" companies. In addition, Jinri Toutiao, Mobike, OfO, Nextev also joined the 2017 list. In view of the rapid rise of Chinese "unicorns," on October 5, 2017, CB Insights stated that the U.S. no longer held the lead in the "unicorn" race. The proportion of U.S. companies has dropped from 75 percent in 2013 to 43 percent in 2016, while China has surpassed Europe in the number of "unicorns," and is bridging the gap with the U.S.
Powered by Economic Transformation
Such achievements made by Chinese companies will not seem that surprising if we watch China's economy in recent years. The rise of China's "unicorns" is closely related to a series of reforms towards transforming the economic development model and upgrading economic structure over the last five years.
After decades of rapid development, China's aggregate economy keeps growing. China surpassed Japan in GDP in 2010, thus becoming the world's second largest economy.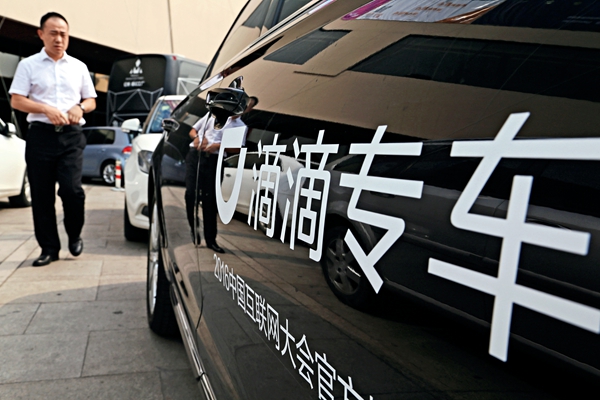 Didi Chuxing has developed into a one-stop travel platform covering almost all the travel needs except public transport.
However, the factors that contribute to China's economic development are experiencing major changes. On one hand, China is losing the edge in low labor cost and natural resources, while being harassed by overcapacity in traditional industries and environmental pollution as well, thus making it difficult to maintain strong growth in export and investment. On the other hand, changes in national income and consumption structures pose great challenge to the supply side of the economy. In 2012, China's economy began to grow at a medium-high speed instead of at about 10 percent on average for the previous 30 years.
China's economy is coming to a new stage with more emphasis on quality. China has gradually achieved relatively balanced growth in consumption, investment and export. The industrial structure dominated by the service industry is becoming stable, and the service industry has emerged as the engine of economic growth, making up 51.6 percent of national economy in 2016.
With the tide of innovation, entrepreneurship and Internet Plus, numerous innovative start-ups have sprung up. Newly registered market entities have experienced rapid growth for five consecutive years, and the number of newly registered companies increased by 24.5 percent in 2016 with a daily increase of 15,000 on average. About 45,000 market entities including self-employed traders have been created daily. In 2016, the fund raised for venture capital investment hit a record high of RMB 358.2 billion; and China was home to 3,255 hi-tech business incubators and 4,298 maker spaces. This is where the new hope of the Chinese economy lies.
The "Connection + Demand" Mode
To a large extent, the number of "unicorns" reflects the innovation capacity of a nation and vitality of its start-ups. Statistics released by the Ministry of Science and Technology show that there were 131 Chinese "unicorns" in 2016. According to media reports, China had over 90 sci-tech "unicorns" in 2017, accounting for about one third of the total worldwide.
According to He Lifeng, director of National Development and Reform Commission, this illustrates the booming of new- and hi-tech industries and a better business environment, which has laid a solid foundation for stable and sustainable economic development.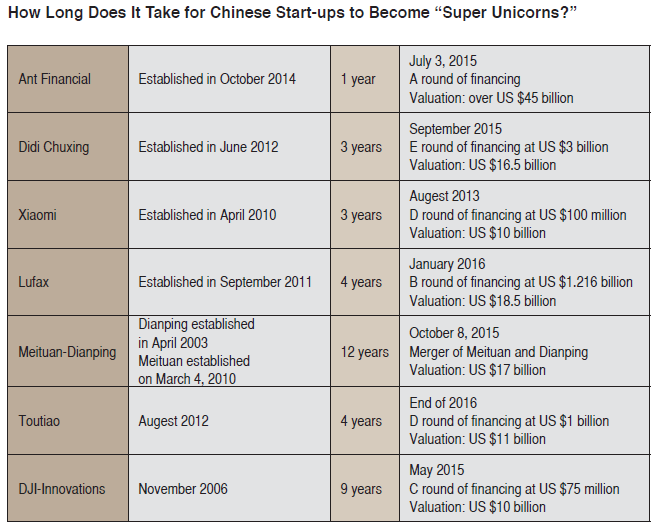 In terms of technological innovation, all the Chinese "unicorns" on the 2017 list have their own features and adopt the "connection + demand" pattern in operation. By integrating with the Internet, they connect the supply and demand sides, and provide multiple options to meet various customers' needs.
Taking Didi Chuxing as an example, it has developed into a one-stop travel platform. Upon opening the Didi app, you will find many options such as taxi, private car, car-pooling, chauffeur, charter bus, and OfO (bike-sharing). So to speak, Didi Chuxing covers almost all the travel needs except public transport. This is the reason why the Chinese company is on the top 10 "unicorns" list.
Similarly, companies such as Xiaomi and Meituan-Dianping on the list have one thing in common: they use the Internet for connectivity and as a platform for people to fulfill needs.
If the creativity of Internet finance lies in providing an online platform and upgrading the mode of connection, then the financial technology is not just about upgrading, it is the all-round transformation of Internet financial services.
As the only financial technology company on the top 10 "unicorns" list, Lufax has an edge in smart financing, big data risk control, and smart financial management. By analyzing the consumption features in different scenarios and evaluating customers' demands and risk tolerance, Lufax provides customized services, and improves personal financial management for Chinese customers in a secure and prudent manner. According to Lufax, obtaining the coveted title of "unicorn" can be attributed to not only its high valuation but also unique business model. Lufax's entry into the global "unicorn" list shows the world's attention to China's rapid development of the financial tech (fintech) industry, and what's more, reflects the competitiveness of China's financial technology.  
LIU XIN is a media contributor.
Services