CSR Zhuzhou Institute, In Pursuit of Proprietary Technologies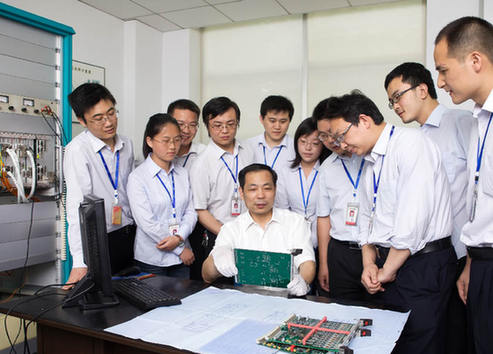 Researchers met to discuss the development of IGBT products.
Expanding Industry Scale
"The technical breakthrough in the field of eight-inch IGBT products has put CSR Zhuzhou Institute into the first rank of IGBT producers worldwide," Liu Guoyou said.
According to Liu, in addition to the eight-inch IGBT wafer fabrication line, the company is building a higher standard IGBT module production line in a bid to meet the demands of multiple domestic industries including rail transit, electric vehicles, smart grids, renewable energy high voltage converters, motor drives and etc. It is now devoted to building an independent industrial base with the largest production capacity and best technical strength in China.
Meanwhile, to cement its technical advantages, CSR Zhuzhou Institute is taking the lead in establishing an industry alliance to promote technical innovation, aiming to integrate resources of the domestic IGBT industry from raw materials to product applications, and thus advance the development of China's IGBT industry.
For CSR Zhuzhou Institute, innovation is a perpetual pursuit. In 2011, together with the Institute of Microelectronics at the Chinese Academy of Sciences, it founded a joint R&D center for new electronic devices made of silicon carbide. Today, the center has produced sample products, and assembled and encapsulated them into the hybrid IGBT module. The company is planning more cooperation with other research institutes in carrying out research on new technologies using silicon carbide materials and products.
Services