XCMG: Globalizing China's Manufacturing Industry
By staff reporter HOU RUILI
Success in the manufacturing industry demands as much hard work as farmers need to grow rice – they sow the seeds one by one and reap the harvest one by one. Despite its cautionary tone, this well-known metaphor in industry circles has never shaken the resolve of the managers of Xuzhou Construction Machinery Group (XCMG), a respected pioneer of China's manufacturing industry. Wang Min, chairman of XCMG, said that China's equipment manufacturing industry would not be as successful as it is today without the people at its helm who stick to their beliefs, endure loneliness, bear the pressure of competition and meet challenges from the global market.
XCMG, established 25 years ago, has become the fifth largest supplier in the world's construction machinery sector. Its sales volume of truck cranes and heavy-duty road rollers ranks first in the world. Its sales of earth-moving machinery, road machinery, concrete machinery and piling machinery maintain a lead in the Chinese market. Currently, XCMG's products have been sold to 169 countries and regions around the world, with annual exports exceeding US $1.6 billion and the 2012 business income surpassing RMB 100 billion.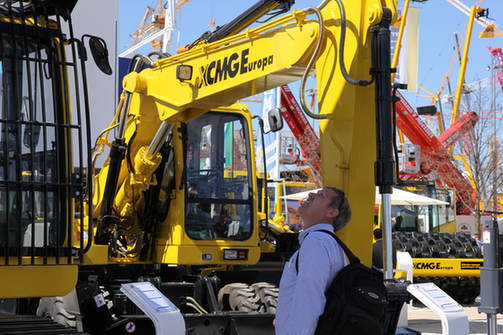 A foreign client appraises XCMG's products at BAUMA 2013 in Munich.
Study and Innovate
In the early 1990s, under the influence of the commodity economy, Chinese scientific research institutes changed their focus to practical technology applications, and largely abandoned unprofitable basic research. XCMG was hence established in an environment where the development of enterprises was impeded by insufficient basic scientific research capability. Today's experts believe that this lack, starting from the 1990s, affected Chinese enterprises and even entire industries for as long as a decade or more.
At that time, the production of key components and parts used in China's construction machinery industry was controlled by German and Japanese companies. Those foreign companies therefore also controlled the output and exports of made-in-China construction machinese. To make a breakthrough, XCMG initiated distinctive exploration, giving equal importance to independent innovation, integration and observation, as well as collaboration so as to innovate through combined efforts.
"In setting up a joint venture with foreign companies, because we had to meet their standards in terms of quality, we could improve our basic technology very quickly. However, the core technology required for parts manufacturing was controlled by foreign partners, so we could operate only according to their engineering drawings. When we needed technological improvement, we had to send our questions to the headquarters of foreign companies to seek solutions. It was very difficult for domestic companies to innovate because foreign companies got the best results through extensive testing over many years. European and American companies had an advantage through years of practice and experience. It was difficult for us to command the essence of such capability building," said a manager of the International Development Department of XCMG.
In order to improve its basic manufacturing technology as quickly as possible, XCMG obtains technology through mergers and acquisitions. In 2011, XCMG acquired AMCA and FT, two components manufacturers from the Netherlands and Germany, respectively. In July 2012, XCMG merged with German manufacturer Schwing Stetter, a known pioneer of concrete machinery with a history spanning 78 years. Through integrating with this time-honored manufacturer, XCMG could significantly speed up its overall process of internationalization.
Services