CSR Zhuzhou Institute, In Pursuit of Proprietary Technologies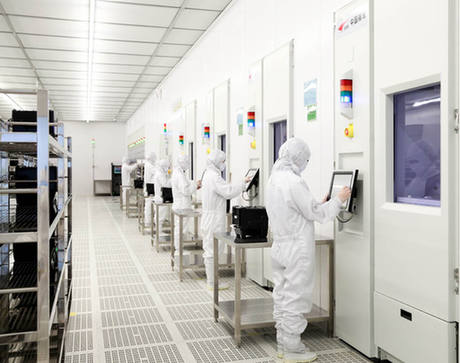 CSR Zhuzhou Institute's plant for IGBT products.
50 Years of Technical Strength
The CSR Zhuzhou Institute has led China's rail transit industry in the field of electric traction drives. Its products have been applied to high-speed trains, high-power AC drive electric locomotives, diesel locomotives, and urban rail vehicles. The company has a market share of 70 percent among domestic brands.
Power semiconductors are key to the electric drive system, and CSR Zhuzhou Institute is an industry leader in China.
In 1964, the company applied power semiconductor technology to Chinese-made electric locomotives for the first time. The year also saw the successful trial production of the rectifier diode, a small semiconductor that converts alternating current (AC) to direct current (DC), marking the beginning of the company's technical research on power semiconductors and industrialization of related technologies.
In the mid-1980s the company began to make forays into thyristor technologies, and has broken the foreign monopoly after two decades of effort. It has developed several thyristor models of different sizes and power levels.
In 2000, the CSR Zhuzhou Institute established China's first four-inch free floating devices production line by using proprietary technology, for four-inch wholly-pressure-welded devices. In 2006, it developed the world's first six-inch thyristor, which boosts the country's ability to produce UHVDC transmission systems. In 2009, the company opened a plant for five-to-six-inch high power free floating devices, with an investment of RMB 350 million.
Decades of assiduous efforts have raised the company's research on power semiconductors to a new level, combining independent development and technical introduction. All these lay a solid technical foundation for its advances on IGBT technologies.
Immense Synergistic Effect
Since the 11th Five-year Plan period (2006-2010) China has attached increasing importance to key strategic technologies. With support from government bodies including the National Development and Reform Commission, Ministry of Science and Technology, the Ministry of Industry and Information Technology and the former Ministry of Railways, CSR Zhuzhou Institute launched research on high-voltage IGBT devices.
Services