CSR Zhuzhou Institute, In Pursuit of Proprietary Technologies
By ZHU HUIYUE & WANG NAN
June 20 witnessed a technical breakthrough by CSR Zhuzhou Electric Locomotive Research Institute Co., Ltd. (CSR Zhuzhou Institute). The company began operating an assembly line producing eight-inch IGBT (insulated gate bipolar transistor), a power electronic device for the realization of electrical energy conversion and control. The assembly line is the first of the kind in China and the second in the world. It is expected to produce 120,000 eight-inch IGBT chips and one million IGBT modules every year. This means that China will be self-reliant in IGBT technology, which is strategically significant for China's economic security. CSR Zhuzhou Institute is now a pioneer of IGBT technologies and one of the few in the world with mass production capacity.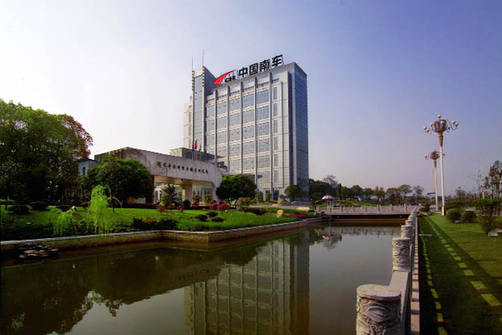 CSR Zhuzhou Institute.
A Pivotal Chip
IGBT is regarded as the Holy Grail of power semiconductor research, featuring the most complicated technology in modern current converting industry. Ascending to the summit of this field marks another hard-won success of Chinese enterprises in their pursuit of core technologies in the high-end equipment field.
Researchers showed reporters a silicon wafer the size of a disk, on which 128 fingernail-sized chips are arranged. These were the world-leading eight-inch IGBT chips.
According to Liu Guoyou, director of the company's IGBT division, each chip, as fine as two human hairs, contains more than 50,000 cellular circuits that can sensitively regulate voltage as high as 6,500 V and a current as high as 1,200 A. These tiny chips can effectively convert and control electrical energy, providing electrical equipment with electrical energy of different power levels.
"IGBT design is exceptionally complicated since all circuits have to be designed on the scale of a few microns," Liu said.
The IGBT chip is able to switch electric currents on and off one million times per second and swiftly convert electrical energy. Its applications can be found almost everywhere, from key equipment in strategic industries to domestic appliances. Any country that masters IGBT technology will be a powerful player in the world market of power semiconductor devices.
China has become the world's largest consumer of IGBT, with high demand coming from the railway, new energy and electrical industries totaling more than RMB 10 billion per year. The demand is growing at an annual rate of 15 percent or more, and is expected to increase as China's strategic industries grow and modernize.
According to Ding Rongjun, general manager of the CSR Zhuzhou Institute and an academician of the Chinese Academy of Engineering, if IGBT technology is applied to 20 percent of China's electrical machines, their energy efficiency will increase by 15-30 percent. This would save 200 billion KWH electricity per year, double the output of the Three Gorges Hydroelectric Project.
But the reality is, due to weak foundations in scientific research, China's IGBT technological development has long lagged behind the rest of the world. The rail transit sector, for example, has had to import almost all of its IGBT modules. There were no Chinese companies among the manufacturers of high-class IGBT products until CSR Zhuzhou Institute launched its new assembly line. Despite being the leader in traction and electric drive technologies, in the past the CSR Zhuzhou Institute also had to spend hundreds of millions of Renminbi on importing IGBT products.
Designing and producing Chinese IGBT products has been the long-standing wish of the Zhuzhou institute and all domestic enterprises.
Services