Sharing Opportunities with the World
FOR the first time ever, TIME used both Chinese and English simultaneously on its cover. On its Asian edition published on November 13, 2017, the headline "China Won" were shown in these two languages on the cover against the background colors of red and yellow which symbolized the national flag of China. 
Listing achievements China has made in economy, politics, society, among many others, the cover story believed that the country's economic model of the present day is more effective and sustainable than the U.S.-led models that took shape after WWII.
President of the World Food Prize Foundation Kenneth M. Quinn has paid frequent visits to China since 1979. Not surprised at TIME's coverage, he pointed out that the success of the Chinese model cannot be ignored by the Western world and is pertinent to every nation.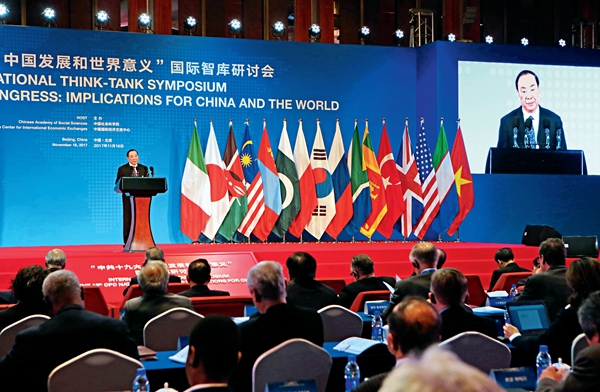 International Think-tank Symposium themed "The 19th CPC National Congress: Implications for China and the World" opens in Beijing on November 16, 2017.
China has embarked on a new journey after the 19th National Congress of the Communist Party of China (CPC). What's the future direction of the country's development? In which ways can Chinese wisdom contribute to diverse development of the world? How would Chinese approaches influence human progress? International scholars are seeking more clear-cut answers to these questions. Last November, hundreds of academics and political heavyweights from 30-plus think tanks around the globe gathered in Beijing to discuss relevant topics at the International Think-tank Symposium themed "The 19th CPC National Congress: Implications for China and the World," jointly sponsored by the Chinese Academy of Social Sciences (CASS) and the China Center for International Economic Exchanges (CCIEE). 
The Right Approaches
Yasuo Fukuda, former Japanese prime minister and director-general of the Boao Forum for Asia, recalled his impression about Beijing of three decades ago: "Automobiles seemed to be scarce on the street. Instead, the city thronged with bicycles." However, it has completely transformed nowadays. "More than 20,000 kilometers of high-speed railways have been built in the past decade, surpassing Japan both in speed and efficiency," he continued.  
His opinion was shared by Peter Kagwanja, chief executive of Africa Policy Institute of Kenya. Conforming to Chinese standards, the railway linking Nairobi to Mombasa has cut the journey between the two cities to around four hours, which is a spur to Kenya's economic development. "China has set a precedent in global development history, and the Chinese model has brought us hope," said Kagwanja.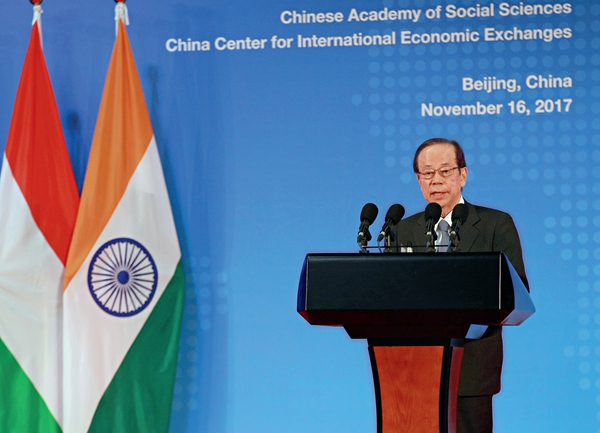 Former Japanese Prime Minister Yasuo Fukuda.
Photos by YU JIE
For quite a long time, civilizations, systems, and development modes of the West have been deemed as the most effective and desirable. However, China did not simply follow these modes. In less than 100 years, the CPC has rallied and led the people in turning a poor and underdeveloped agricultural country into an increasingly prosperous nation with thriving industries. According to experts at the symposium, there is more than one approach to realizing modernization. The Chinese approach presents developing countries with a brand new choice.
"Tens of millions of Chinese people have not shaken off poverty. In my opinion, poverty reduction can never be fulfilled if government leadership is absent as in the Western market economic system," Director-general of Pangoal Institution Yi Peng, asserted.
According to Cai Fang, vice president of CASS, China has contributed to over 70 percent of global poverty reduction in the past four decades. Chinese wisdom in this respect has provided invaluable experience to other developing countries.
Struck by the financial crisis of 2008, Western countries failed to reform their systems fundamentally. The predominant political and ideological theories in those states are unable to explain the predicament, nor provide effective solutions. But China, adhering to its socialist market economy policy, has calmly coped with the change of pace in economic growth. Contributing more than 30 percent of global growth, China has developed into an anchor and propeller of the world economy.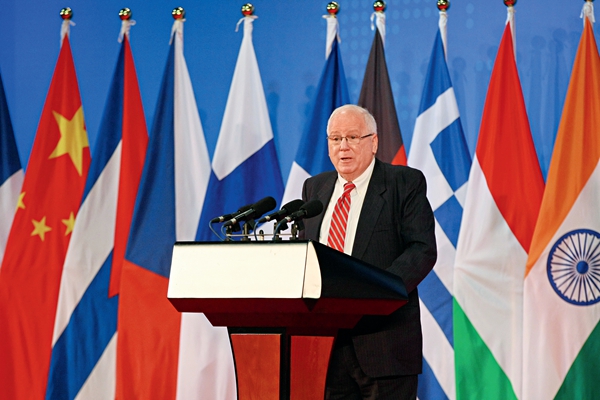 Kenneth M. Quinn, president of the World Food Prize Foundation.
"Western countries, on seeing China's achievements, usually measure the nation's governance and development against their own criteria, which is unfair," noted Yu Jin, head of China Region Development & Reform Institute. He believed that designing development strategies in accordance with the rules of China's development does no harm to any country. Instead, it will expand the areas of converging interests with the rest of the world.
One of the keys for the CPC to advance the country's modernization lies in constantly enriching its guiding thought based on the changing global, national, and the Party's conditions instead of blindly following Western countries' footsteps.   
Vice President of the China Institute of Contemporary International Relations Yuan Peng indicated that the Chinese approach gives new options for nations pursuing progress through self-renewal.
Win-win Prospects
"In what respects is the world's ideological field found lacking in the present day?" asked Chen Wenling, chief economist of CCIEE. In her perspective, the answer may encompass a shining beacon for thoughts conforming to development rules through which humankind can advance with a global, united vision that guarantees safety, consensus building, and galvanize united efforts for prosperity, and a new type of public goods that take into account the sensitivities and concerns of the myriad of diverse cultures, lifestyles, values and hopes of all humanity. The report delivered by General Secretary Xi Jinping at the 19th CPC National Congress, however, suggests the solution. Transcending differences in ideology and development modes, it seeks convergence of interests and seeks the broadest common ground for all humankind, which conforms to the aspirations of world's people to live a better life.    
Zhao Jinping, director-general of the Research Department of Foreign Economic Relations, Development Research Center of the State Council.
Building a community with a shared future for humankind – one of the key parts of Xi Jinping Thought on Socialism with Chinese Characteristics for a New Era and a point to formulate the basic policy that underpins China's endeavors to uphold and develop socialism with Chinese characters in the new era – was much discussed at the symposium.
"In the past years, China has aided Africa with the construction of a good number of infrastructural and industrial projects," noted Nkolo Foe, vice president of the Council for the Development of Social Science Research in Africa. "Western countries merely cast their eyes on our raw material reserves, but China gives a helping hand to help us with industrialization and modernization," he further explained.  
Moreover, other than simply participating in global governance, China has begun to display leadership in ushering in a new era of global governance. So far, it has initiated the Belt and Road Initiative, the Asian Infrastructure Investment Bank, and the Silk Road Fund. Major international events including the Belt and Road Forum for International Cooperation, the 22nd Asia-Pacific Economic Cooperation Economic Leaders' Meeting, the G20 Summit, and BRICS Summit were successfully held in different cities of China.   
Viktor Larin, director of Institute of History, Archaeology and Ethnography of the Peoples of the Far-east under the Far-eastern Branch of the Russian Academy of Sciences, considered the 19th CPC National Congress to be a therapy to hegemony and unilateralism. He also advised China to cope with challenges with more shrewd diplomacy.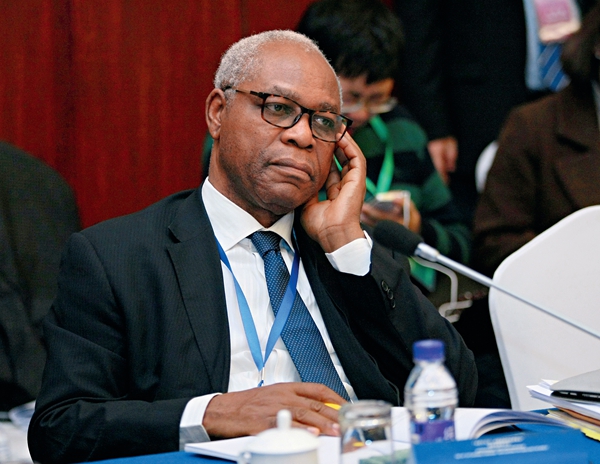 Nkolo Foe, vice president of the Council for the Development of Social Science Research in Africa.
It was agreed by participants of the symposium that a series of practical problems need to be solved in a bid to build a community with a shared future for humankind. For example, spillover effects should be taken into account when governments make their own policies; policy coordination capacities need to be improved and innovated; language barriers need to be overcome in communication, to name a few.
According to TIME, not a single government at present is influential enough to craft political and economic rules befitting the entire world. But if a choice has to be made, it is probably wise to bet on China who is capable of fully influencing its cooperation partners and competitors simultaneously. TIME implied in its article that the more China grows itself, the more opportunities and contribution it will generate for the world. China's progress is the world's progress. China wins, the whole world wins.  
Benefits to the World
Just a few years ago, cranberries were almost unheard of in China. Nevertheless, the rise of middle-income population has generated growing interest in healthy eating habits, having boosted the nation to become the second largest export market of the U.S.-grown cranberries within merely four years.
Similar to cranberries, sea fish from Alaska, beef from Montana, and Iowa-grown soybeans are no longer rare to see on dinner tables in Chinese families today. During U.S. President Donald Trump's state visit to China last November, companies of the two countries signed deals worth US $253.5 billion, which has imbued bilateral trade with new driving force.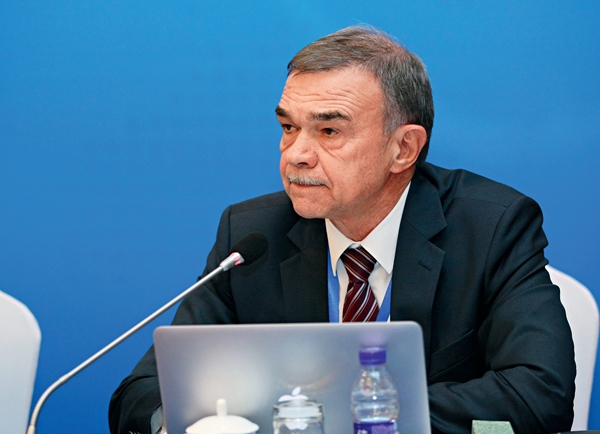 Viktor Larin, director of Institute of History, Archaeology and Ethnography of the Peoples of the Far-east, Russian Academy of Sciences.
The report of the 19th CPC National Congress vows to make new ground in pursing opening-up on all fronts. Openness brings progress, while self-seclusion inevitably leaves one behind. China will not close its door to the world, and instead will open it even wider.
Zhang Yuyan, director of the Institute of World Economics and Politics, CASS, observed that the phrase "inevitably leaves one behind" has replaced "results in backwardness" that had been much used before. He interpreted it as China's stronger resolution to sticking to its opening-up policy.  
Experience gleaned from past decades since the People's Republic of China was founded has shown that the wider the nation has opened to the world, the greater development it ushered in, and vice versa. According to Zhao Jinping, director-general of the Research Department of Foreign Economic Relations, Development Research Center of the State Council, opening-up is not only to meet the development need of China – the second largest economy in the world – but also will bring about new opportunities for global growth.
In the coming 15 years, China's market will further expand. It is expected that US $24 trillion worth of goods will be imported, US $2 trillion foreign direct investment will be absorbed, and China's total investment overseas will reach US $2 trillion. The first China International Import Expo to be held in Shanghai this year will provide a new platform for expanding cooperation in China's market among all parties.  
Nevertheless, Zhao advised full awareness when measuring the country's level of openness which is still insufficient in its adaptability to a complex external environment and in new frontiers for participating and leading international cooperation. Unbalanced and inadequate level of openness remains the principal problem in this regard for the time being.   
The key to implementing the strategy of making new ground in pursuing opening-up on all fronts is to facilitate new progress by overcoming difficulties in the most challenging key areas. Opening up in a more comprehensive and in-depth way at a higher level is a necessity to inject sustainable impetus to China's development and reform.
The report calls on people of all countries to stick together through thick and thin, promote trade and investment liberalization and facilitation, and make economic globalization more open, inclusive, and balanced so its benefits are shared by all.
"Faced with a stronger voice against globalization and the argument between pros and cons of globalization, the Chinese approach in this field may take a lead in exploring a new vision of globalization that is more equitable, fair, inclusive, and beneficial to all in initiating a new path of globalization," President of the Center for China & Globalization Wang Huiyao made the remark.
At present, China is endeavoring to stay ahead of the curve through its accumulated achievements and constant innovation while fostering sources of growth for the next round of development. Managing its own affairs is a part of the contribution it makes to facilitating globalization to move ahead. More Chinese approaches of this kind, in Wang's eyes, will increase the country's competence in choosing a development path befitting to it and in rallying broader support for enhancing globalization. China's prosperity is expected to integrate with global progress more tightly.        
LIU JIE and co-writers of this article including Tan Yixiao, Luo Zhen, Wang Fan, Zhao Wei, Huang Xiaoxi, and Cao Dian are reporters with Xinhua News Agency.  
Services