Subsoiling Brings Better Harvests
By special correspondents DUAN HAIWANG & HU XIN
FUPING County, Shaanxi Province achieved a higher crop output during the summer and autumn harvest seasons of 2016 after applying a new technique. It resulted in a 120 kg per mu (1 mu =0.067 hectare) increase in wheat (a growth of around 30 percent), and a 190 kg per mu increase in corn planted on the same piece of land (with a growth of 34 percent). Other places, including Gaomi City in Shandong Province, Guyuan County, Hebei Province, and Chifeng City in Inner Mongolia Autonomous Region, also benefited from this new approach. The output of potatoes in Gaomi and Guyuan and of corn in Chifeng all increased by more than 30 percent. Meanwhile, Dingxi City of Gansu Province, which has an especially arid climate, enjoyed a 50 percent higher potato yield.
At the root of these remarkable achievements is a rotary-subsoiling technique invented by Wei Benhui from the Guangxi Academy of Agricultural Sciences. Wei and his team spent nine years developing an all-in-one multifunction tillage machine. It carries out the entire cultivation process, from loosening and smoothing the soil to laying off rows. Its greater efficacy lies in plowing soil to twice the depth of a traditional farm tractor, but with minimal soil disturbance. Over the past few years the technique has been applied to 20 or more crops in 21 provinces around China. The results have been impressive in all instances. All crops yields have risen 10 to 30 percent and their quality has improved without increasing the labor force or use of chemical fertilizers and water. A 15 percent or more increase in overall comparative benefits is therefore expected, along with a doubled rate of water retention in the soil.
"Promotion of the technique is also conducive to solving dilemmas related to reclaiming alkaline soils and making better use of fallow farmland," Wei Benhui said.
The New Technique
That China, with less than seven percent of the world's arable land, feeds more than 22 percent of the global population, and that its grain output has consistently risen over the course of 12 consecutive years, is widely known. But the ecological environment in rural areas has paid a heavy price for these remarkable achievements.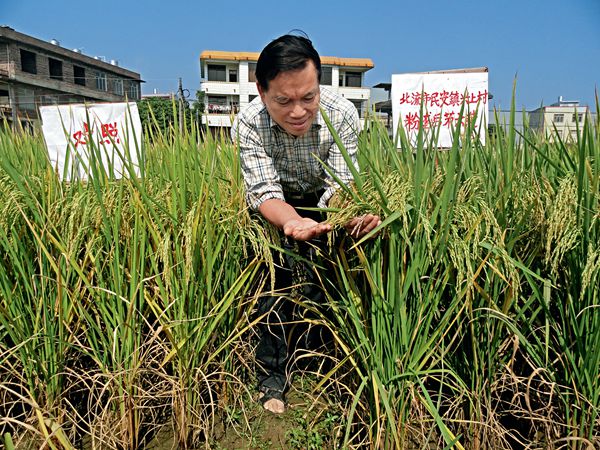 A demonstration of the effects of subsoiling.
The use of chemical fertilizer is increasing, yet the grain output is flattening out – a phenomenon that draws the attention of the Chinese government and many agricultural scientists. Experts say that China has reached the point where sustained growth of its grain output is becoming difficult to achieve. "The only way to make a breakthrough is to create new agricultural techniques that better utilize the resources available," Wei said.
A retrospective of the history of agricultural development shows that since 1945 the use of agricultural machinery, chemical fertilizers and new species of crops has significantly boosted crop production. But this mode causes serious water pollution and soil degradation. Increasing yields solely by improving crop variety is also becoming more difficult. Heavy metal pollution in fisheries is moreover a serious threat to public health. The current mode of production involves many risks, as well as being unsustainable.
There have been many changes in modes of agricultural cultivation, and every new approach has increased production by at least eight percent. Wei has been racking his brains to find a solution to the present agricultural production conundrum. After years of study, research and practice, he and his team invented the rotary-subsoiling technique.
"Our tillage machine can work the land to depths of 30 to 50 centimeters, so enhancing biological soil activity, water retention and aeration. It thus raises the temperature of the soil bed and controls soil salinity, so upgrading soil fertility to an extent that heightens grain production and quality," Wei said.  
Years of practice have shown the broad applications of the technique to different areas and various crops. Moreover, a single application guarantees increased production from the same piece of land for successive years. "For example, experts from the Chinese Academy of Agricultural Sciences (CAAS) conducted an experiment in Wuqiao County, Hebei Province. Plowing a piece of land just once with this technique resulted in increased yields in six successive wheat harvests of more than 140 kilograms, equivalent to 32 percent growth," Wei said.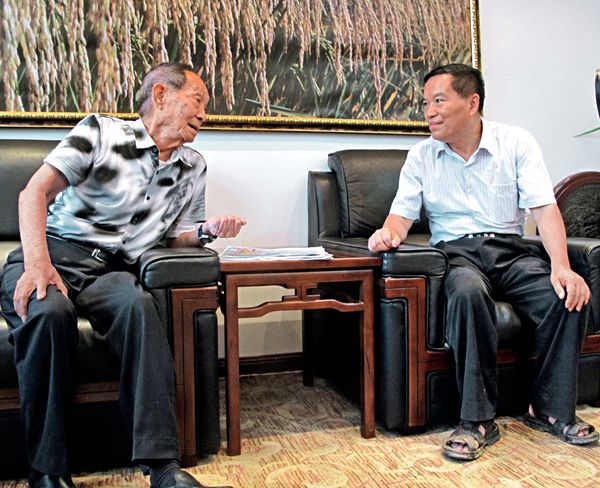 Wei Benhui (right) discusses applications of the technique with CAE member and "father of hybrid rice" Yuan Longping.
The subsoiling technique is green and highly efficient and, as some experts have commented, amounts to a "revolution in agricultural cultivation." Liu Xu, vice-president of the Chinese Academy of Engineering (CAE), and eight other agricultural experts agree that this innovative approach can be applied to various crops. Yuan Longping, a member of the CAE noted for developing the first hybrid rice varieties in the 1970s, is keen to promote its application. He personally wrote a letter to Ministry of Agriculture of China officials calling for efforts to publicize this new technique.
Bright Prospects
The subsoiling technique has great potential just waiting to be tapped.
Calculations show that its application to China's arable land of 67 million hectares would increase the grain output to an extent equivalent to adding an extra 10 to 13 million hectares to China's arable land. It would also save five million tons of chemical fertilizer, store 30 billion cubic meters of water resources for irrigation and, most importantly, support a population of 200 to 300 million. 
 The new approach has also proved effective in ameliorating saline and alkaline land. Experts from the CAAS, the Chinese Academy of Sciences (CAS), and Tsinghua University tested a piece of land in Weili County, Xinjiang Uygur Autonomous Region, where it had been applied. Results showed a more than 40 percent reduction in the soil's exchangeable sodium percentage (ESP), and an increase in the output of cotton grown on the land of 124 kg per mu – a growth of 49 percent. Other examples include saline and alkaline land in Gansu Province and Ningxia Hui Autonomous Region. Application there of the subsoiling technique resulted in a substantial reduction in soil ESP, and a more than 35 percent rise in its potato output. This implies that China's 200 million mu of usable saline and alkaline land has the prospect of achieving a remarkable increase in output with the application of the new approach, which is therefore crucial to guaranteeing the country's overall grain supply.
The technique can also restore grassland and halt its degradation. Experts from CAS and Inner Mongolia Autonomous Region tested a piece of land in Tongliao City where it had been applied. They found that after four months the amount of forage grass growing on it had doubled. Consequently this method can be used to deal with retired crop lands and grassland degradation, as it improves the ecological environment and increases the supply of forage grass.
Another of its beneficial functions is that of improving – to the extent of doubling – soil water retention. Calculations show that applying the technique to more than one billion mu of land could enable the establishment of a natural rainwater collection system that would increase China's water resources reserves by more than 30 billion cubic meters. The benefits of such a system include alleviating water scarcity in arid regions, greater water storage capacity during wet seasons, cleansing rivers, and increasing humidity. After testing the air humidity above a piece of land where subsoiling had taken place and potatoes were cultivated, scientists found it had increased by at least 20 percent.
Subsoiling also indirectly improves the quality of river water, and so boosts the development of the fishery industry. The present use of chemical fertilizer and pesticides causes contamination of rivers, lakes, and even seas. The resulting food safety problems constitute a serious threat to public health. Wei and his team's technique involves a physical process that guarantees current crop yields while reducing the use of chemical fertilizer and pesticides by 10 to 20 percent.
As it brings a 10 to 30 percent increase in grain output, and is not limited by natural conditions, the subsoiling technique can be applied to different parts of the country. It can thus help farmers shake off poverty.
Wei and his team are doing what they can to promote their invention, and have cooperated with Guangxi Wufeng Machinery Company on developing a lower cost, more intelligent machine.         
Application and Promotion
So far Wei and his team have applied for nine patents during the process of developing this technique, and published four books and 32 papers on the project. Various institutions have also honored them for their innovation.
For the past nine years, Wei and his team have conducted research and analysis on exactly how the technique boosts production, and its economic benefits. Statistics prove its comparative advantages for more than 20 crops, including rice, wheat, corn, potatoes, and sugarcane, in 21 provinces and regions. Relevant experts who launched tests on 23 experimental sites found an average increase in output of 315 kilograms per mu, equivalent to an average 25 percent growth.
A new type of tiller jointly developed by Wei and the Guangxi Wufeng Machinery Company for wider use was approved in 2016. Statistics show that it is even more efficient and less energy-consuming. When plowing a piece of arid land in Guangxi to a depth of 35 centimeters, it covered five to seven mu per hour at a fuel cost of RMB 35 per mu, and could plow seven to eight mu per hour of a piece of arid land in Northern China to depths of 35-40 centimeters for the same cost per mu.   
On July 3, 2016, Wei and his team's invention won commendation from experts specializing in agricultural science, agricultural machinery, soil science, and water conservancy as "a new technique that can boost agricultural output and improve the ecological environment." They all proposed that the government allocate more financial support to accelerating its application throughout the country.
Practice has proven that the subsoiling technique is now relatively mature, and ready for a wider use.
China's agricultural sector is under unprecedented pressure as a result of arable land having been overworked for so long. In recent years, Wei and his team have partnered with the Guangxi Wufeng Machinery Company in offering land tilling services around the country, thereby accumulating invaluable experience.
Services