A Rising Innovation-oriented Country
CHINA's economic development and reforms to its economic system have made great strides in the almost four decades since the reform and opening-up policy came into effect. The country has also witnessed the transformation of its economic development model and allocation of resources, as well as progress in its science and technology, and industrial structure. Most notable is how innovation has become the driving force of China's economic growth, thus signifying its rise as an innovative nation. Innovation is indeed the primary force behind China's new round of economic growth, structural adjustment, and industrial transformation and upgrade. The experience China gained over the past decades amid efforts to forge its innovation capabilities has helped to achieve the country's leapfrog development, and also generated considerable influence globally.
Innovation – New Impetus for Economic Growth
China's innovation-driven development has entered the new historical stage whereby its people are more enthusiastic than ever about innovation.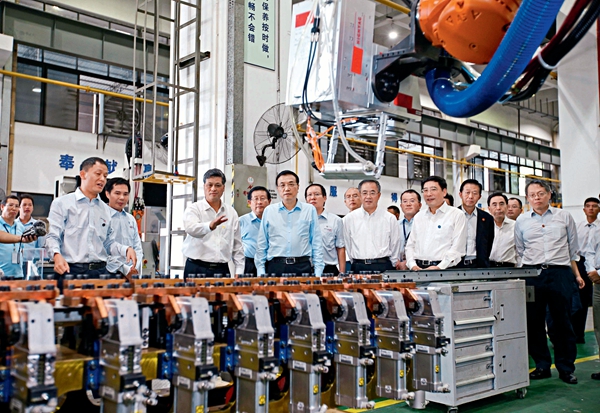 Chinese Premier Li Keqiang visits the Shenzhen-based Han's Laser Technology Industry Group on October 13, 2016 during his inspection tour of Shenzhen and Dongguan, where he attended the 2016 National Mass Innovation and Entrepreneurship Week.
China has honed its innovation capabilities in the process of economic catch-up. Having started out by copying foreign apparatus and later introducing and eventually absorbing advanced technologies, China's native expertise is now capable of independent research and development (R&D).  Its first innovative steps were apparent in technology, product design, and manufacturing technique. It has since progressed to innovative management, organization, and business models. Longstanding R&D input and accumulation has built a solid foundation for China's rise to a large, technologically advanced nation. However, the focus of China's upgraded innovation capabilities is now on quality rather than quantity.
China stands at the world forefront of innovative input and output. Since 2000, China's R&D investment growth has outstripped that of its GDP. Currently, China's R&D spending accounts for about 20 percent of the global total, giving it a world second ranking. In 2016, China's R&D investment accounted for 2.1 percent of GDP, so securing a first ranking among developing countries. Numbers of China's R&D personnel constitute around 30 percent of the global total – making it first in the world. In addition, the gap between the amount of international patent applications from China and from developed countries has narrowed. China now holds third place in this regard. China is also the source of about 15 percent of the global total number of Science Citation Index (SCI) papers, so giving it a second global ranking in this respect. The Global Innovation Index 2016 released by the World Intellectual Property Organization ranked China 25th in innovation capabilities, so surpassing certain high-income economies. Meanwhile, China's manufacturing is steadily moving from the low end to the middle and high end of the value chain. Certain of its giant enterprises wield significant clout on the global market. China has moreover made breakthroughs in key technologies. It leads the world in mobile communications, manned space flights, satellite applications, high speed railways, ultra-high voltage grids, supercomputing, quantum communication, and mobile Internet.
Chinese enterprises have become more proactive in their innovations. This is apparent in growing R&D investment and the dwindling proportion of introduced technology. Enterprise investment accounts for over 75 percent of national R&D spending. More than 70 percent of the country's total R&D personnel are enterprise employees. A new batch of innovative enterprises intent on participating in international competition has also appeared. The first National Bureau of Statistics (NBS) survey in 2015 on the innovative activities of Chinese enterprises showed that, in the period 2013 to 2014, about 266,000 enterprises out of the total 646,000 enterprises surveyed – a 41.3 percent proportion – pursued innovative activities. Taking industrial enterprises as an example, their proportion in this respect has grown from the 28.8 percent of a decade ago to 46.8 percent. The main focus of Chinese enterprises is on improving management efficiency and stepping up innovations of business models; around 27.9 percent have carried out organizational innovation and 25.8 percent marketing innovation. Moreover, Chinese entrepreneurs are young, well-educated, and keen to innovate.
Visitors experience the electric locomotive simulation system at the 13th Optics Valley of China International Optoelectronic Exposition and Forum launched on November 3, 2016 in Wuhan City.
China's innovation and entrepreneurship environment has steadily improved. Since the reform and opening-up policy came into force the Chinese government has formulated successive policies to promote scientific and technological progress. It also integrated R&D and economic development to suit the characteristics of different periods. The year 1980 saw the launch of reform to the scientific and technological system. In the 1990s, the central government put forward the strategy of Reinvigorating the Country through Science and Education. In 2006 it proposed, in the guidelines of the National Medium- and Long-term Program for Science and Technology Development (2006-2020), construction of the country's innovation system. Since 2012, it has encouraged innovation-driven development and deepened reforms to the scientific and technological system. In 2016, it released the Outline of the National Strategy of Innovation-Driven Development. All these policies and measures constitute a relatively complete policy system to support innovation. In recent years, the government has switched its focus – from improving the system, to encouraging innovation activities, to building a favorable environment wherein market players take the initiative to make innovations and let the market play its role.
The government now strives to make policies that bring benefits for all, and issues supporting policies that address market players' every possible concern.
The new power to boost China's economic development has formed amid the country's honing of its R&D capability, optimizing resource allocation, raising efficiency, and improving the innovation environment.
Coordination between the Government and Market
Good coordination between the government and market supports China's innovation-driven development.
China's efficient government is one of the country's main advantages. Under its leadership the country can attain leapfrog development in certain key areas. Through taking the late-mover advantage, and thanks to supportive policies, China has gradually risen from tech-trend follower to leader via enhancement of its comprehensive innovation capability. Today, China continues to increase its investment in fundamental, strategic, and cutting-edge technology, to focus on the development of key technologies, and to make breakthroughs and catch up with competitors in the global market. The development of aerospace industry is one example. In the early days, relevant government departments and scientific research institutions were responsible for organizing technology studies and accumulating technical expertise. Later, based on key national-level projects, relevant tests and applications were made. Now the mode has evolved into one featuring cooperation between military and civil institutions, and large-scale applications and commercial operations. Over the past half-century, China has established a relatively complete aerospace industry and become influential in aerospace science and technology. China is now able to provide multiple series of aerospace products such as carrier rockets, satellites, manned spacecraft and ground equipment and a package of services involving launch service and construction of ground facilities. The country's progress in aerospace industry has also boosted industrial upgrading and innovation in various fields of the national economy. Under the current background of keen international competition and the new round of scientific and technological revolution, as well as of an imminent industrial revolution, China will enhance its R&D input in fundamental research and make breakthroughs in certain key and strategic technologies that boost long-term development. The Chinese government also aims to improve efficient use of scientific and technological resources through promoting reforms to the scientific and technological system.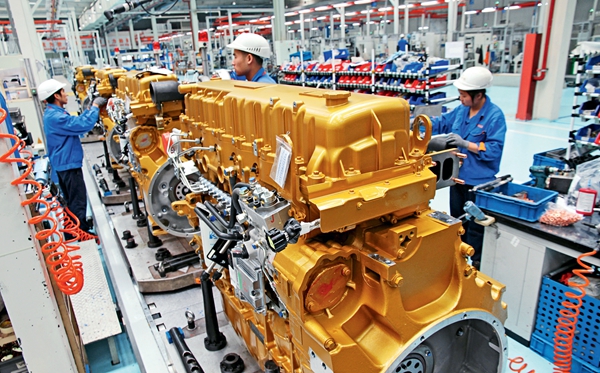 Workers with Y&C Engine Co., Ltd. in Wuhu City of Anhui Province install on November 2, 2016 their independently developed engine, which features lower fuel consumption and lower emissions.
The Chinese government said in 2015, with the aim of inspiring the creativity of its 1.3 billion people, that it encouraged mass entrepreneurship and innovation. By relying on the market – the "invisible hand" – China sought to explore potential from the grassroots level and cultivate the new driving force of its economy. As Nobel Prize laureate Edmund Phelps observed in his book Mass Flourishing: Innovation is not confined to government, scientific and technological institutions, and the R&D centers of large enterprises. More and more individuals, start-ups, new organizations and social platforms have played a crucial role in this regard. An open course at Massachusetts Institute of Technology (MIT) identified the equation, "innovation=invention×commercialization." It shows that both creation (new ideas and inventions) and commercialization are indispensable to realizing innovation. Technological achievements that cannot be commercialized are not innovations. Realizing commercialization relies on the market mechanism. Achieving innovation requires the broadest social participation possible, a market featuring fair competition, and a social atmosphere wherein innovation is encouraged and failure tolerated. Since 2015 when the State Council issued the Opinion on Boosting Mass Entrepreneurship and Innovation, China has made significant headway in expanding new market players, meeting the labor demand of startups, and creating more platforms to support mass entrepreneurship and innovation. It has also expanded the technology market's trading volume, added enterprises to its New Third Board (the pilot national share transfer system for small and medium-sized enterprises), and fostered strategic emerging industries. The strategy has played a crucial role in structural adjustments, shoring up weak spots, and boosting employment.
China's economy having entered the "new normal" stage, the Chinese government aims to coordinate more closely with the market to create a benign mechanism and system that promotes innovation. The government should enact its role when market failure occurs in certain areas. It should especially live up to its responsibility to develop fundamental and strategic technologies, protect intellectual property, encourage circulation of innovative factors, and create a fair environment for competition. The government should avoid improper actions such as allocating excessive subsidies and interfering with companies by outlining their technology roadmaps or making other major decisions. The government should bear in mind its reliance on the market mechanism when allocating innovative resources and stimulating the innovative vitality of society as a whole.            
Honing Enterprises' Innovation Capabilities
To achieve innovation-driven development, more efforts must be made to create new impetus for enterprises in this respect and to hone their innovative capabilities.
In the coming 20 to 30 years, more of China's scientific and technological fields will ascend to a globally advanced level. The country will gradually progress from following and imitating advanced technology to catching up and even leading its development. In future, China will rely more on indigenous innovation. Meanwhile China will, along with other countries around the world, meet the challenges generated by the new technological and industrial revolution. Countries whose enterprises excel at innovation will not only gain first mover competitive advantages but also lead the development of various emerging industries, and have a say in rule-making. A strong economy consists in more than just a large economic aggregate; it must also display a high level of innovation and an optimized economic structure. Therefore, the urgent task that China faces in accelerating innovation-driven development during the new round of economic transformation is to hone its enterprises' innovative capabilities and cultivate more high-tech enterprises.
Efforts should be made to help enterprises generate the intrinsic impetus to innovate, invest more in innovation, and enhance capabilities in this regard. They may then reap more economic profits and gain the upper competitive hand. The government should, on the one hand, improve the efficiency of its system to encourage innovation. On the other hand, it should enhance supervision and improve regulations in order for enterprises to achieve sustainable development through innovations. A favorable environment should be established to facilitate the development of new technology, new products, and new industries. In a word, the Chinese government has been working hard to improve its system, build an incentive mechanism, improve the national innovation system, and raise the efficiency of factor allocation.
As an emerging innovative country, China has seen its economy grow at medium to high speed and transform into one whose growth is less factor- and investment-driven, but rather led by efficiency and innovation. The country has played an influential role in promoting the global economic recovery, globalization, and upgrading global governance. Under the new circumstances, China's innovation-driven development is expected to undergo systematic transformation. This will exert far-reaching influence on the emerging economies, and the world as a whole.     
XIONG HONGRU is associate research fellow with the Innovation-Driven Development Research Department of the Development Research Center of the State Council, and a postdoctoral fellow at China (Hainan) Institute for Reform and Development.
Services