China & U.K. Make Joint Efforts to Promote Global Free Trade
By staff reporter ZHOU LIN
ON January 29, 2018, at the briefing held in her official residence, British Ambassador to China Barbara Woodward announced that Prime Minister Theresa Mary May will pay an official visit to China from January 31 to February 2, and then answered questions from reporters.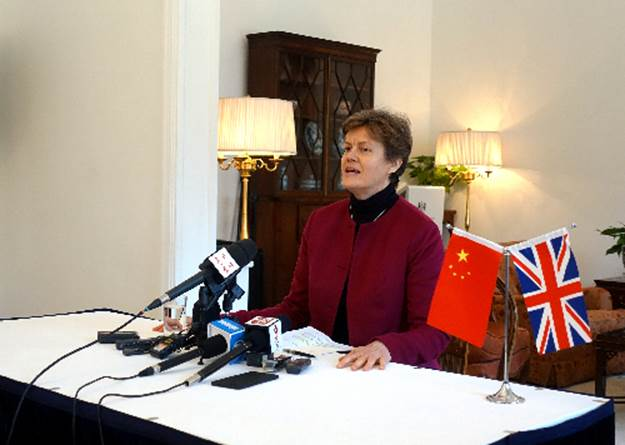 British Ambassador to China Barbara Woodward addresses reporters' questions. Photo by Zhou Lin
"We have been building and deepening the golden era of China-U.K. relations," Ambassador Barbara Woodward noted that the two nations has made fruitful achievements in three areas: strengthening trade cooperation, promoting sustainable development of the 21st-century global economy, and jointly handling new global problems and challenges.
Barbara Woodward affirmed Chinese President Xi Jinping's proposal of insisting on economic globalization and reiterated that Prime Minister May is also focused on the strategy of "Global Britain." The two nations are to join hands in promoting a fairer, freer, and more open collaboration on global economy and trade.
"In the golden era, we are working closely with China on building a global economy that is sustainable and adaptable in the 21st century. The global economy that is free and flexible, and continues to grow is going to be beneficial to every citizen around the world," Barbara Woodward commented.
Talking about the huge potential of collaboration on the Belt and Road Initiative, the ambassador cited the speech Philip Hammond, special envoy of British Prime Minister Theresa May and Chancellor of the Exchequer delivered last May at the Belt and Road Forum in Beijing. "The U.K. is the natural partner for China's Belt and Road Initiative."
She then recalled, "We were excited to see the first train last January from China's Yiwu City of Zhejiang Province coming all the way across Central Europe to London."
Looking ahead, there will be three areas the U.K. would like to work on with China: collaboration with China and third-party markets on pragmatic projects; bringing their financing and capital operations experience to major infrastructure along the Belt and Road nations; sharing their experience with multiple international organizations to help the newly built Asian Infrastructure Investment Bank (AIIB) reach higher global standards.
Both China and the U.K. call for being open and free in trade and investment. The year 2018 marks the 40th anniversary of China's reform and opening-up, as well as the fifth anniversary of the Belt and Road Initiative. While the U.K., with its abundance of experience in financial and legal services, project operations and investment risk control, is the first major Western country to apply to join the AIIB, and the second country after China to contribute to an AIIB special fund.
Post-Brexit U.K. is in a new phase of "Global Britain," meanwhile, China in a new era itself is walking closer to the center of the international arena. The two nations joining hands to promote global free trade cooperation is an inevitable and tremendous undertaking which will lead to mutual benefits as well as global prosperity in the future.
Services