China and U.S. to Advance Law Enforcement Cooperation
By staff reporter XING WEN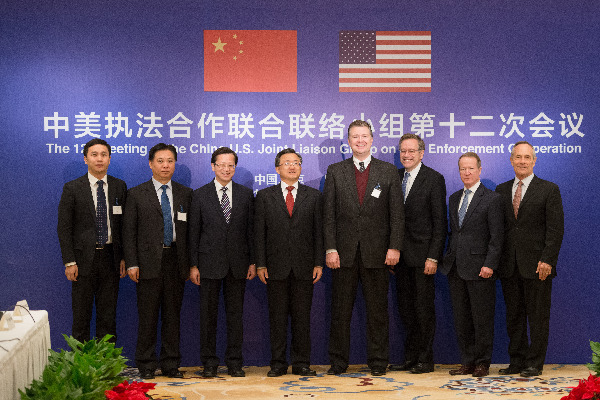 Chinese Vice Foreign Minister Liu Zhenmin (fourth from left) and Deputy Chief of Mission at the U.S. Embassy in Beijing Dan Kritenbrink (forth from right) attend the opening ceremony of the 12th JLG Meeting.                                                                                               Photo by Chen Boyuan  
THE topic of enhancing law enforcement cooperation between China and the U.S. has been discussed at the 12th Meeting of the China-U.S. Joint Liaison Group (JLG) on Law Enforcement Cooperation in Beijing. Chinese Vice Foreign Minister Liu Zhenmin and Deputy Chief of Mission at the U.S. Embassy in Beijing Dan Kritenbrink attended the opening ceremony of the meeting on December 3, 2014.
Liu pointed out that law enforcement cooperation under the JLG mechanism "had contributed to safeguarding normal people-to-people and business exchanges between China and the U.S." Cooperation in law enforcement was fully recognized by the two countries' leaderships when Chinese President Xi Jinping and U.S. President Barack Obama met in Beijing last November. Liu also noted that China was ready to work with the U.S. towards further achievements for a shared future so that the new model of major-country relationship between China and the U.S. would benefit the people of both sides and people across the world. 
Mr. Kritenbrink expressed his hopes of further consolidating and developing cooperation in law enforcement between China and the U.S. based on the platform of the JLG. He said, "The JLG plays an important role in promoting a healthy and durable relationship between the two countries."
The JLG was established in 1998 in accordance with the 1997 China-U.S. Joint Statement. As a general practice, the JLG meeting is held annually in rotation.
This year's meeting (which ran December 3-5) offered an opportunity to review and evaluate progress made in law enforcement since the 11th JLG meeting and to exchange ideas about future law enforcement and judicial cooperation plans. Working groups on fugitive repatriation, intellectual property rights, cybercrime and anti-corruption among other issues reported on their findings at the meeting and mapped out plans for the coming year. 
Chinese officials from the Ministry of Foreign Affairs, the Ministry of Public Security, the Supreme People's Procuratorate, the Ministry of Supervision, the Ministry of Justice, the General Administration of Customs and the People's Bank of China were joined at the meeting by their counterparts from America's State Department, the Department of Justice, the Department of Homeland Security, the Federal Bureau of Investigation and the U.S. embassy and consulates in China.
Services