Mark Levine's Songs of China
By staff reporter ZHOU LIN
His trademark cowboy hat and distinctive bushy white beard make Mark Levine an unforgettable figure for anyone who has ever encountered him. Mark holds a Ph.D. in sociology from the United States; now, he is an English teacher, songwriter, singer, author of many articles and the book Stories from My Chinese Journey as well as a lecturer on a variety of topics. These multiple identities smoothly converge in this one person who dedicates himself to conveying an understanding of Chinese culture to the outside world.
Hooked on China
Born in Los Angeles, California in 1948, Mark got his Ph.D. in sociology in 1976. Before coming to China he served for 29 years as a full-time volunteer at organizations for low-income workers in the U.S. He explains that his work in the U.S. led to him learning about China, this booming country.
In 2005, Mark was 57 years old. He made up his mind to visit China, the country that had been vividly depicted by Edgar Snow in his book Red Star Over China. "China in the mid-20th century was very important. I understand that poverty is still a problem in China but the large number of people who have risen out of poverty is impressive. So, when I was given the chance to come to China to teach English for a year, I decided that I should go and take a look." His Chinese journey began in Zhou Enlai's hometown, Huai'an City in Jiangsu Province.
Mark's plan to stay in China for one year soon changed, and after a second year in Huai'an he came to Beijing to teach at Minzu University of China.
Mark recalls his arrival at the Minzu University campus. He had lost his way and needed to seek out someone who could speak English to help. He asked a young woman who was passing by, "Do you speak English?" She quickly answered, "Only a little, but I can show you the way." This warm-hearted, big-eyed beauty soon became a good friend. During Mark's trip to Beijing, Fu Han was not only his translator, but also his guide who showed him the sights.
Mark soon discovered that Fu was an erhu (a two-string bowed instrument) and piano player and a good singer. The two friends later formed a musical duo called In Side Out with Mark on the guitar. The result is a perfect combination of Eastern and Western cultures, creating harmony between U.S. country music and Chinese folk music. They tell Chinese stories through country music to offer a spectacular musical experience to audiences everywhere. Among the many English-language songs they perform are some of the 60 songs that Mark has written about his life and experiences in China.
At the Zhangjiajie International Country Music Week in 2013 the two sang a folk song Coriaria Tree and Cornus Controversa from the local Tujia ethnic group. The song describes two different kinds of tree that grow with one often clinging to the other, just like two lovers who don't want to part. Singing in the local dialect and wearing traditional Tujia clothing while performing, their unique combination of Chinese and Western elements lit up the eyes of many audience members as well as people who saw the live TV broadcast.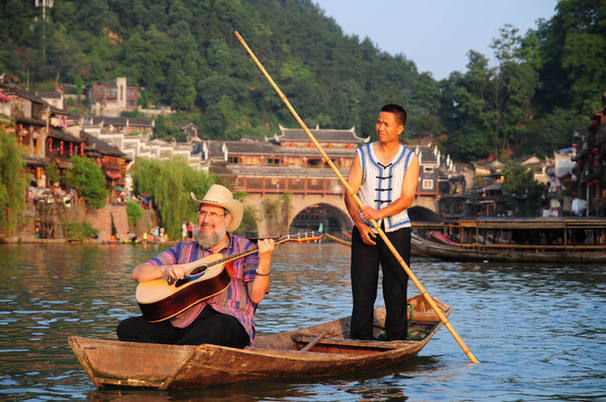 Mark in the ancient town of Fenghuang in Hunan Province. 
Services