A New Era of Mass Tourism
By staff reporter XING WEN 
IN recent years, taking a trip has become a normal part of people's life in China. Desire to see the bigger world drives them to make full use of weekends, festivals and holidays, and paid leave to go traveling. China National Tourism Administration statistics show that, in 2015, the country's domestic tourists surpassed four billion person-times, and outbound tourists hit 120 million person-times. The total tourism income from domestic and international tourists, meanwhile, exceeded RMB 4 trillion. In the same period, the number of Chinese domestic and outbound travelers, along with their consumption at home and abroad, ranked a world No. 1.   
Despite the economic downturn and restructuring pressure, China's tourism industry has shown a steady increase. Mass tourism is hence expected to develop into a main driving force for consumption and structural growth. The tasks to be carried out in 2016, as detailed in this year's government work report, include ensuring people are able to take paid vacations, strengthening development of tourist and transport facilities, scenic spots and tourist sites, and recreational vehicle parks, and ensuring that the tourism market operates according to regulations. The report stressed that, with these efforts, the country will usher in a new era of mass tourism. This marks the third year in a row that tourism has been mentioned in the government work report. More important, the industry has for the first time been included in the report as a significant foundation for tapping the potential domestic demand. This can be considered as guidance for further development of China's tourism industry.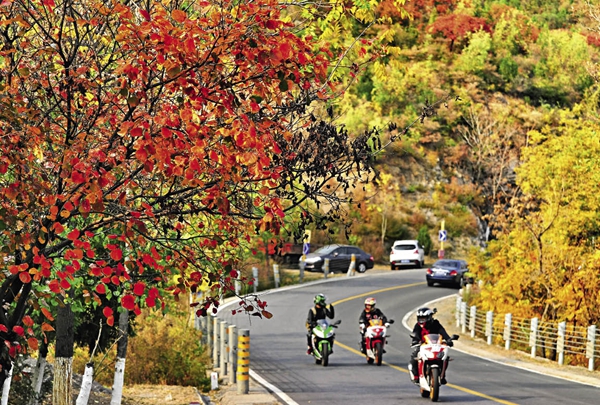 Beautiful autumn scenery in the countryside in western Beijing draws self-driving travelers and motorcyclists.
 More to Enjoy
A facet of quality living, travel represents the pursuit of a beautiful life. A trip is often expected to make tourists feel both joyful and content. Nevertheless, in the past, the limited resources of China's tourism industry and an imperfect tourism market fell far short of travelers' demands. Some even described their trips as "purchased suffering." At peak seasons, such as festivals and holidays, especially the Golden Week holidays in October, tidal waves of tourists flocked to scenic spots, where ticket and commodity prices had risen but supporting facilities like transport and accommodation remained inadequate. Travelers anticipating a happy trip had instead to be content with hasty glances at their destination while being shoved and pushed among hordes of other tourists. Such experiences made them want to forget rather than enjoy memories of their adventure.  
Package tours used to be the first choice for most Chinese people. This economical and convenient travel mode suited entry-level tourists, but could not satisfy those expecting deeper insights from their trips.
However, requirements such as travel quality, activities, schedules, and accommodation have improved, just as people have become more confident through experience. Tourism is consequently a part of everyday life. People have come to discern differences in services through personal experience via various tourism products. Rather than taking package tours as the only option, today's Chinese travelers prefer personalized trips, and are willing to spend money on an experience that will delight them for years to come.
In recent years, more tourists have been choosing diversified approaches, like independent travel and self-driving tours, when embarking on domestic and outbound travel. Surveys taken by the Tourism Research Center of China Academy of Social Sciences (CASS) reveal that independent touring has become the prime option among Chinese travelers. For instance, 80 percent of tourists who visited Emei Mountain, Sichuan Province in 2012 did so as part of a group, while the rest were individual travelers. But the next year the figures reversed. The same was true of Jiuzhaigou Nature Reserve and Changbai Mountain, where the ratio of group tourists to individual travelers changed from 7:3 in 2012 to 3:7 in 2013.
Meantime, the popularity of private cars in China has propelled development of self-driving tours. Increasingly more travelers take their own cars on trips. In 2014 the country's self-driving travelers increased eight percent over the previous year to reach nearly 2.2 billion person-times, taking up 61 percent of the total number of domestic tourists that year, according to a report on the development of China's self-driving tours released by the CASS Tourism Research Center.
Nowadays, tailor-made and diversified travel modes are gaining ground since rapid social and economic development have inspired changes in travelers' ideas and expectations. They now lay more stress on the profundity, cultural connotations, and psychological and physical sensations to be gained from a trip. At the same time, travelers are happy to arrange their own itineraries and expect to see scenic spots in good order, and at a reasonable cost. Rather than simply taking photos and going shopping, travel in Chinese people's eyes is becoming genuine leisure and enjoyment.
The tourism market in China is maturing to one more extensive, and consumers' demands are upgrading. This has prompted new products, new routes, and new travel modes. In the era of mass tourism, this industry is becoming a fresh impetus for economic progress and a new growth point for expanding domestic demands.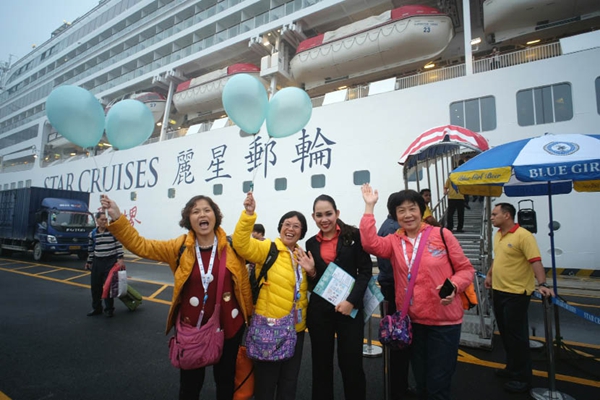 Nansha Port in Guangzhou welcomes its first cruise trip passengers on January 3, 2016, signifying that the city has become one of the homeports of cruise tourism in China.
Driving Force for All-round Development
High expectations are placed on consumption to fuel economic growth as China's economy slows down. At this point, the booming tourism industry provides the energy needed to stimulate consumption. Wu Bihu, head of the Center for Recreation and Tourism Research of Peking University, believes that this industry can potentially play an active role in restructuring and invigorating economic growth, and that, due to its comparatively high degree of marketization and internationalization, it faces more opportunities than risks.
Mass tourism does not simply constitute popularization and normalization of tourism consumption. The field's wide employment and entrepreneurship, the broad attraction of this industry, and public investment in its market also signify the advent of an era of mass tourism. The World Travel & Tourism Council calculates that China's tourism contributed 10.1 percent to the country's GDP in 2015, surpassing such sectors as education, banking, and auto industry. With such a great potential to benefit society as a whole, mass tourism not only involves everyone as tourists, but also encourages the public to take part in the business. National Tourism Data Center statistics show that employment in China's tourism accounts for 10.2 percent of the national total. Meantime, it is one of the fields in which entrepreneurship and innovation are prospering, and private economy plays a significant role. 
While on his inspection tour last March in Sanya of Hainan Province, Chinese Premier Li Keqiang remarked to young entrepreneurs venturing into creative tourism that modern tourism is a comprehensive industry rather than simply part of the service sector. It has integrated with the first, second and tertiary industries as the new economy progresses. Tourism may facilitate the dispersal of manufactured goods to a broader market, and also add ornamental and consumption values to agricultural products. Moreover, new business models combining tourism with other industries are emerging as a new trend. China's first medical tourism center, Lecheng International Medical Tourism Pilot Zone in Boao, Hainan Province, is projected to attract 20-plus healthcare organizations from home and abroad. Covering such fields as convalescence, plastic surgery, and tumor treatment and prevention, the project combines medical care with vacations by virtue of its favorable natural environment. New industries like medical tourism are in line with the strategy of developing tourism in an all-round way.
Chairman of the National Tourism Administration Li Jinzao pointed out that optimal resource allocation in every facet of economy and society is the key to giving full play to tourism's leading role. For example, in addition to its functions of irrigation and flood prevention and control, a water conservation construction can also be a place for relaxation. Besides, traffic planners should take into consideration scenic byways and supporting facilities for self-driving tours.
Internet Plus Tourism
Today, the Internet is constantly creating new business models for tourism, and stimulating innovations in this field. "Smart" has become a catchword in the tourism market. Internet technology has infiltrated every part of the industry, from ticket and accommodation reservation and finding practical travel information, to paying bills during trips. On the other hand, online travel companies compete to provide new travel modes and destinations while improving means of payment to better satisfy various clients. During the New Year's holiday this year, more than half of clients of ctrip.com, China's most popular online travel agent, booked online via apps. The number of customers placing orders via apps on cellphones tripled compared to the same period of the previous year.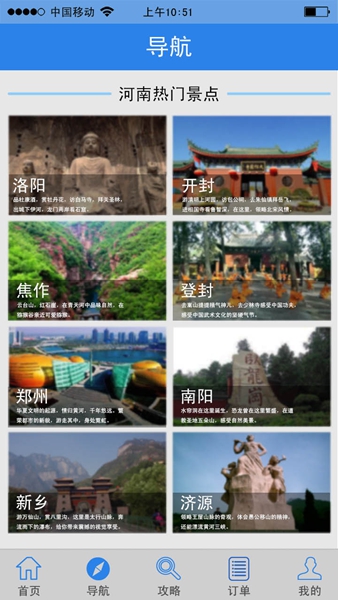 "Smart" has become a catchword in the tourism market. Apps on cellphones can provide timely help for tourists from booking tickets to finding travel information.
Internet Plus tourism's exciting prospects are beyond dispute. Mangocity.com, one of China's leading online travel agents, issued a projection on the country's tourism market development in 2016 which stated that online tourism will maintain high-speed growth. Meanwhile, online and offline tourism will continue to merge. According to EnfoDesk, the total transaction value in China's online travel market will grow steadily in the next few years and reach RMB 498.34 billion in 2017. Taking into account offline tourism, the economic potential of the era of mass tourism is considerable.  
While striving to offer more considerate and convenient services, online tourism companies have made forays into other fields, among which finance is the most preferred. It is foreseeable that in taking up such advantages as customer scale and cash piles, online travel enterprises are bound to fuse finance with every part of their online services. Major online travel agents, including ctrip.com, tuniu.com, and qunar.com, have created such new products as paying travel expenses by installments, and saving certain amounts of money at these companies that accrue interest while being used to pay travel expenses. These new models relieve financial pressures on travelers to some extent, and in the meantime benefit consumers with real profits.  
On top of that, Chinese enterprises are taking part in international tourism through various channels, including capital, technology, and brands. In addition to "tourists from China," "Chinese travel companies" is also becoming a key term in the global market. They are becoming proactive in M&A and investment by infusing considerable amounts of capital into overseas airlines, hotels, and travel services. Take Wanda Group for example. This Chinese real estate, entertainment and finance giant took over British yacht maker Sunseeker with £320 million in 2013. Besides, it invested £700 million in developing a super-five-star hotel in London, the first such development by a Chinese firm overseas. The rise of investments in overseas projects reveals the growing appeal of tourism industry, and higher goals of China's travel enterprises.
All in all, development of the tourism industry signifies the improvement of living conditions. Stimulated by upgraded consumption ideology as well as diversified, personalized and specific demands and requirements, the era of mass tourism is expected to elevate China's tourism industry to a higher level while boosting new economy and employment.
Services