Extending Sino-German Ties – An Interview with Chinese Ambassador to Germany Shi Mingde
By staff reporter ZHANG HONG
ON March 20, German President Joachim Gauck visited China at the invitation of China's leader Xi Jinping. In recent years Sino-German relations have burgeoned on all fronts, spearheading ties between China and Europe in general. How then to even further expand Sino-German relations in the new economic situation? And in which areas can the two countries further enlarge their cooperation in the process of China implementing its 13th Five-Year Plan and the Belt and Road Initiative? With these questions in mind, China Today interviewed China's Ambassador to Germany, Shi Mingde.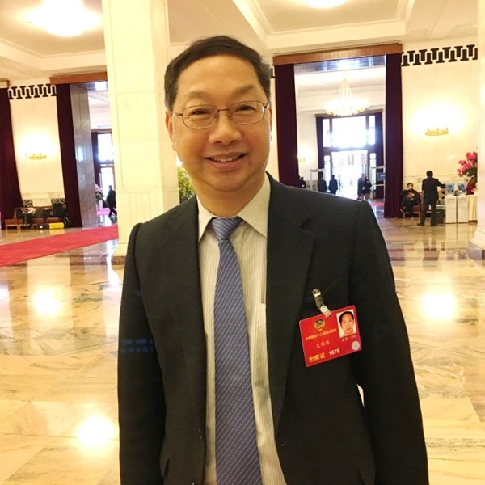 Chinese Ambassador to Germany Shi Mingde. Zhang Hong
Sino-German Ties Prominent in Sino-EU Ties
As two of the world's major economies, China and Germany have long maintained high-level, mutually-beneficial cooperation. Mr. Shi lauded Sino-German relations as pivotal in the larger relationship between China and Europe, as attested by the frequent exchange of visits between their leaders.
In 2014, for instance, Chinese President Xi Jinping embarked on an official visit to Germany, followed by Chinese Premier Li Keqiang – Li's second since taking office. Following hard on the heels of President Joachim Gauck in March, German Chancellor Angela Merkel will visit China this June, and then again in September for the G20 Summit. "These reciprocal visits by leaders of the two countries and mutual trust they instill pave a solid road for bilateral ties," the ambassador said.
Europe is the world's largest cluster of developed countries, and the EU is the world's largest inter-nation economic zone. The continent, therefore, occupies a critical position in the international political and economic landscape, and represents an important force in the world's multi-polarization, Shi said.
According to the ambassador, the relationship between China and Germany, a key component in that between China and Europe at large, has seen great momentum in its development. The two countries share a wide range of common interests, with well-established mutual trust, and no geopolitical conflicts or fundamental clashes of interest subsisting between them. Constantly advancing and deepening the China-EU comprehensive strategic partnership is consequently the desire of and in the interests of both parties.
As Mr. Shi sees it, the Sino-German relationship is defined by its sound foundation, pragmatic cooperation and expansive prospects. "The Sino-German relationship is the pilot of the Sino-EU relationship. France and the U.K. have been playing catch-up in their relations with China, but have leapfrogged Germany in certain areas. Germany in turn is doing its part to catch-up here. This process creates a virtuous cycle that brings benefits to all parties involved, while offering incentives for European countries to develop their relations with China. This is a highlight in China's diplomacy with other major countries."
Mr. Shi noted that, at a time when Europe faces a torrent of problems and China is undergoing economic restructuring, the two sides have tremendous scope for cooperation in diplomacy, economy, culture and people-to-people exchanges.
Last year, China and Germany celebrated their innovative partnership, and 2016 was designated a year for exchanges between their respective youth. More programs of cultural, economic and political cooperation were announced during President Joachim Gauck's March visit.
Deeper Economic and Trade Cooperation
Economics and trade lie at the heart of Sino-German relations. Germany was the first Western power that launched across-the-board cooperation with China in the innovation sector, and it is China's largest trade partner and leading source of imported technology and investment in Europe, while China is Germany's No.1 trade partner outside of the EU.
"Our trade with Germany accounts for 30 percent of our EU total. The figure exceeded US $160 billion last year, more than China's trade with France, the U.K. and Italy combined. And this has been the trend for past years. There are 8,200 German companies operating in China, with their total investment exceeding US $40 billion," the ambassador said. Meanwhile, more Chinese businesses are going to Germany. Thus far 2,000-odd have invested there, and corporate mergers are on the rise. New areas of bilateral cooperation have also been tapped.
"The two governments have reached a deal for strategic cooperation between Germanys' Industry 4.0 and Made in China 2025, as well as production capacity cooperation in a third country," Mr. Shi added.
Germany was among the first to pledge support for China's Belt and Road Initiative, and to join the Asian Infrastructure Investment Bank (AIIB). Its contribution to the bank is also among the highest. Great potential thus beckons for the two countries' cooperation under the Belt and Road Initiative framework. According to Mr. Shi, the two countries are negotiating on new cooperative fields, including cooperation in a third country and cooperation on infrastructure, which is expected to be included in pacts signed during Chancellor Angela Merkel's visit to China this June.
Germany forms the terminus for Sino-Europe block trains from 10 Chinese cities. Furthermore, China and Germany are the two largest economies along the rail routes of the Belt and Road Initiative. This fact necessitates closer cooperation between them. China Railway Group, Ltd. and Deutsche Bahn are now in talks seeking better coordination to facilitate customs clearance, but this will also entail additional responsive measures by other countries along the Belt and Road.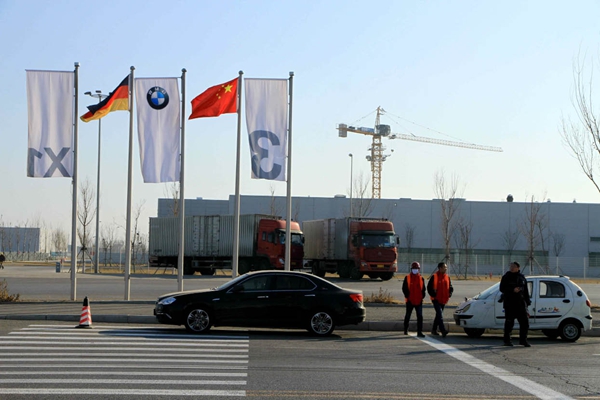 The Chinese government approved last January the plan for a high-end equipment manufacturing industrial park to be jointly built with Germany in Shenyang. The picture shows the BMW-Brilliance factory in Tiexi District of Shenyang.
Team-up between Two Manufacturing Powers
Germany's Industry 4.0 sets a model for global industrialization, and exerts a tremendous impact on the world's manufacturing industry. During Angela Merkel's 2015 visit to China, the two countries resolved to harmonize the German program with Made in China 2025. For this purpose, a vice-ministerial-level work mechanism was established between Germany's Federal Ministry for Economic Affairs and Energy and China's Ministry of Industry and Information Technology. The two sides are now in discussions regarding key cooperative fields, which will soon yield tangible results. Mr. Shi noted that possible sectors of cooperation include manufacturing, electric automobiles, environmental protection and energy saving, all areas of interest to companies in both countries.
He stressed that room remains for further expansion of bilateral cooperation. Germany has particular strength in some of the priority areas listed in China's 13th Five-Year Plan and Made in China 2025, such as environmental protection, energy conservation and cooperation in a third country. "China and Germany are two of the world's largest manufacturers. Germany, however, sits at the higher end, with China occupying the middle and lower reaches of the industrial chain. This disparity opens up a huge space for cooperation," Mr. Shi said.
China's great growth potential and huge market appeal to Germany. Its three largest automakers would not have seen such recent sustained growth without the Chinese market. For instance, one third of Volkswagen's global production comes from China.
According to the ambassador, a priority for cooperation between Chinese and German auto industries is to develop electric cars. "China plans to produce two million electric cars annually by 2020. China and Germany can complement each other on technological issues, as they have their respective strengths in this regard. The team-up between the two powers will hopefully place them in the leading position in the electric automotive sector globally."
When asked how to stave off discord and seek common ground in bilateral ties, Mr. Shi admitted that the Sino-European economic relationship has hitherto been riddled with disputes, but the two sides have devised multiple dialogue mechanisms to resolve these.
"We appropriately resolved the dispute over China's photovoltaic exports to Europe. Such conflicts are inevitable given the two sides' different social systems and levels of economic development. Via engaging in dialogues posited on equality and striking a balance that serves both sides' interests we can settle any problems that may arise," he concluded.  
Services