South-South Cooperation Stands out in the Climate Change Challenge
SOUTH-South cooperation (SSC) has been widely recognized in the past few years as a new dimension of international cooperation on climate change. The cooperative framework, initiated by developing countries in the 1950s, has long been engaged in facilitating mutual support and collaboration in political, economic, social and technical domains. However, serious environmental deterioration has aroused growing concern among the countries in the South most affected by climate change. In December 2014, the First SSC on Climate Change Forum took place in Lima, Peru, on the margins of the COP20, so signifying the strong volition of developing countries to combat this challenge to humankind.
Ibrahim Thiaw, UNEP Deputy Executive Director and Assistant-Secretary-General of the United Nations, is a long-time advocate of the SSC's critical role in tackling climate change. He is also a veteran coordinator among governments and inter-government agencies in this regard. Thiaw attended last mid-November the Beijing Consultative Meeting on South-South Cooperation on Climate Change. More than 150 delegates from developing countries, international organizations, and financial institutes gathered at the event to exchange views on promoting SSC in the fields of energy, climate resilience, smart cities, and big data.
"The world economy, population and power have shifted southward," Thiaw told China Today in an exclusive interview. Nowadays, South-South cooperation goes far beyond the political emblem of a united Third World to real business and trade partnership. "Trade under the SSC framework accounts for almost half of the total among countries of the South," the UNEP deputy chief said, adding that the SSC is no longer supplementary to the traditional North-South cooperation. "Nowadays we are talking as much about South-South cooperation as North-South cooperation."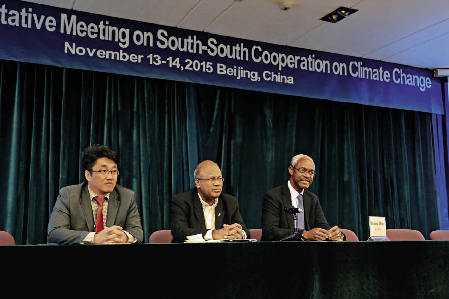 Thiaw makes his closing remarks at the Beijing Consultative Meeting on SSC on Climate Change last November. 
China Leads South-South Climate Change Cooperation
Chinese President Xi Jinping announced last September that the government would make available RMB 20 billion (about US $3.1 billion) for establishment of the China South-South Climate Cooperation Fund. Its objectives are to help developing countries' transition to green, low-carbon development, and to expand their capacity to access the Green Climate Fund. Consisting of US $10 billion pledged mostly by developed countries, it is the largest of its kind.
The international community hailed this commitment. UN Secretary-General Ban Ki-moon called China "a leader" in advancing South-South cooperation. As the world's biggest developing country, China has always promoted cooperation among Southern countries. Over the past 60 years it has provided a total of RMB 400 billion in financial aid to 166 nations. China has, moreover, in the last couple of years floated several defining initiatives, including the BRICS Development Bank, the Asian Infrastructure Investment Bank, and the Silk Road Development Fund. All are expected to vitalize cooperation among less developed countries and elevate their status on the world stage.
Against the backdrop of a growingly urgent ecological situation, the Chinese government acknowledges the importance of the environment and its correlation with social and economic development. This is apparent in "ecological progress" occupying a more prominent position in the newly-unveiled 13th Five-year Plan. Ibrahim Thiaw commented that the national planning scheme is very "advanced" by virtue of its inclusion of ecological preservation and sustainable development. "We would like to see full implementation of the plan in China, and the promotion of sustainable development internationally," Thiaw said.
The development mode transition is also reflected in China's cooperation with other developing countries. The Chinese government has given higher priority to climate change issues in the course of South-South cooperation. It contributed each year, through SSC projects from 2011 to 2013, US $10 million as special funds to help African countries, the least developed countries, and small island countries combat climate change. In the COP21 Paris Conference, President Xi announced more plans for cooperation with other developing countries, including 10 pilot low-carbon industrial parks, 100 mitigation and adaptation programs, and 1,000 personnel training opportunities.
Since 2011, China has accumulatively allocated around US $44 million to South-South climate change cooperation. Although details have not yet been published, the new China South-South Climate Cooperation Fund is expected to bring about a lasting institutional change to financial aid under the SSC framework.
Multiple Dimensions Needed for Effective Cooperation
Tackling climate change involves a broad spectrum of topics from energy, trade, transportation, to health and poverty reduction, "So they cross-reference with different public sectors like commerce, agriculture, and education," Thiaw said. During his stay in Beijing, he held discussions with the Chinese Ministy of Environmental Protection as well as with the Ministry of Commerce and National Development and Reform Commission on reaching broader consensus and cooperation. Thiaw believes that all sectors, not just environmental departments, should address climate change.
Before being appointed UNEP Deputy Executive Director and UN Assistant-Secretary-General in 2013, Thiaw had for some time served as director of the Division of Environmental Policy Implementation. He led the biggest UNEP division in cooperating with agencies within the UN system and also non-UN bodies. One example is the UNEP-UNDP Poverty and Environment Initiative, which helps developing countries improve management of the environment. This contributes directly to poverty reduction, as it is people living in poverty that most depend on natural resources for their livelihoods.
Through its liaison country office in Beijing, the UNEP established a concrete partnership with the Chinese Ministry of Science and Technology, the Ministry of Industry and Information Technology, and with the People's Bank of China. It also conducts full-scale cooperation with the municipal governments of Beijing, Guiyang, and Tianjin, with such research organs as the Chinese Academy of Sciences, and with universities.
It is noteworthy that UNEP's partnership with China is in the science and technology sector. New emerging green technologies constitute one of the guarantees of overcoming climate change. China also leads in many green technologies transferrable to other developing countries, like LED lighting and solar panels. In 2012, the UNEP co-established the Global Efficient Lighting Center (GELC) in China. Its aim was to promote high-efficiency LED lighting, and to help set up related policies, standards, and quality inspection systems in African, Asian, and Pacific countries, based on China's experience and technologies.
China and other developing countries are at similar stages of development, which makes understanding one another's demands much easier and cooperation successful. "This is the core of South-South cooperation," Thiaw said. However, different socio-economic situations probably still impede transfers of technologies and experience. Of foremost importance is making sure that the technologies are good and clean enough to be adapted to other countries, Thiaw said.
But that is not sufficient. Thiaw declared that we should give full play to the market in the course of climate cooperation. "Environmental undertaking is not philanthropy," Thiaw said, "it is about business, new business." Taking the aviation industry as an example, energy-efficient technologies will save on companies' fuel budgets; a new flushing system, for example, will enable the loading of less water on aircraft, which will also save airline companies' energy-usage, as water is one of their heaviest properties. Mindful of the profit margins of green tech and policies, the market will voluntarily search out the most efficient products and adapt them to local demands.
If the market is fully aware of the value of green technologies and policies, funds from financial markets, capital markets and bank systems will be channeled into this field, Thiaw said. "A healthy planet and profits are not incompatible – you can have both." In fact, many forward-looking entrepreneurs have arrived at this understanding. The UN high-ranking official said that stock markets, no matter in Shanghai or New York, pay close attention to clean energy and air quality, while only 10 years ago, "everyone was talking about oil and fossil fuel."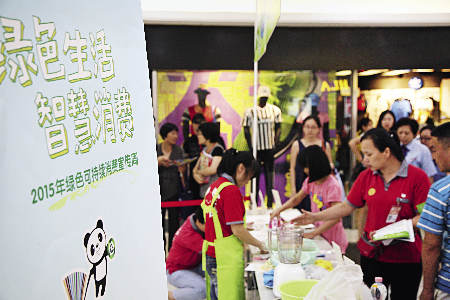 China's 2015 Green Sustainable Consumption Week, held last August in more than 600 stores across the country, encourages consumers to advance ecological progress by choosing products of lower resource and energy intensity.
Concerted Efforts for a Shared Future
In September 2015, the UN published the new 2030 Agenda for Sustainable Development that aims to help define the future global development framework. The new development agenda envisions the environment as one of the three pillars of future sustainable development; the other two are the economy and society. The environmental element is thus fully integrated into the agenda's 17 goals and 169 targets.
Business as usual will not achieve the 2030 Agenda, Thiaw said. "The new agenda requires that we transform our way of living, of transporting ourselves, and of heating, etc." He raised the example of food wastage. At the moment, the way we produce, process, and cook food wastes about one third of it. This is equivalent to around one billion tons every year, which could feed the whole sub-Saharan population. One of the 2030 Agenda targets is halving the amount of wasted food. It need not be difficult if everyone acts, but "In essence, it does require a change of mindset and lifestyle," Thiaw said.
But a radical transition needs full participation and concerted efforts by all countries, big and small, developed and developing. "No single country can succeed in the battle against climate change," Thiaw said, "as we have only one planet." He again stressed the need for collaboration, especially among developing countries that are more vulnerable to changes in the natural environment. "China's experience is just as valuable to other countries as that which China needs to learn from them." Thiaw concluded that in meeting these unprecedented global challenges, "We are all learning from scratch."
Services