Heilongjiang Silk Road Economic Belt Facilitates Growth, Diplomacy
By SHA YUCHAO
DURING his visit to Kazakhstan and Indonesia in September and October 2013, Chinese President Xi Jinping proposed creating the Silk Road Economic Belt and the 21st Century Maritime Silk Road to promote regional connectivity and development. The Heilongjiang Land and Maritime Silk Road Economic Belt, part of the Belt and Road Initiative's China-Mongolia-Russia Economic Corridor, is also expected to boost development in Northeast China.
The ribbon-cutting ceremony of the Russian pavilion at the First China-Russia Expo in 2014.
Global Vision
Situated on the country's northeastern border, Heilongjiang Province is, in a sense, a heartland in Northeast Asia. To the north and west, it is linked to Continental Europe by Russia. To the east, it is connected to Japan and South Korea via ports in Russia. Its geological location puts Heilongjiang in an ideal position to embrace new opportunities through the Belt and Road Initiative.
The province can utilize the initiative to adapt to China's "new normal" of slower economic growth while still facilitating development. It has rolled out policies to enhance connectivity in trade, roads, currencies and the populace with the aim of strengthening international collaboration.
Heilongjiang is Russia's biggest provincial-level partner in China in the fields of forestry, oil and gas, electricity and trade. Under the initiative, railways will become the main axis linking regional networks of roads, pipelines, water transport, planes and power grids. These channels, which will connect Asia and Europe, will be surrounded by import and export industrial parks in cities along the route. These facilities will create an economic zone for manufacturing, trade and distribution. It will bring together different production capabilities, develop industrial parks targeting Sino-Russian trade in China, construct a well-developed export-oriented industrial system, as well as build a service platform focused on Russian and Northeast Asian trade.  
Besides being a route for commerce and logistics, the Silk Road Economic Belt in Heilongjiang will also consolidate other factors to boost local economy. The province's larger cities, including Harbin, Qiqihar, Mudanjiang, and Jiamusi, as well as border ports like Suifenhe, Dongning, Heihe, Hulin, Raohe, and Mishan, are taking advantage of new opportunities for progress. These include projects in the areas of ecology, energy, technology and resources, where various parties contribute complementary strengths to establishing a holistic industrial chain.  
Shared Opportunities
Wang Xiankui, secretary of the CPC Heilongjiang Provincial Committee, led a provincial delegation to Germany last September. To publicize the opportunities that the Belt and Road Initiative is opening up, the delegation unveiled projects and logistical setups related to the freight train linking Harbin to the German city of Hamburg. The Chinese representatives also discussed the achievements made during the construction of the Heilongjiang Land and Maritime Silk Road Economic Belt.
During his visit, Wang stressed that the Heilongjiang Economic Belt, one of the six land corridors along the Silk Road Economic Belt, has become fully linked. The freight train connecting Harbin and Hamburg, launched in June, now runs on a regular basis. Wang said that he hopes the rail service will deepen economic and trade ties between Heilongjiang and Germany and other European countries, as well as raise levels of industrial cooperation, enhance people-to-people exchanges and promote mutual understanding and political trust.
According to a high-ranking official at the Federation of German Industries and a counselor at the German Federal Enterprise for International Cooperation, once only water routes connected China and Germany. Today, the launch of the Harbin-Hamburg rail service opens a new front on bilateral relations. The German side vowed to expand economic cooperation and friendly contacts and explore new points of collaboration with China.  
In Hamburg, the Heilongjiang provincial government also sponsored a fair that brought together German and Chinese enterprises. The event attracted 200 German politicians and representatives from well-known enterprises, and they noted the fair's size and influence compared to local marketing activities undertaken by Chinese provincial delegations in previous years.
German businessmen said the event helped them to learn more about Heilongjiang's advantages, and progress was made in trade collaboration, particularly in industry. Enterprises from both sides signed agreements and memoranda of understanding. Talks in a number of business sectors were also held.
During the Second China-Russia Expo and the 26th China Harbin International Economic and Trade Fair, held in Heilongjiang last October, some 10,000 businessmen from 103 countries and regions took part in marketing activities, negotiation and contract signing. In the spirit of the concensus reached between Chinese and Russian leaders the expo facilitated the implementation of a significant number of key joint projects.  
"China's Belt and Road Initiative and Russia's Trans-Eurasian Belt Development and its envisaged Eurasian economic integration are compatible and can dock to each other," Li Peilin, vice president of the Chinese Academy of Social Sciences, said at an international seminar on the interconnection of the Belt and Road Initiative and the Eurasian Economic Union.
"Closer cooperation between the two countries is expected to become a new growth point for both sides and to add vitality and a new dimension to the progress in Eurasia," Li added.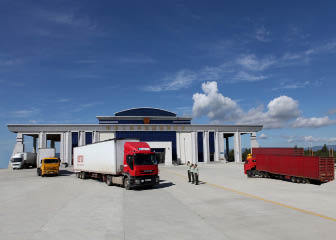 Raohe Port in Heilongjiang Province plays a role in connecting land and maritime joint transport channels in Asia and Europe as well as linking regional economic cooperation in Northeast Asia.
All the Way North
Trains run by in a flash, while new rail construction is in full swing. This year, railway construction in Heilongjiang has witnessed a leap in local development. The opening of the Heilongjiang Land and Maritime Silk Road Economic Belt will change what once was China's "nerve ending" into a new economic frontier.
The Harbin-Qiqihar High Speed Railway, the first in China completely situated in an extremely cold area and crossing an international wetland protection zone and a national key oil-producing region, was opened in August 2015. The railway, together with the Harbin-Manzhouli Line and the Harbin-Suifenhe Line, forms a passenger and cargo channel that runs through the province from west to east and links the eastern region of Inner Mongolia, which is vital to expanding the reach of the Harbin-Daqing-Qiqihar Industry Corridor.
Meanwhile, construction of the Harbin-Jiamusi Railway and the Harbin-Mudanjiang Passenger Railway have gathered speed. After completion, they will form a super railway network with the Harbin-Qiqihar High Speed Railway and the upcoming Mudanjiang-Jiamusi New Line, which will create an economic hub that can be reached by rail within just two hours.
To the east, the rail bridge over the Heilongjiang River that bestraddles China and Russia is giving rise to the economy of Tongjiang City. It has enabled capitals to reflow, logistical cost to be reduced and port cargo handling capacity to dramatically increase. The bridge, which will become the province's third entry-exit rail passageway, will promote enhanced exchanges between China and Russia and the greater Northeast Asia. 
The collaboration and exchanges between China and Russia's customs have  reached unprecedented levels in recent years, in tandem with national diplomatic and trade policies. During the Second China-Russia Expo last October, a number of meetings furthered customs cooperation along the Economic Belt and laid a foundation of connectivity for countries along the line.
The prospects of the Heilongjiang Land and Maritime Silk Road Economic Belt will certainly attract more attention worldwide.
SHA YUCHAO is the spokesman for the Heilongjiang provincial government and deputy director of the provincial government's Information Office.
Services