Linyi Forges New Heights in International Trade via the Belt and Road Initiative
By LI MENG
LINYI Mall's logistics networks have helped us to establish contact with many enterprises and traders. We import more than RMB 3 million's worth of commodities to the city each month," woodcarving dealer and attendee of the Sixth China (Linyi) International Trade and Logistics Fair Ahmed from Pakistan said. More than half of the 4,000 commodities that he sent to the fair by rail freight that morning had sold by noon.
The opening of an express freight train service from Linyi to Urumqi has established a commercial corridor between Linyi and Central and Western Asia, so simplifying cross-border logistics. To maximize benefits of bringing into effect the Belt and Road Initiative, Linyi has built a green channel for transnational trade that will create a new pattern of international trade and logistics industry.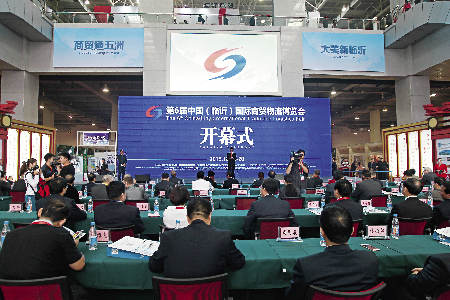 The opening ceremony of the 6th China (Linyi) International Trade and Logistics Fair.
Commercial Strength
Situated in southern Shandong Province, Linyi is an inland city far distant from the regional center. Over the past three decades, however, the city has become a barometer for China's commerce and trade circulation. It is now popularly known as "China's logistics city."
The mall's core area was originally one of China's earliest specialized wholesale markets and largest distribution centers. Local merchants have put their backs into developing the commerce and logistics industry and transforming Linyi into a city synonymous with modern commercial logistics. Having progressed from the trolley freight of decades ago to today's modern logistics network, Linyi Mall is a nationally recognized specialized market and key logistics and wholesale center. The development pattern it has formed renders Linyi the northern equivalent of internationally famous small commodity trade center Yiwu in southern China.
"Unless you've been there, it's impossible to imagine just how big the market is," Linyi Municipal Committee CPC secretary Lin Fenghai said. You can buy almost anything, from needle, thread and buttons to garden machinery in Linyi. Its commercial market has become one of the city's most distinctive features. Spending just a minute in each of Linyi's stores would take 48 days. There are now 128 specialized markets in the city that stock more than 60,000 types of commodities in 27 categories. Linyi also has 22 logistics parks that daily handle more than 200,000 tons of shipments.
In recent years, the city has capitalized on its commercial and logistics advantages to bring into effect its internationalization strategy. Policies facilitating trade that have been approved and carried out include tourism shopping and comprehensive pilot reforms to international trade. Linyi's ultimate goal is to become the country's largest wholesale commodities center, logistics distribution and allocation center, e-commerce center, and also international conference and exhibition center. The city has accordingly accelerated its transformation and upgrade. During the first three quarters of 2015 the mall achieved a turnover of RMB 241.296 billion, a year-on-year growth of 24.7 percent, and Linyi's export sales reached US $4.23 billion.
"Going Global" Accelerated
"Almost all domestic manufacturers have dealers or agents in Linyi. Its logistics add strong appeal to the city's markets," director of Linyi Mall Management Committee Yao Ming said. Markets and logistics could be said to represent the unsolvable chicken-and-egg conundrum, no one knows which came first. What is certain is that the logistics industry propels the prosperity and development of local markets.
The 2,094 logistics operators and 18,000 freight vehicles in Linyi's various markets form a logistics network covering all of China's county-level cities and ports. The mall's total logistics earnings reached RMB 400 billion last year. Thanks to its unparalleled scale advantage and high efficiency the price of Linyi's logistics is 30 percent lower than the national average.
"Linyi's goal of building a commercial link between China and the world relies on the development of a modern logistics industry," entrepreneur Gao Juan said. To her way of thinking, modern logistics means the nationwide and worldwide flow of goods through aviation, rail, waterways, and highways. By blending in with the Belt and Road Initiative Linyi will promote the development of modern logistics and so drive local economic growth.
Implementation of the Belt and Road Initiative and the China-South Korea Free Trade Agreement has brought the international and domestic markets closer. Linyi's geographical advantage is highlighted by its linking the Maritime Silk Road in the east with the Silk Road Economic Belt in the west. It is high time, therefore, to propel the internationalization of Linyi Mall.
The opening on July 1, 2015 of an express container train service in Linyi formed two railway hyper-channels, one heading west to Urumqi in the northwest and the other to Guangzhou in the south. Each year, Linyi will deliver more than six million tons of cargo to Xinjiang, as well as Central Asia, South Asia, West Asia, and Europe, via the Eurasian Continental Bridge. The non-stop freight train will shorten the journey from Linyi to Urumqi to 72 hours, so enhancing Linyi's logistics radiating capacity. Moreover, on June 28, 2015 the maiden flight from Linyi to Muan in South Korea took place. The city is expected to be included as a port in passenger and cargo charter flights between the two destinations, and also as a direct shipping point. As Shandong's primary aviation port, Linyi Airport has been included in the province's Port Development Planning from 2016 to 2020.
By compiling a long-term logistics development program, Linyi has hastened the building of a comprehensive highway, railway, aviation, and port logistics system. The city also aims to build an express freight train logistics network connecting Guangzhou, Urumqi, Nanning, and Harbin. By achieving infrastructure connectivity, Linyi is delivering more products to the world.
Linyi also has an astute grasp of the relationships between commerce and logistics, market and industry, online and offline integration, domestic and foreign trade, and core industry and supporting industry. Comprehensive pilot international trade reform and construction of an all-inclusive bonded zone has stepped up the internationalization pace of Linyi Mall. It is now on the General Administration of Customs shortlist of China's top-100 foreign trade cities.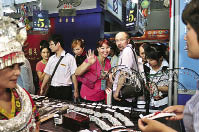 The development pattern it has formed renders Linyi the northern equivalent of internationally famous small commodity trade center Yiwu in southern China.
Internet Plus Linyi Mall
Linyi Mall owns China's largest market cluster. Wholesale markets were popular about a decade ago, but today is the age of e-business. New business rules having changed the commerce logistics industry, business circles in Linyi are evolving from traditional wholesaler to e-business supply. This has created a new interpretation of the Linyi legend – that of buy from the world and sell globally.
The Sixth China (Linyi) International Trade and Logistics Fair opened on October 18, 2015 with the municipal government's official launch of the "smart Linyi Mall." It will build a domestic technology-leading "Internet plus Linyi Mall" mode serving more than 60,000 wholesalers and various logistics enterprises. It will in the future be a comprehensive trading platform for e-business, logistics, conventions, and exhibitions, as well as payments. It will also be a center for government procurements, wholesale and logistics transfers, and distribution.
"Reform and transformation are irresistible trends, as otherwise the dividends of accumulative development will gradually be consumed," Mayor of Linyi Zhang Shuping said. The city is about to build e-business, information and payment platforms. Through online and offline integration, logistics and commerce, as well as domestic and foreign trade, Linyi will explore a new development pattern of modern circulation industry.
According to a Linyi Mall survey, the sales volume of commercial tenants who do not deal in e-business has fallen 10-30 percent. The impact of e-business on traditional wholesale business is thus obvious: it is best to take the initiative and adapt rather than sit and passively wait to see what happens.
President of Linyi Yaxun E-business Service Company Nie Wenchang believes that e-commerce is dependent on the real economy and logistics. Linyi's vast market entities and extensive logistics network have laid a solid foundation for e-commerce development. Although a relatively late starter, government guidance and the zeal of commercial tenants have coaxed the blossoming of more than 20,000 e-business enterprises and around 100,000 workers in Linyi Mall, which in 2014 generated a turnover of RMB 30.95 billion. After years of efforts, therefore, an "online mall" is expected to be built.
Linyi also intends to build an ecological e-business chain, including a vertical trading platform, domestic trade e-business, cross-border e-business, and an e-business service provider, so quickening online-offline integration. Based on its marketing channel advantage, Linyi has unveiled a number of measures that include e-business modification, building B2B and B2C vertical platforms, and the planning and construction of a cross-border e-business innovation park and talent incubator.
At present, Linyi Mall houses 40,000 e-businesses, more than 100 e-business service providers, nine e-business industrial parks, and 42 e-business platforms. Some, such as yiqingo.com and xinminghui.com, have become industry-leading and distinctive e-business platforms.
Explore the International Market
In the course of implementing the Belt and Road Initiative, Linyi has strengthened cooperation with large enterprises undertaking overseas engineering projects. Promoting construction of "overseas shopping malls" in Europe and Africa and other countries in Asia will help Linyi Mall to go global.
Linyi Mall's foreign trade expands year by year. The local government publicizes local advantages and facilitations with the aim of enticing high-level, powerful foreign trade entities to the city, and also guiding local enterprises and markets in their conduct of international trade. From January to August 2015, Linyi Mall introduced a batch of major projects to improve comprehensive service, e-business, and cross-border trade services, so enabling 5,096 individual dealers to become enterprises.
Linyi will continue to guide domestic traders in carrying out international trade business. Strengthening cooperation with world-famous procurers, wholesalers, and dealers will widen its channel of foreign trade. The city has also invited international organizations, such as the United Nations High Commissioner for Refugees, the United Nations Children's Fund, and the World Health Organization, to set up procurement bases in Linyi.
In early June 2014, Lin Fenghai led a delegation to promote internationalization of Linyi Mall in Cambodia, India, and the United Arab Emirates. All parties concerned discussed new opportunities for economic and trade cooperation under the Belt and Road Initiative. The city has also signed agreements with seven foreign enterprise associations. Cooperation with enterprises undertaking overseas engineering projects has enabled the establishment in Pakistan and Nigeria of overseas shopping malls. Meanwhile, with the help of the China Communications Construction Company, Linyi is negotiating the construction of an "Overseas Linyi Mall" with the local authority in Mombasa, Kenya.
Chairman of the Hungarian-Chinese Chamber of Economy (HCCE) Pater Elnor said at the fair that Hungary has sent many enterprises to Linyi to strength the two sides' exchanges and cooperation. Hungary can bring high-quality food, wines and mineral water to Linyi which, in turn, can offer the EU many quality products. Both sides have cooperated successfully in tourism and logistics industry. "As a Hungarian purchasing agent, I expect to find more Chinese products that best suit the European market, and hope that we will have even better cooperation in the future," Elnor said.
"More than 150 local enterprises have entered the Central European Trade and Logistics Cooperation Zone in Hungary, which is regarded as China's first national-level overseas trade and logistics cooperation zone. It breaks new ground in our exploration of overseas markets," Linyi Mayor Zhang Shuping said.
"Commercial logistics is our biggest advantage in integrating into the Belt and Road Initiative, and boosting internationalization of Linyi Mall is a strategic measure," Zhang said. Bringing the Belt and Road Initiative into effect has created unique opportunities to transform and upgrade Linyi Mall and trade logistics.
Services