Tongrentang Launches Cross-border E-commerce Portal
By SUN LI
BEIJING Tongrentang Group, China's longest-established traditional Chinese medicine (TCM) brand, recently announced at a news conference in Beijing's Diaoyutai State Guesthouse the formal launch of its cross-border e-commerce platform. Using Internet Plus is this Chinese time-honored brand's innovative step towards building a brand-new health platform.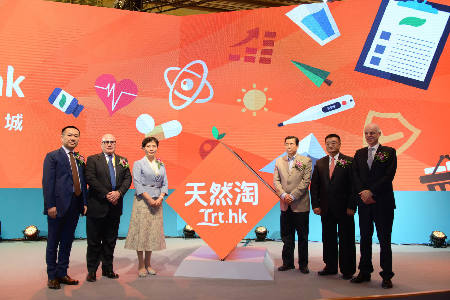 The launch ceremony of the Tongrentang cross-border e-commerce platform.
"Internet Plus," a New Trend
Beijing Tongrentang, with a history of 346 years, has explored the overseas market for more than 20 years. The Beijing Tongrentang Chinese Medicine (Hong Kong) Group, affiliated to Beijing Tongrentang, acts as a platform for overseas development and as a major channel to globally promote TCM culture and service. Tongrentang now has around 110 retail stores in more than 20 foreign countries and regions.
In light of the new wave of e-commerce and the public's keen response to it, in March 2015 Beijing Tongrentang kept pace with this trend by establishing Tongrentang International. Its aim is to build a platform on which to further integrate global health and medical resources and so provide high-quality health products and professional services for consumers around the globe.
The combination of this time-honored brand with e-commerce underlines Tongrentang's foresight and sagacity. It also represents the development trend of the TCM and healthcare industry.
The so-called "unbounded" healthcare industry has in the past half-century accounted for around eight to 10 percent of global GDP. It is one of the world's most influential industries with the fastest growth.
Although the healthcare industry has undergone tremendous growth, the B2C (Business to Consumer) model has also rapidly developed, and displays a significantly expanding e-market scale. The share of healthcare industry in the B2C market is estimated to increase to 29 percent in 2020 from 14 percent in 2014.
Tongrentang International has hence seized the opportunity in the Internet era to establish a brand-new online healthcare service platform.
Online Healthcare Service Platform
Tongrentang International plans to build a top-level healthcare service platform by integrating high quality healthcare and TCM resources around the world. Through adopting a principle that combines "going global" and "introducing," it aims to provide quality TCM products and services to the world and international healthcare products to consumers across China. The platform also offers a package solution to disease prevention, health preservation, medical treatment, rehabilitation, and healthcare-related insurance. It will include four sectors, namely health examinations and consultation, vertical cross-border health e-business, cross-border TCM e-business, and insurance plans.
Health examinations and consultations focus on early prevention and detection of disease. Based on health examination results, TCM doctors around the world will provide customers with consultation services through the platform, and also tailor-made follow-up services geared to long-term health preservation.
Vertical cross-border health e-business is designed to introduce high quality health resources and products from around the world. Tongrentang aims to make direct procurements from foreign and domestic markets, so cutting out the middle-man and providing consumers around the world with authentic products at competitive prices.
Cross-border TCM e-business promotes global TCM treatment and services. The platform integrates high quality global TCM resources to serve consumers at home and abroad.
The insurance service provides healthcare insurance plans that include preventive and traditional Chinese medicine, as well as liability insurance plans designed specifically for healthcare industry e-business.
In the new historical era, Tongrentang has opted for strategic transformation in the performance of its mission to improve the health of consumers around the world and create maximum value for the global healthcare industry. With its new and distinctive business model Tongrentang aims to lead development of the healthcare industry.
Services